My First Cannonball Begins!
At 2:56a on Sunday 11/1/15, I punched the time clock at the Red Ball Garage in Manhattan like many scofflaws did in the 70's, jumped in the passenger seat of the P-71 Blakturd and we were off. Miles sped off from the Red Ball for about 2 seconds until we hit the first red light at Lexington Avenue just 100′ into our journey. Talk about a buzz kill.
Even at 3:00a Manhattan traffic is crazy. It seemed like an eternity but 11 minutes later we were in the Lincoln tunnel and into New Jersey.
Miles calmly weaved his way through traffic in New Jersey and our average speed began to rise. I was on the binoculars looking off into the night for any sign of a speed trap, hoping to get a glimpse of the reflective decals on a Police cruiser or the tell-tale appearance of brake lights of cars up ahead before it was too late to reduce our speed.
We pressed on through New Jersey and into Pennsylvania where we continued to increase our average speed. I was really amazed at how we were making such great time driving fast but not fast enough to create any drama or upset anyone else on the road.
I began to realize what I think any Cannonballer already knew. It was possible to travel safely at speeds over 100mph on public roads if you were focused on nothing but the task at hand. Add in a co-driver watching all the surroundings and you have to perfect recipe for extremely quick, yet safe travel.
The First Big Obstacle
The first real problem came in Pennsylvania where the Police had I-80 completely shut down due to a turned over semi truck. My stomach sank as we headed off the interstate and onto county roads. I quickly began plotting another route by listening to the truckers on the CB radio discussing the ordeal. It seemed like an eternity but 20 minutes later we were back on I-80 and going like gang busters. We estimated about a 15 minute delay. Could be better but could've been far worse.
Not too soon after, we ran into our one and only competitor we passed on our trip since we were on the less popular route. It was now raining lightly and we were cruising at a leisurely 100mph. It was still dark and I spotted a set of Crown Vic taillights in the distance through the binoculars. I alerted Miles and he reduced our speed and we slowly crept up on the car in question. Once we got close enough, I was able to identify it as another 2904 member in the Orange General Leah Crown Vic. Miles floored the throttle and we blew passed them waving as we drove by.
As the morning sunrise started to come the rain let up and we finished off Pennsylvania in the 110-120mph range. With me riding shotgun on the binoculars watching oncoming traffic, Jake was now awake and identifying any potential Police cars we might pass. We operated with military precision and moved swiftly across Ohio, Indiana and Illinois all morning.
Iowa and eastern Nebraska of all places held us up the most with traffic and people squatting in the left lane. Sunday afternoon traffic was thick and the appearance of being a Police car became a hinderance.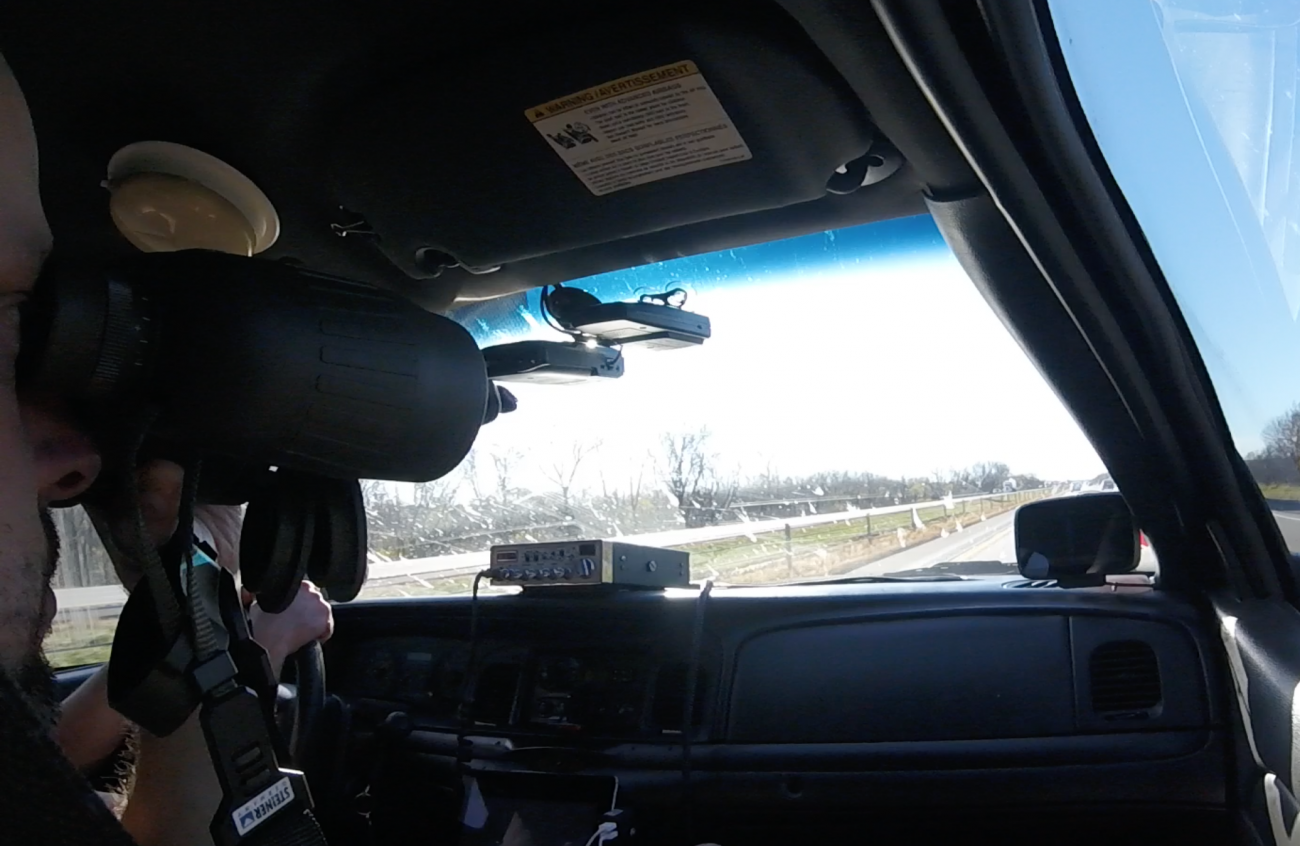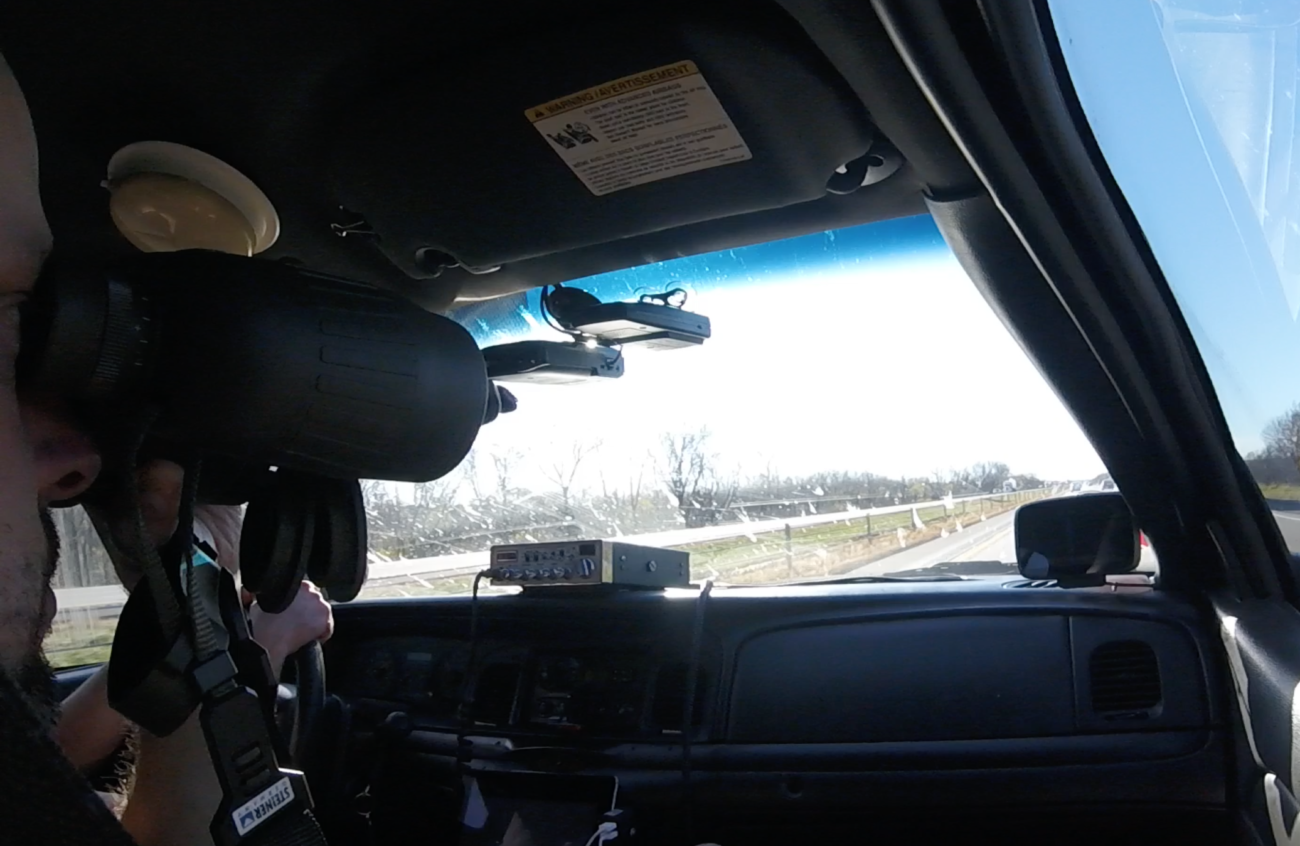 I Slip Behind The Wheel In Nebraska
After 1200 miles we decided to make our first driver change. Looking back this was a horrible idea. Miles was getting fatigued and was slowing up. I'd look at the speedometer and we'd be settled into the low 90's and I'd have to instruct him to speed up. He'd been driving for the past 14 hours on full alert in the hardest states to go fast in, I surely couldn't blame him. More driver changes next time. Noted.
With an overall average speed of 85.3mph, I took over the wheel and Miles hopped in the back seat to rest. With Jake spotting in the shotgun seat, I leaned on the throttle determined to bring up the average in the faster Western states as I merged onto the highway on the west end of Lincoln NE. I immediately darted into the left lane with authority and blazed a trail westward toward Omaha.
Once we got through Omaha, the sun was setting and traffic began to thin out. In western Nebraska I ran up on a red Mercedes-Benz coupe and we sped past. Once we passed though, he suddenly seemed to be inspired or insulted by the black pile of junk that just blew by him. This Merc came back around us and led us on a 120mph run through the rest of the state and into Colorado. After the Mercedes pulled off the highway I continued to increase our average speed cruising all the way up to 130mph on the deserted Colorado interstate. With an overall average now of 88mph, things were looking better.  After 700 miles I past the reigns over to Jake at our fuel stop in Colorado.
Calculating Our Arrival Time – We Were In Trouble
As I crawled into the back seat, I was doing the math in my head about our arrival time. I had so badly wanted that 12:30a departure time to insure arrival in LA before Monday rush hour traffic. I wanted to beat the standing Cannonball competition record of 32:07 set back in the last US Express race (the last underground Cannonball) held in 1983. If my calculations were correct, we were going to be screwed arriving in LA during morning rush hour…
The Northern Route Loses It's Luster
Once into the mountains, I started to regret the Northern route choice. The car was struggling to keep speed up the inclines forcing us to hold the car at wide open throttle in 2nd gear because shifting into 3rd caused us to actually lose speed due to the lack of horsepower.  For miles and miles the car was under extreme abuse but kept on trucking up and around the twisting mountain ascents. With a more powerful car this wouldn't be a problem but I had not factored this in when I made my route choice.
101 MPH Average Across Utah!
Somehow we made it through the mountains and into Utah with the car still in one piece. We blasted through Utah at 120mph in the dark of the night and ended up with a 101mph average across the state. Our fastest of the trip even with a driver change on the side of the road. Our overall average speed including stops was up to an amazing 89.3mph. For crying out loud we were almost on pace with Alex Roy's 2006 record breaking 31:04 time. If we could keep up this pace and by some miracle get through LA traffic in decent fashion, we still had a shot at the record and a win!
The Cannonball Competition Record Is Broken
As we neared Las Vegas we eased up the pace a little. The Nevada Highway Patrol was known to be a little more active near Sin City so we pressed on cautiously. At around 4am we got word via the group text chain that Ed Bolian had reached the Portofino in 32:05, a new Cannonball competition record. Then 45 minutes later we heard that Dave Black and Forrest in the 2003 Mercedes CLK 430 had arrived with a time of 32:16.
A New Goal
It looked like it was going to be a 3rd place finish for us. Not bad given the comparitively crappy car we were driving and this being our first time. Not to mention the 2 guys who beat us were already the fastest to ever make the trip in history. I knew from memory we still had a chance to become the 5th fastest car to ever run the Cannonball if we could beat 32:51, the fastest time from the last real Cannonball in 1979. This seemed to breath new life into our team as we were running out our last leg to the Pacific.
Lets See How Fast We Can Go, Then Lets Sit In LA Traffic
As we descended down into California on I-15 as the sun was coming up, we ran into a long slight downhill stretch. Miles decided to find the terminal velocity of the P-71 Blackturd. We reached 139.6 mph after a wide open throttle stint on our last stretch of desolate highway. Man, this poor car! Then the harsh reality came shortly after, we came to a complete stop at 6:45a as we entered the LA area.
After 31 hours of pressing full-out we sat there helpless among all the Monday morning commuters. Even with the California Toll Pass and the HOV ride share lanes, we were getting nowhere fast. With 32 hours approaching quick, it looked like a 3rd place finish was the most we would muster.
The 6th Fastest Time In Cannonball History
We slowly made our way from highway to highway toward Redondo Beach. Once off the highway we made the best time we could on the surface streets and pulled up at the famed Portofino Inn at 8:59a. Our time – 33 hours 3 minutes – the 6th fastest time of any car in the history of a Cannonball competition. This old Crown Vic had gotten us on a list consisting of vehicle makes of Ferrari, Jaguar and Mercedes from the past, in an era with very little traffic to contend with. I'll call that a win for us!
Ed Bolian came down to greet us at the finish and congratulate us on our time. The first words out of his mouth were "If you would've gotten your 12:30am start time, you would've beaten us!" Wow, what a compliment from the legend himself!
VINWIKI Car Story on The 2904 running in 2015
The official video of the P-71 Blackturd on The 2904 Cannonball Run
Thoughts After My First Cannonball
At no point did I feel I was endangering others or ourselves. Such concentration and focus on driving quickly made it much safer than being distracted driving at the speed limit. The only incident along our way was an animal in the road in the Utah desert which caused us to swerve slightly on a completely deserted highway.  There are many, many miles of open highway in between packs of cars and trucks across this great country where we easily and safely ran up to 120mph+ without endangering anyone.
As far as the car goes, we found the Crown Vic lacks power which hinders time. We always choose to slow down while passing for safety and to not upset those who were being passed.  We would run by cars and trucks in the 90-100 mph area and be forced to accelerate back up to cruising speed which took time.  We estimated later that another 100hp would've saved us a good 15 minutes. Also because of the taller tires and added 400lbs. of fuel onboard, the car lacked the handling needed to sustain speed in the curves.
We learned so much on this outing. What is the most valuable Police countermeasure? I think it's your eyes and just simply paying attention. This can be greatly enhanced by a good co-driver doing the same and even better with a pair of binoculars. Things not necessary would be a CB radio. The truckers really don't talk to each other much and given most trucks are governed to lower speeds these days, they aren't concerned about speed traps much anymore.
On the way home all we could talk about was how to improve our time. What were some new strategies we could've implemented? Could we beat Ed's record of 28:50 if we had no budget and a different car? What kind of car would that be? Will I make the run again? Stay tuned to Arne's Antics to find out!
Follow all of my automotive adventures:
Facebook: Arne's Antics
Instagram: @arnesantics