Since I first saw Cannonball Run movie, I knew it was something I had to do.  That song at the beginning of the movie was ingrained in my mind. And the sound of that black Lamborghini Countach as it raced along the highway and taunted the pursuing Police was intoxicating to a young car nut like myself. Little did I know I'd be searching for the real Cannonball Run decades later…
The Cannonball Baker Sea To Shining Sea Memorial Trophy Dash
After doing some research as a young lad, I learned the movie was actually based on a real event. Started to protest the 55mph speed limit in the 1970's by Car & Driver Editor Brock Yates, the Cannonball Baker Sea to Shining Sea Memorial Trophy Dash was a pedal to the metal, non-stop, coast to coast endurance race from New York City to Los Angeles. Drivers would punch a clock at the Red Ball Garage on E. 31st Street in Manhattan and cross the finish line at the Portofino Inn in Redondo Beach, Los Angeles. A distance of nearly 3,000 miles. It doesn't get more American than that!
Early Memories Of A Real Outlaw Race
I remember at about 10 years old reading about a black C4 Corvette which had been outfitted as the ultimate stealthy Cannonball car.  It had the latest radar detector, a Beartracker mobile Police scanner and switches to disconnect the brake lights and disable the inner taillights to change the appearance of the car at night.  That car and the idea of high speed travel while remaining out of sight to the Police is an idea I've never been able to shake.  Since I've been driving I've always had the latest equipment in speed countermeasures but always dreamt of a reason to build a Cannonball car.
The Real Cannonball Resurfaces
While Vice President of AMS Performance back in 2006, my interest in the Cannonball was reignited. We had run in the One Lap of America which was what the Cannonball had transformed into back in the 1980's. After a 3rd place finish in the One Lap of America in our Mitsubishi Evolution VIII dubbed "TA1", the AMS team came back with a secret application for a potential real coast to coast Cannonball Run. Brock Yates Sr., the creator of the original Cannonball Baker Memorial Trophy Dash from the 1970's, was handing them out during One Lap and was considering reviving the event for one last run!
This sparked all of those childhood dreams once again.  The application required you to list what vehicle you would use, your strategy to win, who would be driving and their qualifications.  I eagerly filled it out and sent it in. Nothing ever came about and I was left wondering if there was a secret society of underground transcontinental racers out there with the same desire to cross the country as quickly as possible. Did I not make the cut? Did it just never happen? How would I ever find out?
My Search For The Real Cannonball Run
I started searching for signs of a real Cannonball. I watched the modern Gumball Rally movies and scoured the internet for anything I could find about the subject and came up with next to nothing. If it was still happening, surely no one was talking about it.
Then came the movie "32 Hours 7 Minutes – An Outlaw Race" which chronicled Alex Roy's attempts to beat the standing record of 32:07 set during the last known underground coast to coast race in 1983. The movie also covered the history of the Cannonball and subsequent underground US Express races of the '70s and early '80s. It was pure bliss and torture all the same to me. I could not get the idea out of my head!
I Finally Find A Cannonball!
A few years passed and I stumbled upon "The 2904" event somehow on Facebook. It appeared to me to be the only real Cannonball-type event in existence. There were things like Gumball and the GoldRush Rally but these events were based around driving between cities over the course of a week and geared for exotic cars and partying. I could not find any other event like The 2904 to cross the country without stopping. It didn't follow the classic Cannonball Route but it was close enough for me and could surely give me the sensation of what those interstate scofflaws of the '70s had felt.
The 2904
Named for the distance between Manhattan and San Francisco, The 2904 is a cross between the 24 Hours of Lemons ($500 car endurance race series on closed road courses) and the Cannonball Run. You have to buy a car, pay for fuel, tolls, food and tickets for less than $2904. Any modifications or repairs to the cars drivetrain count against the budget as well. But like the 24 Hours of Lemons, any safety related items are outside that budget leaving unlimited funds to fix suspension, brakes, wheels, tires, seats, lights and any additional fuel system you might want to add to extend the cars range. There was one problem though – according to the organizer, he was no longer doing the event. Damn it!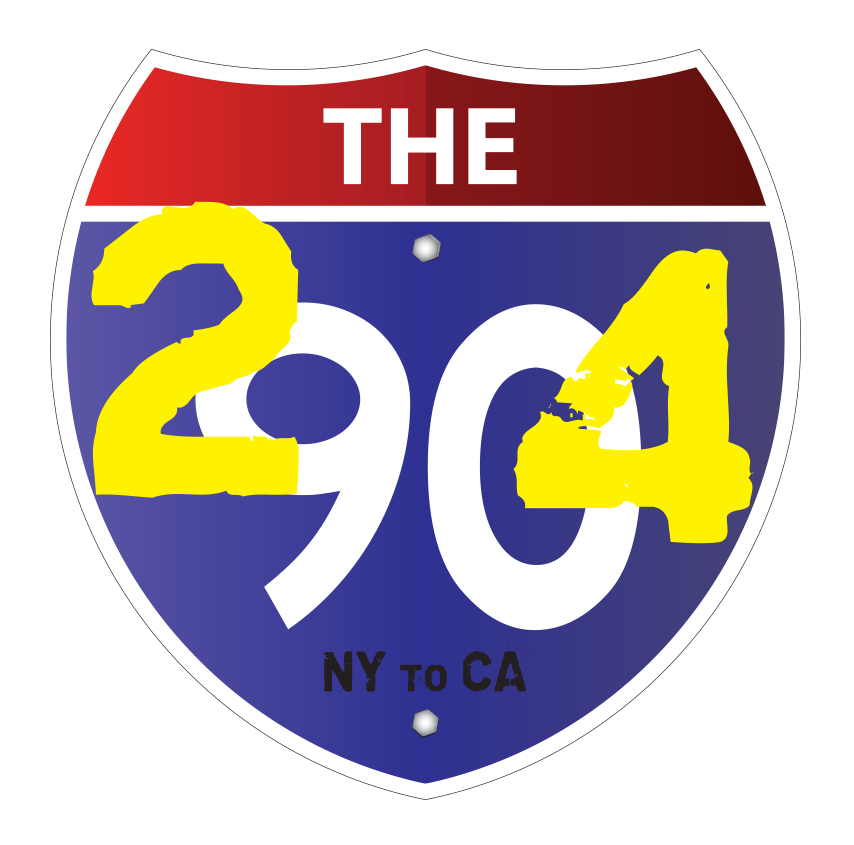 That changed in early 2015 however. After speaking with a Cannonball Run celebrity (to be named later) the organizer, John Ficarra, decided to make one last event and run it on the classic Cannonball route from the Redball Garage in Manhattan to the Portofino Inn in Redondo Beach California. I almost fell out of my chair. Here was my chance to fulfill a lifelong dream of running the REAL Cannonball!!
I messaged John Ficarra at once to apply to make the run. When he got back to me the process was actually pretty easy, at least for me. John replied "Are you the guy with the Bluesmobile, A-Team Van and the world's fastest Hearsee? If so, you're in the right place." I was accepted! A quick Google search of my name on his part was all he needed. I guess my reputation proceeded me!
Now my mind started to wonder who this special guest would be. Was it former Cannonball record holder and rally personality Alex Roy? Current record holder Ed Bolian? The original 1970s Cannonball organizers son Brock Yates Jr.? Was it Burt Reynolds? Man, this was getting exciting.
My 2904 Vehicle Of Choice
When it came to choice of car; I knew I wanted (or at least the best car for the job and the budget). A black Crown Victoria Police Inteceptor.  My strategy would be stealth. When doing something like the Cannonball the biggest concern appeared to be upsetting the general public as you pass enough to want call the Police on you.  If I was able to pass cars in what seemed to be an undercover Police car, I figured it would solve that problem to a degree. Or at least I hoped. This would also work for trucks as they've been known to use their CB radios to alert other truckers to block the way if they're upset about an aggressive car passing by.
I ended up with an ex-Police car, ex-Taxi cab with an alleged 242k on the odometer for $500.  It had a coolant leak but ran and drove.  I choose the cheapest vehicle I could find not only to fit The 2904 budget but in preparation to use the car for the actual 24 Hours of Lemons the following year.  I figured parts are really cheap for these cars, so pending any catastrophe we should easily come within budget.
Because of the stealthy nature of my plan, we settled on a team name of P-71 Blackturd (P71 referring to the chassis code of the Crown Vic Police package) as a spoof of the Locheed Martin SR-71 Blackbird.  I had a logo designed and put it on black flight jumpsuits we would wear as part of our theme.
I figured if I was going to participate in this event I had to have a rock-solid and safe vehicle, so I went nuts on anything that was outside the budget constraints. I probably spent $10k (I don't want to actually add it up) replacing EVERY suspension, steering and brake component on the car. When it was done I had the most safe and sound quarter million mile ex-taxi cab on the planet.
For the fuel tank we came up with a genius idea of simplicity. Instead of a complex system of transfer pumps, fuel lines and an added fuel gauge, we had the idea to seal off the factory tank completely and use gravity to feed the stock tank from an aluminum 55 gallon cell in the trunk.
Once we got the fuel cell installed, the total fuel capacity with the stock tank included came to 74 gallons. The system worked flawlessly and the fuel gauge even worked. When we recalculated the level on the gauge it would stay reading "full" up until we had 40 gallons left. At 3/4 tank it would have 30 gallons, 1/2 tank would be 20 gallons and so on.
Another trick we had up our sleeves was a sleek front and rear splitter for improved aerodynamics. With traveling at a high speed for a long distance I was sure it would improve fuel economy over the long haul. It sounds very scientific and high-tech I know – it was cut from used plywood and bolted to the undercarriage…
Police Countermeasures & Electronics
The one thing I really wanted on the car was a laser jammer but the tight budget really limited what I could afford. Scouring Craigslist nationwide, I found an 8 year old, 4 head Blinder system in Atlanta for $300.  After some negotiating we settled on $225. I also outfitted the car with a garage sale CB radio ($30) and CB antenna ($15).
While any permanently mounted electronic equipment counted against the budget (laser jammer, CB etc..) anything that attached to the windshield did not. So for radar detectors I ran my old Passport and just days before the event I got my new Escort Max 360. We also ran 2 GPS units affixed to the windshield, one for any re-routing and one for the overall stats of the trip.
Other modifications included some switches to disconnect the brake and tailights. If that wasn't enough, we added some extra LEDs to the rear taillight housings and an LED license plate lamp which allowed us to change the appearance of the car at night. Would any of this help? I had no idea but my plan was to be the most prepared team they'd ever seen on The 2904.
Cannonball Celebrity Revealed
In mid October 2015 everything was coming together and I was confident we had the most well put together car ever to be in The 2904. That's when the announcement was made who the special guest was and what he was driving. I almost had a heart attack.
The celebrity guest was current Cannonball record holder Ed Bolian. Ed drove his 2004 Mercedes-Benz CL55AMG at an average speed of 100mph across the whole country back in 2013 to an unimaginable time of 28 hours 50 minutes. Clearly this guy had some experience in illegal, underground racing!
That was enough of a problem for me, but it was his car that really scared me. He had somehow resurrected a 12 owner, twice salvage titled, 2002 Mercedes Benz S55 AMG! His blog with over 250 pictures (he had to document it because how could anyone ever believe it was within budget if he didn't) showed how his co-driver Dave Klink, a 30 year Mercedes veteran technician, painstakingly fixed the whole car and came in just under budget. Have you ever seen someone who takes something so serious, pushes things to the very edge and to the Nth degree? Ed Bolian just became that guy times 10!
Arrival in Manhattan
When we met up with all the participants at the Brooklyn Bridge, it really sunk in that we were going to be part of history. There were some very well put together older European Autobahn machines and some really serious and competitive drivers.
From what I could tell the biggest competition would be:
Ed Bolian (Cannonball record holder – 28:50)- 2002 Mercedes S55 AMG
Dave Black (co driver from Ed's 28:50 record run) – 2003 Mercedes CLK430
Daniel C. – 2001 Audi A8
David Simpson (Jacksonville to San Diego coast to coast record holder) – 1995 Lexus SC400
Yumi (multi 2904 winner)- 1997 Cadillac STS
While The 2904 ran to LA in 2013, with this roster of cars and drivers, this was going to be the fastest race across the country since the last US Express in 1983!
From the Brooklyn Bridge photoshoot, we headed to Work's Engineering for the pre-party and driver meeting. This is where we would find out the starting grid and times. Cars were slated to leave in 30 minute intervals but no one knew the starting grid.
Ed Bolian had the pole position of 12:00 midnight. I wanted to be next in line at 12:30. The problem was Dave Black wanted the same time slot. How does the organizer of The 2904 handle things like this you ask? Indian leg wrestling. I'm not making this stuff up…
Not even knowing what that was, I had to pick a team member to challenge Dave to an Indian leg wrestling match. I chose Miles as he is younger and more agile than me. Problem was he is shorter than Dave and long legs mean a competitive advantage. We lost. The next available time slot was 3:00 am. From my time calculations I knew this was not good for our arrival time in LA. We left the party and headed to the hotel to get a few hours of sleep.
The consensus of almost everyone at the party was to take the Southern route of I-40. On the way back to the hotel I checked the weather and traffic conditions one last time and decided on taking the Northern route of I-80 instead. While it was a little longer, we were more familiar with the roads and that seemed most important. The only downside I could think of was we would be traveling through I-80 in Ohio which is the most heavily targeted road in the country for speeders.