Here is an inside look into our new Cannonball Record from my friend and co-driver Doug Tabutt. – Arne
Cannonball! It's not just what one shouts before they make a big splash in the pool. For those of us who still obsess over point-to-point times and records, it's a way of life. For those of you who don't, consider yourself blessed that attempting clandestine vehicular transcontinental feats of endurance and evasion is not something that gets you out of bed in the morning.
An Abbreviated History of Cannonball
Enough has been written about the history of Cannonball and that fellow Erwin…and that other fellow Brock…and those young fellows Alex and Ed, that if you're still thinking I'm referring to what Ron Burgundy is announcing at his pool party, I will give you a very quick background with an additional research assignment. Erwin George "Cannonball" Baker started this coast-to-coast nonsense, driving a Stutz Bearcat from LA to NY in 1915 in 11 days and 7 hours. Setting over 140 records during his career, he cut that time to just 53.5 hours in 1933.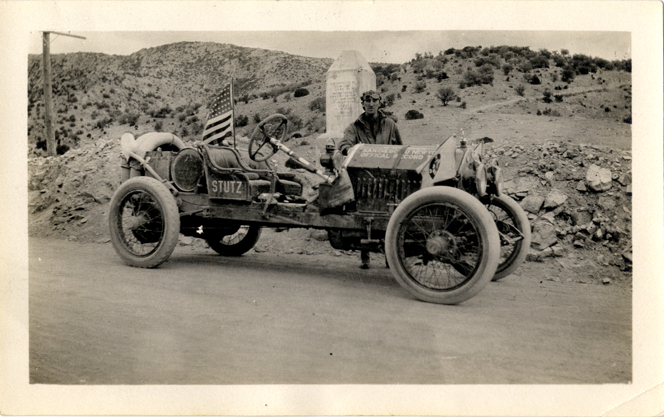 That record stood until Brock Yates revived the name Cannonball and organized a memorial race in 1971 after doing a NY to LA run in just 35 hours and 54 minutes. The times quickly dropped every year; and although the official Cannonball was disbanded after the 1979 race, David Diem and Doug Turner won the spinoff 1983 US Express race in just 32:07.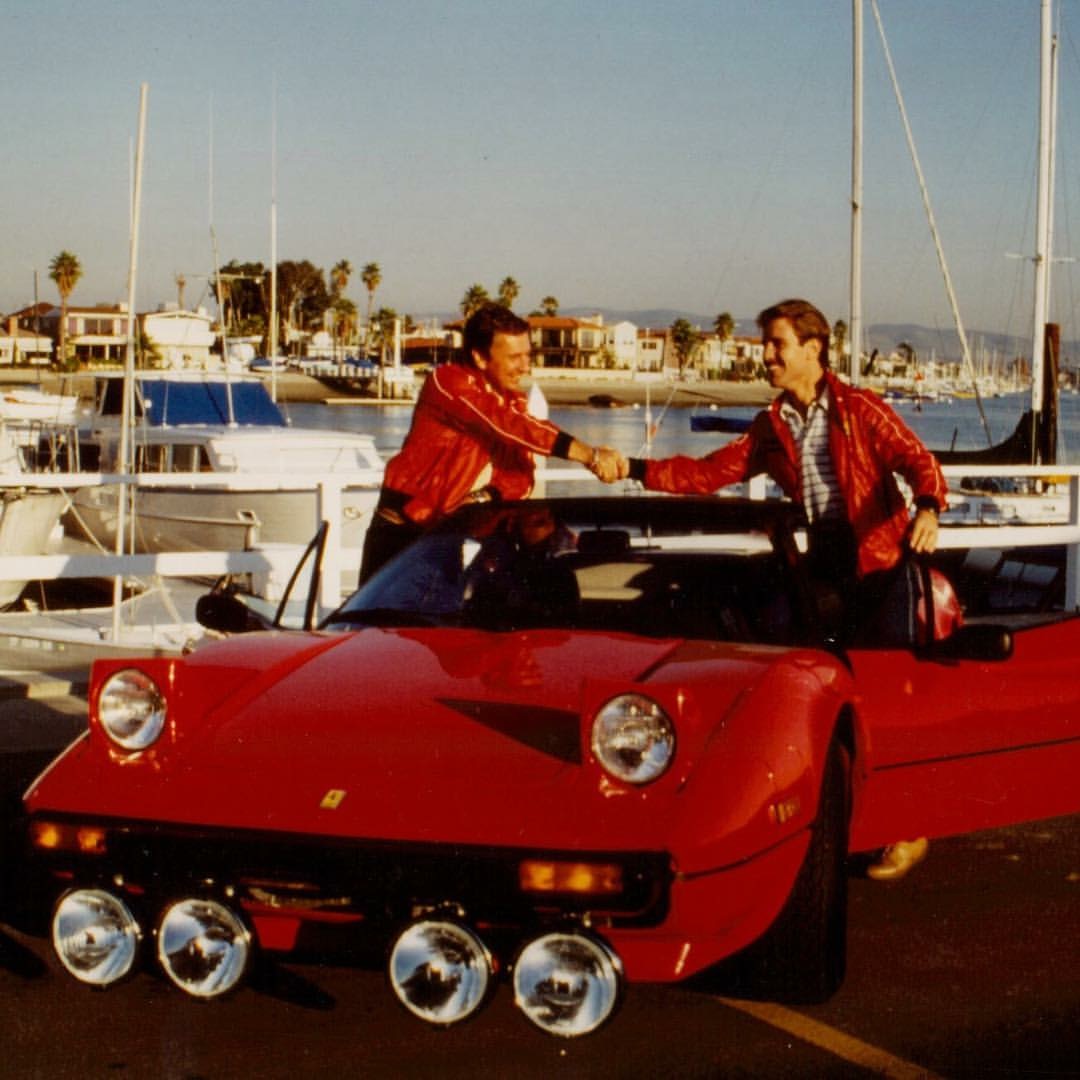 That time stood for 23 years until 2006, when Alex Roy and David Maher completed the route in 31:04 in a BMW M5.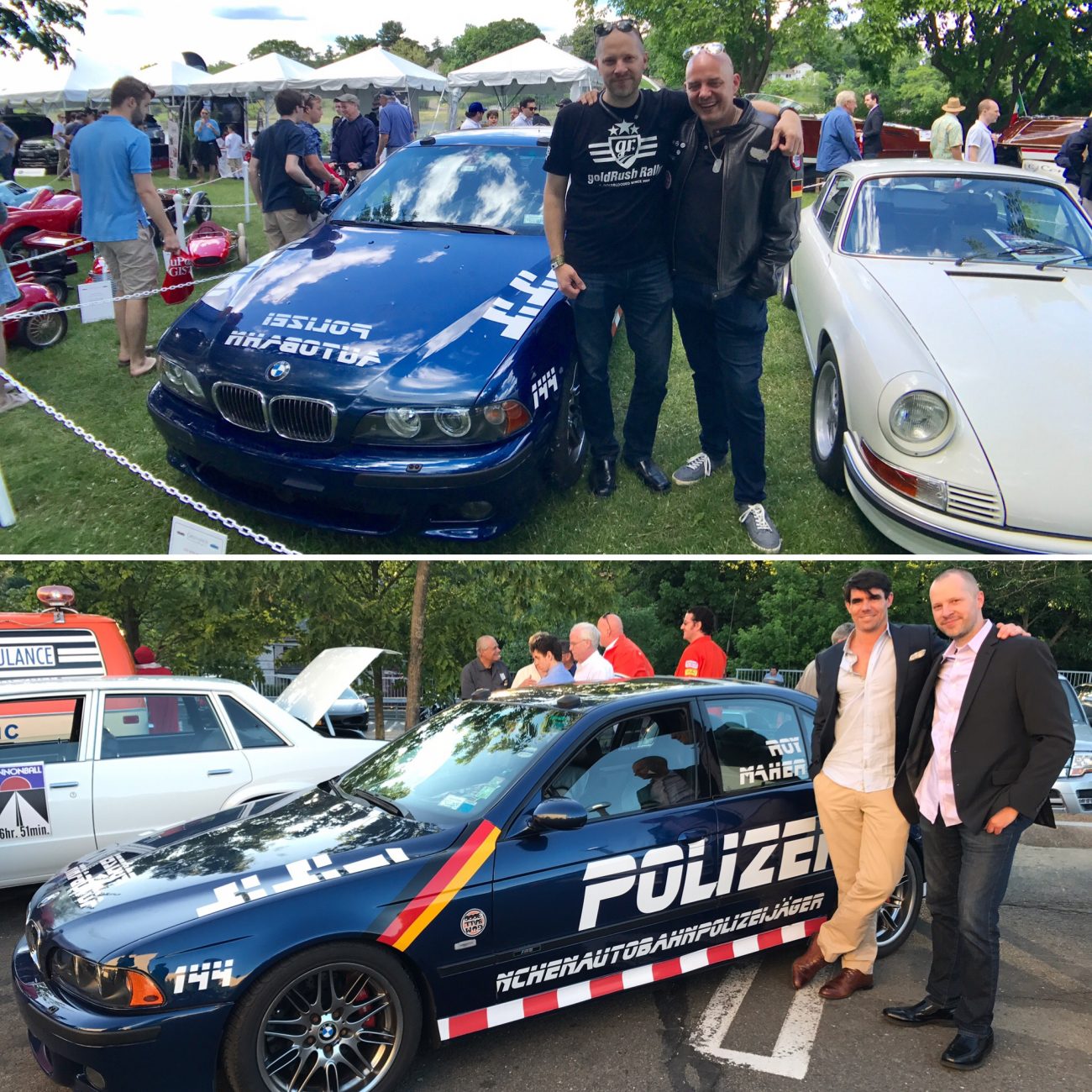 Then Ed Bolian and Dave Black shattered that time in 2013, setting a new record of just 28:50, starting and finishing at the same locations as Yates did in 1971 – the Redball Garage in Manhattan and the Portofino Hotel in Redondo Beach. That record remained unbroken for over six years despite the multiple concerted efforts.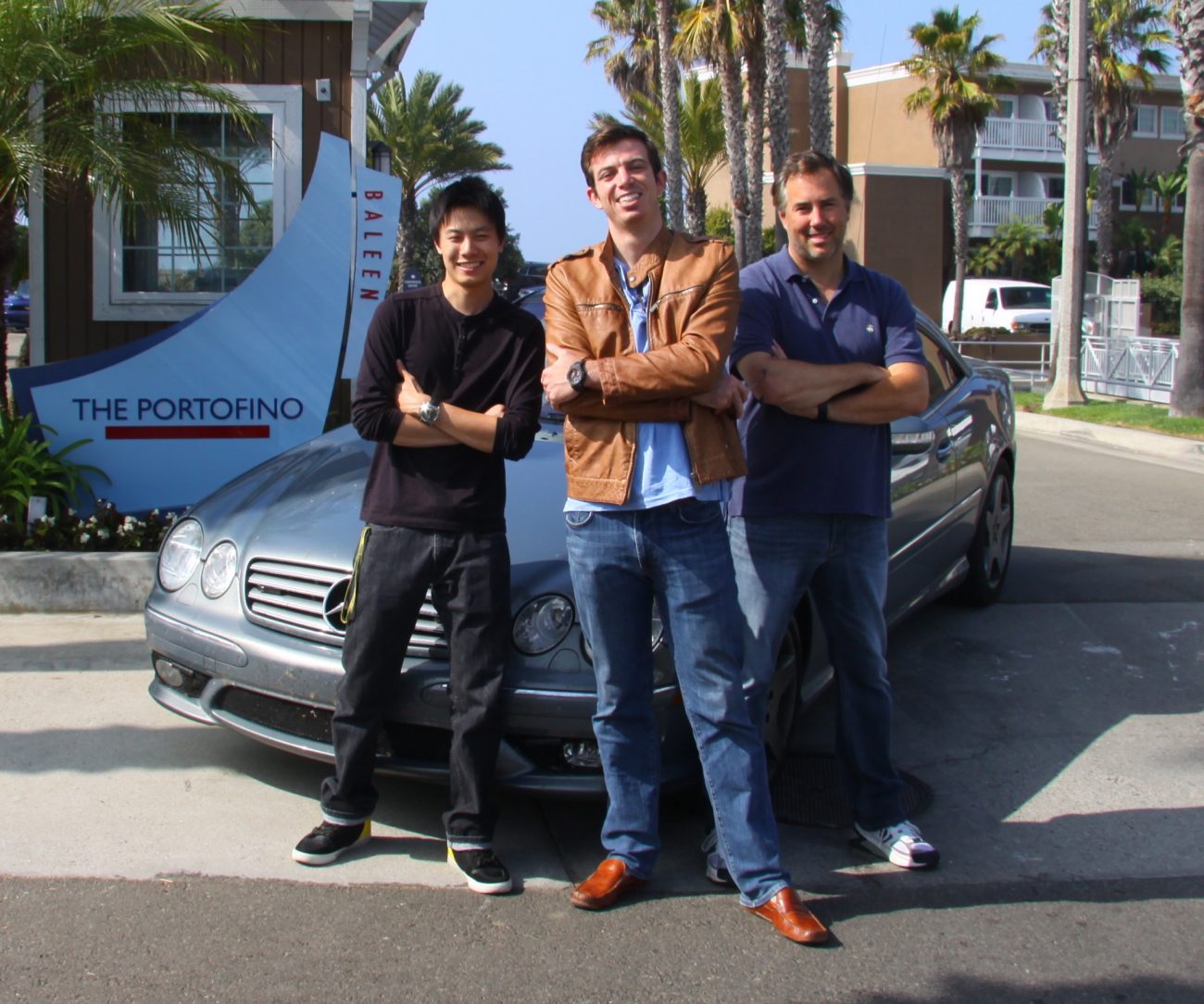 My Personal Cannonball Journey
There were many people responsible – no, that is a poor word, for they would never claim responsibility for my actions. There were many people integral in my cannonballing journey. The first was Dustin Worles and his Mischief DVD series, which highlighted the craziness of the early days of the Gumball 3000 – a modern interpretation of the Cannonball Run. The second was Alex Roy, for not being content with the poser rallies and for reforming our understanding of Cannonball, reminding the world that it's a real endurance race, a test of spirit, will, emotions, equipment, and luck – one without posh hotels, supermodel co-pilots, or nightly debauchery. While Alex and Dustin inspired through media from a distance, Ed Bolian became my Cannonball mentor, however unwittingly or reluctantly on his part.
For years after Ed broke the record, I regretted taking a hiatus from Facebook around that time, because he noted that he had searched through his friends list looking for a last-minute co-driver when his initial one bailed. I likely would have been a candidate, as we had both connected previously through the exotic car business, and I regularly posted my amateur attempts at point-to-point shenanigans. After his book came out and he openly professed his belief in God and his past personal struggles, I reached out to him again, regrettably in the same obsequious manner that many of his fans likely do, possibly even uttering the phrase "man crush" Sigh.
Ed patiently navigated my many crazy emails detailing out my plans to break the record, most of which would have landed me in jail; and we discussed all sorts of strategy and philosophy, including how in the world "Christian" and "Scofflaw" could coexist. For instance, how does the call of God to be subject to earthly authorities reconcile with breaking just about every traffic law across the country? Does being a Christian mean that you have to drive exactly the speed limit all the time? These are dilemmas that in my mind still don't have a satisfactory answer.
I Find The C2C Express
The next person in the journey, whom I thank and curse in the same breath, is Ben Charlie Safari Wilson. He is a Kiwi with an irrational penchant for US Cannonballing in terrible old hoopties, who views his international citizenship as a sufficient barrier to the potential legal ramifications of organizing a modern-day Cannonball tribute race called the C2C Express. Yep, a real race.
No thanks to him, I took a 148-hp 1977 Monte Carlo Landau, lit $40k on fire, and transformed it into a serious scofflaw-mobile appropriately named "Ultra-Beige". Communism has proven to us that when you try to force people or things to do that for which they are not gifted or designed, terrible results ensue. Maybe I should rename it The Communist Special. It has broken down more times than it hasn't, but even whilst shedding parts, literally, while barreling across the country, it managed a victory in the 2018 C2C Express, and gave me a taste of the Cannonball gratification that I had been chasing, thanks to my fearless teammates Dunadel and Matt who were just dumb enough to come along for the adventure.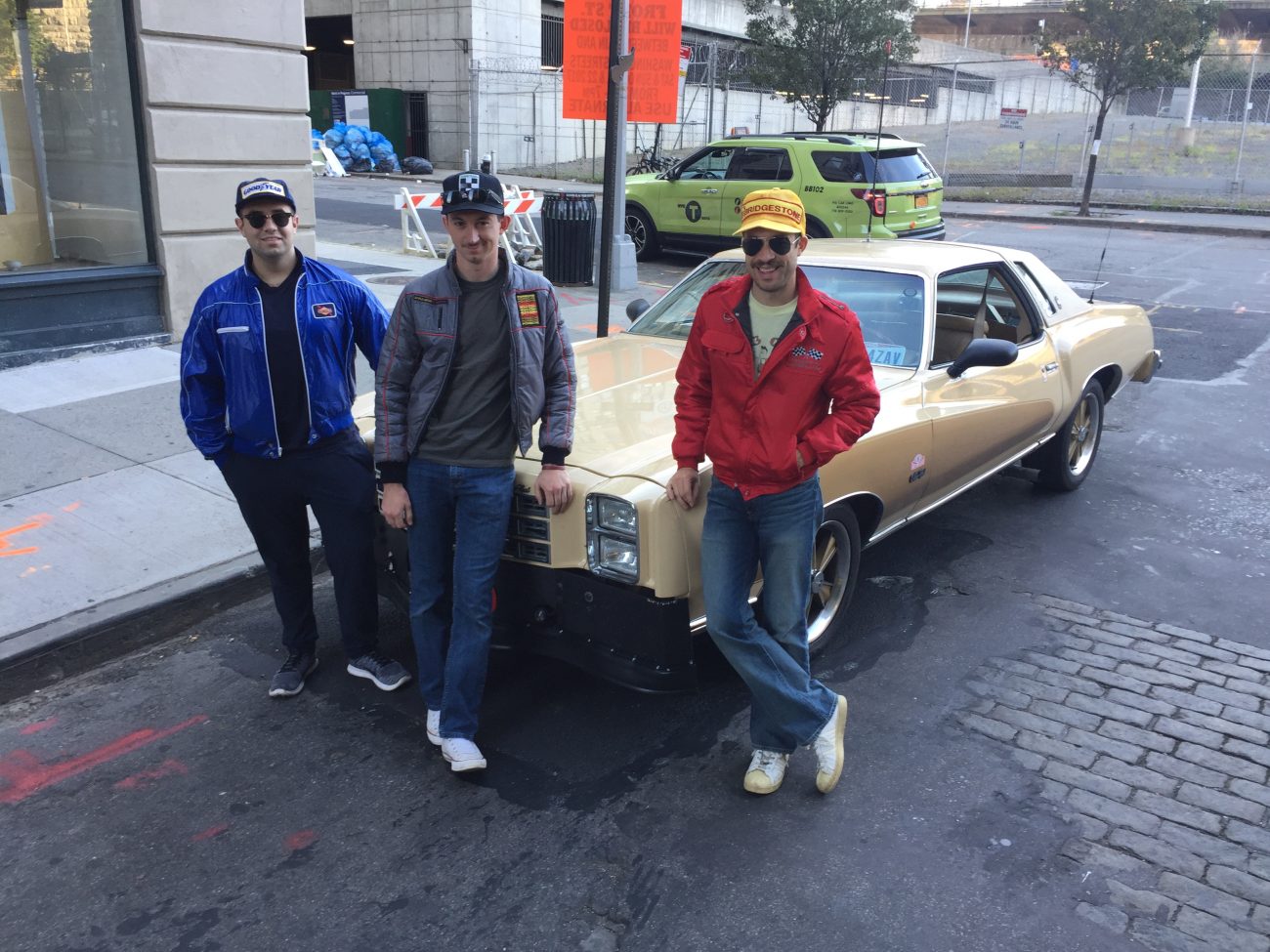 Ultra-Beige and the 3-time journey of the C2C is a book by itself, but that paved the way for understanding what it would take to attempt to break the Cannonball record, not in theory, but in reality. It' easy enough to sit at home and do enough math to give yourself the illusion that you, too, could be in the history books – the books that aren't published because it's an illegal undertaking and because few really care. Doing it is another ball of wax, and running the C2C helped me realize what was truly achievable in a properly prepared car, because if we could average over 90mph in a giant flying two-tone turd, then certainly the overall record might be within reach in a car that didn't define malaise mediocrity.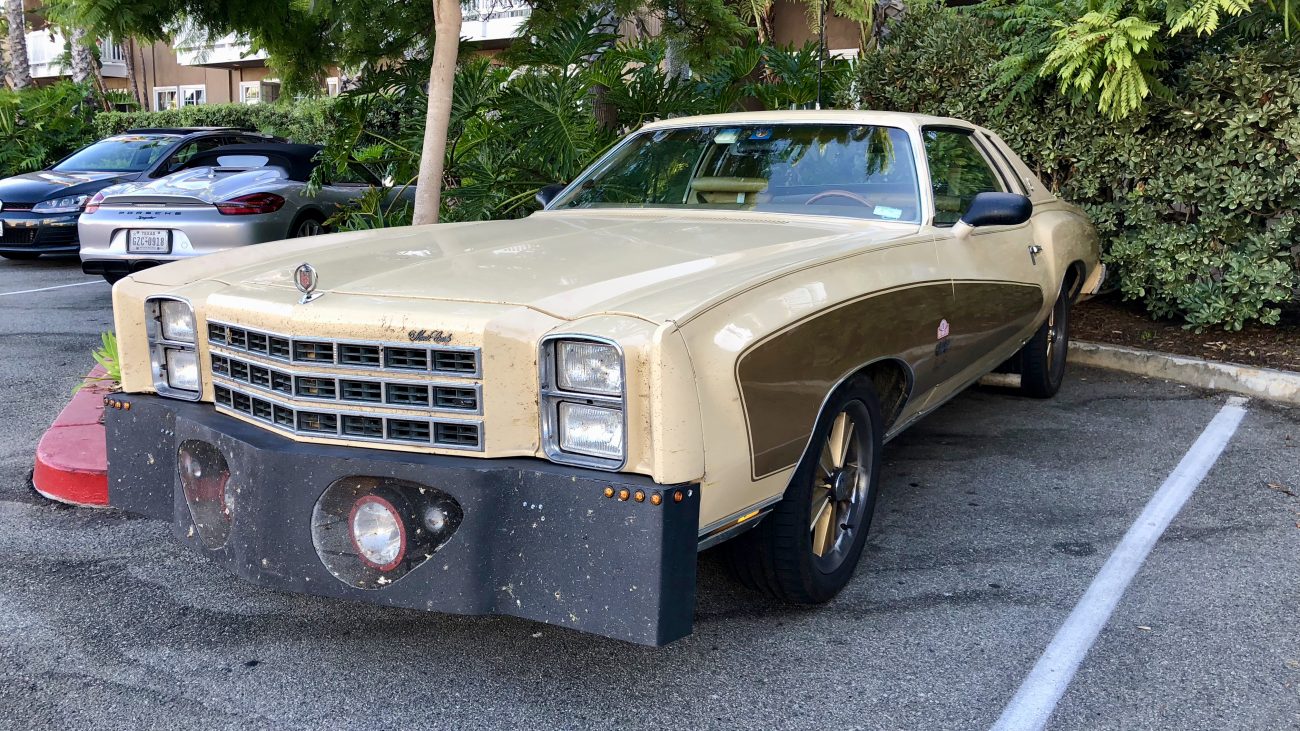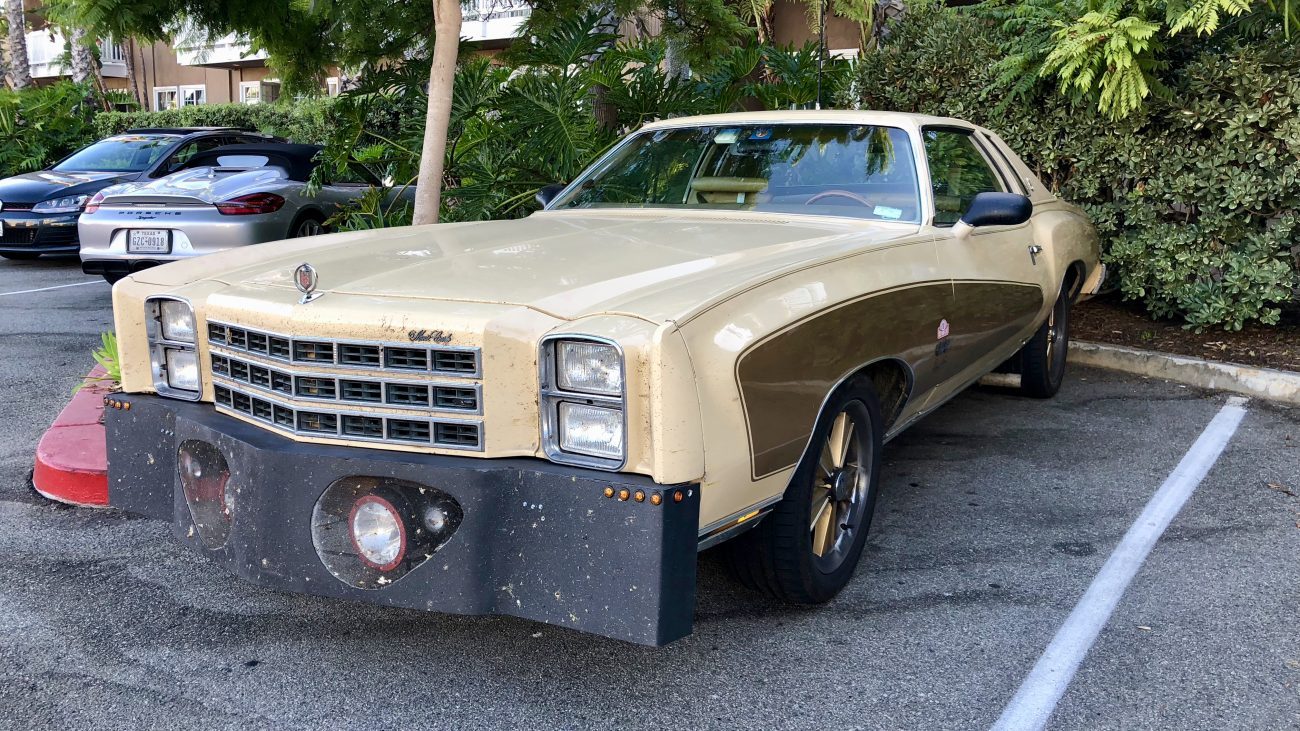 I Meet a Formidable Cannonballer
Enter Arne, his Antics, and his ALPHA 9 Mercedes. Arne and I were fortuitously introduced by Ed Bolian on a trip to Atlanta to film some car stories for Ed's burgeoning VinWiki YouTube channel. My initial cyber-stalking of Arne on Facebook led me to photos of him in many and varied costumes, with a Wonder Bread Lamborghini Huracán, an A-Team Van, and a Bluesmobile clone.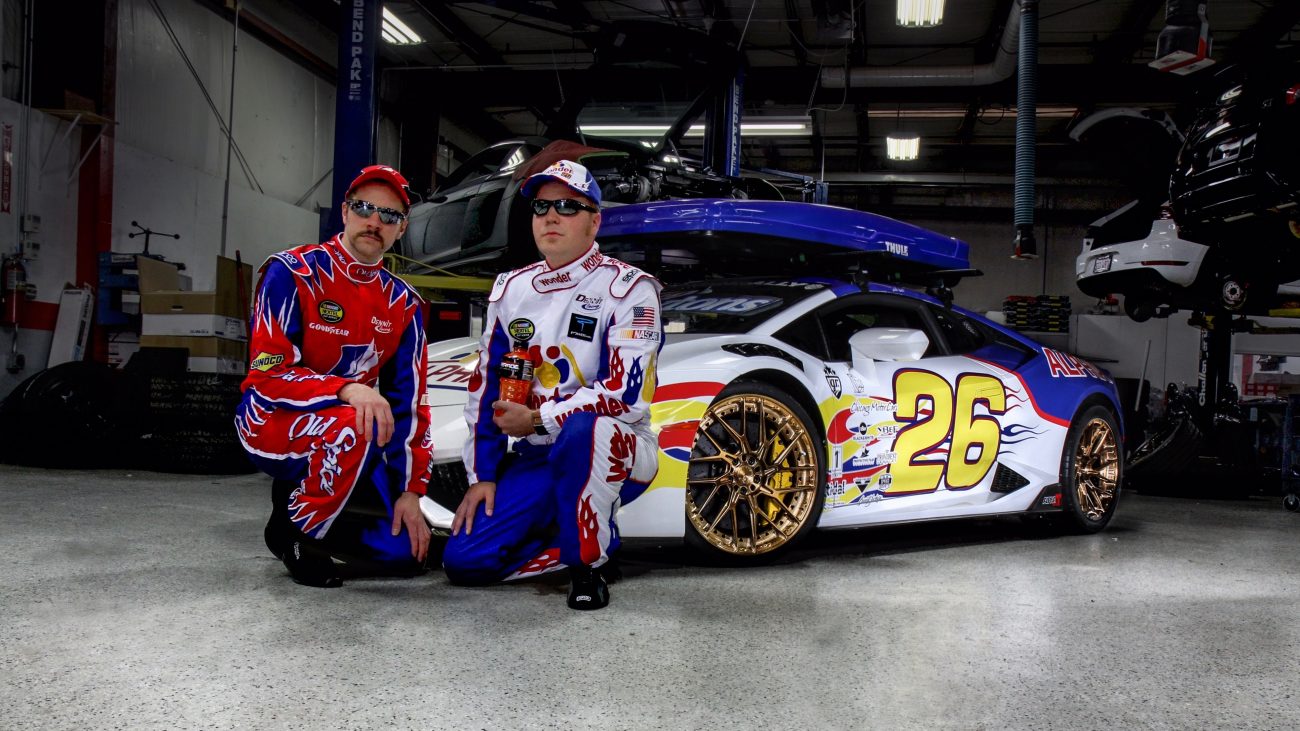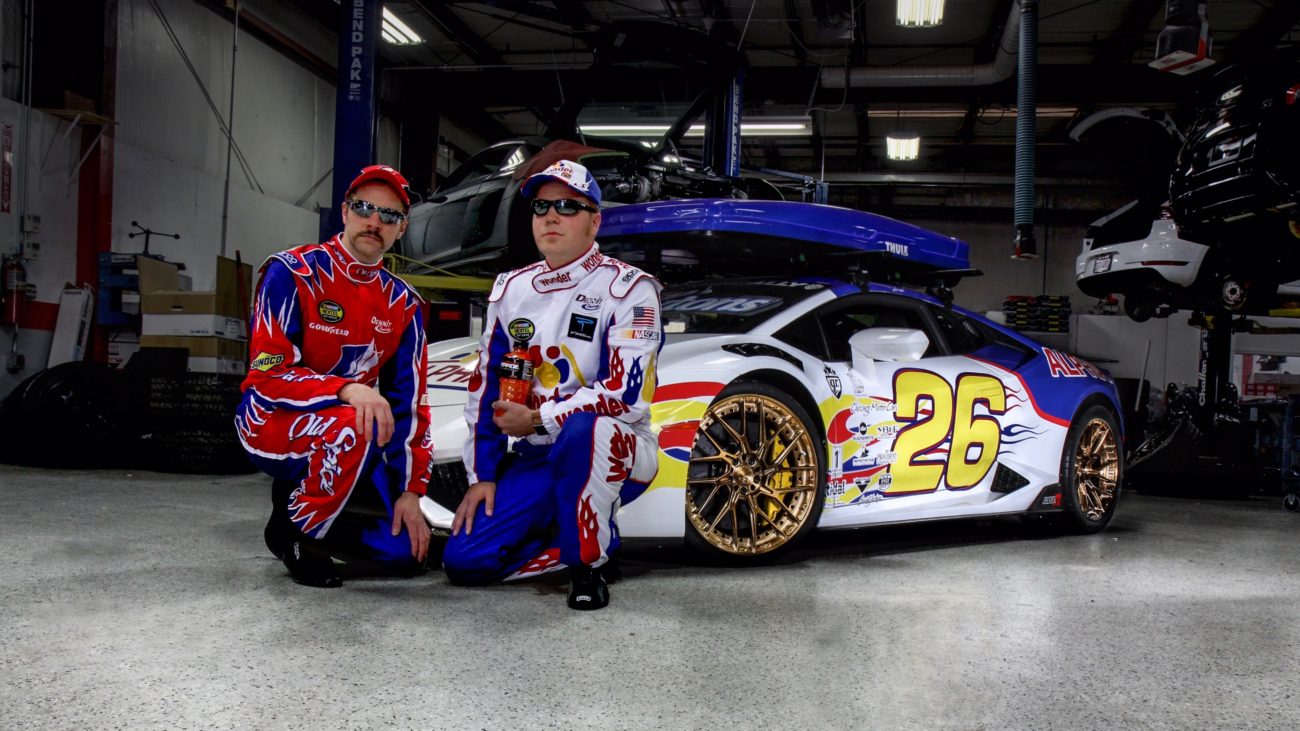 He had an intimidating internet presence, and he was an even more formidable Cannonballer. He ran the 2017 C2C Express/The 2904 joint event – the first of many that Ultra-Beige would start and not finish – in a tired ex-police-and-cab-duty Crown Vic. Arne won the race with a ridiculous 31:45 from New York to San Francisco, still the fastest time to date in a Cannonball-style organized race. This was not a guy I wanted to run against for the overall record. So I thought, "Well, if you can't beat 'em, join 'em!" Having proven my mettle in the 2018 run, in which we averaged over 90mph until we broke down, again, in Arizona, Arne deemed me worthy to join the "A-team" in the ultimate record attempt.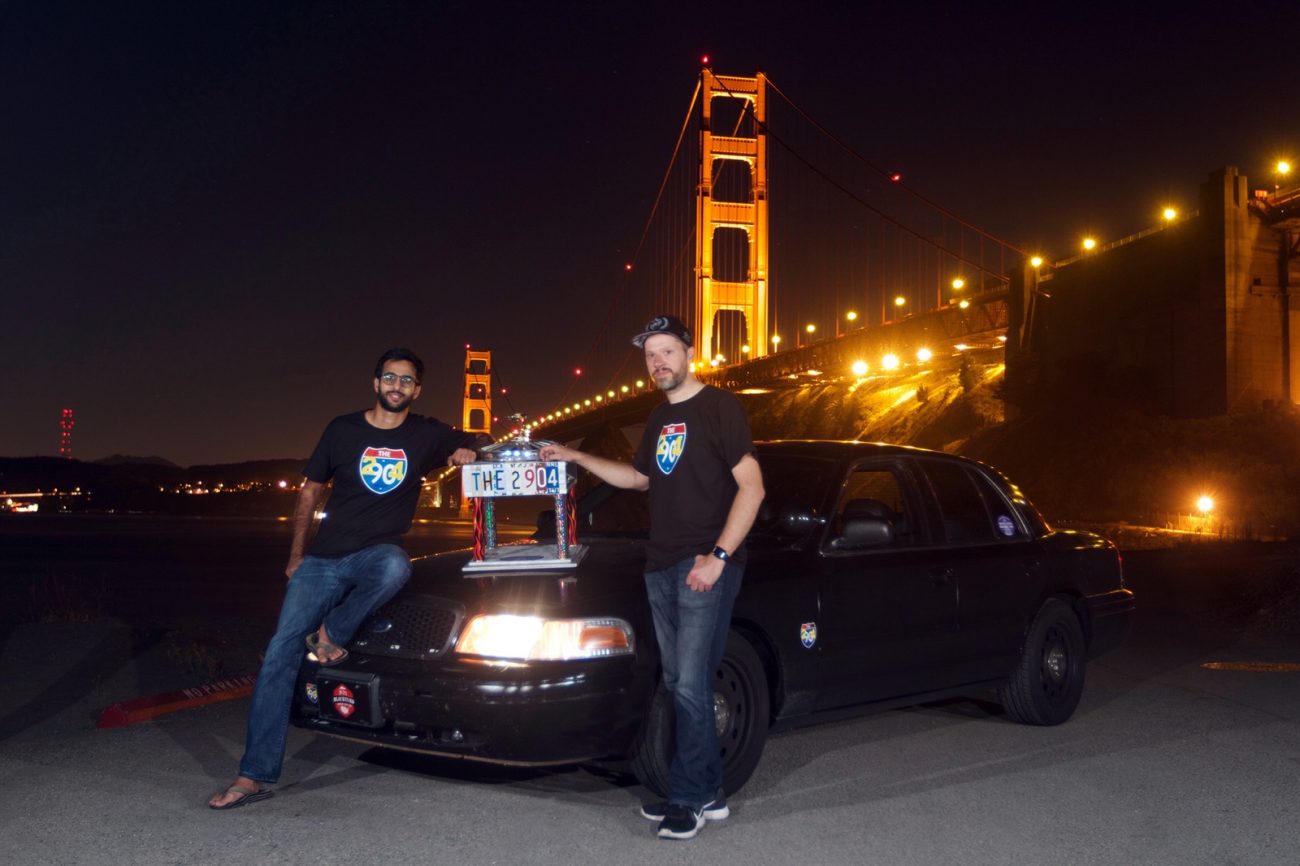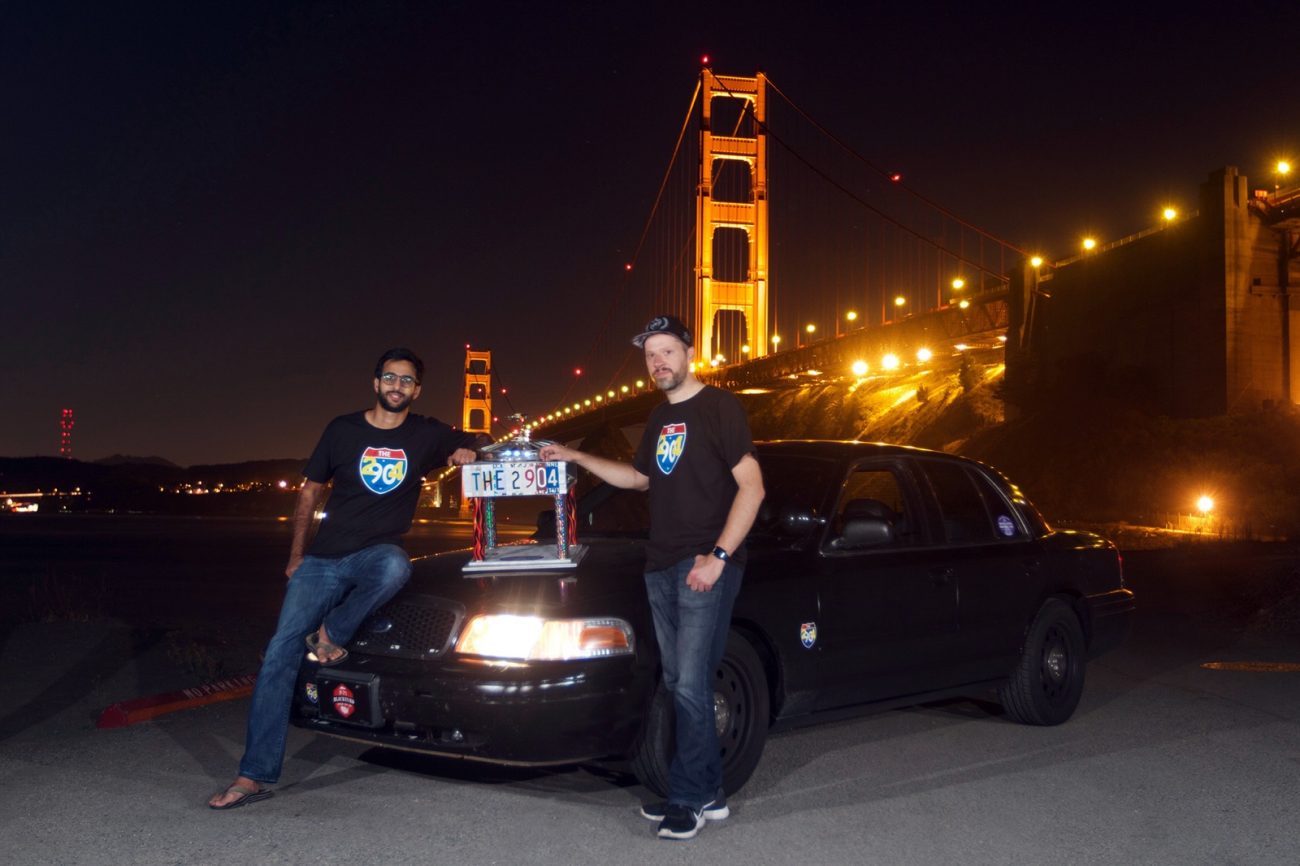 The Ultimate Car For Cannonball
Arne procured a 2015 E63 AMG from his friends at Chicago Motor Cars, already a wicked car, and proceeded to use his AMS Performance background to modify it to a conservative 700 AWHP. He mounted a dual-nozzle, quick-fill fuel cell (inspired by the one on Ultra Beige, probably the best part about that car), which boosted the total capacity to 65 gallons. He acquired every possible police countermeasure short of a radar jammer, and even installed a gimbal-controlled thermal scope on the roof, taking inspiration from Roy's fictitious Infiniti from his 2015 April Fools record spoof. Arne's car was debadged and disguised, and to the average Joe, it looked like a silver "passenger car" which was exactly what came over the Police scanner when we got called in for ambitious motoring somewhere in the Midwest.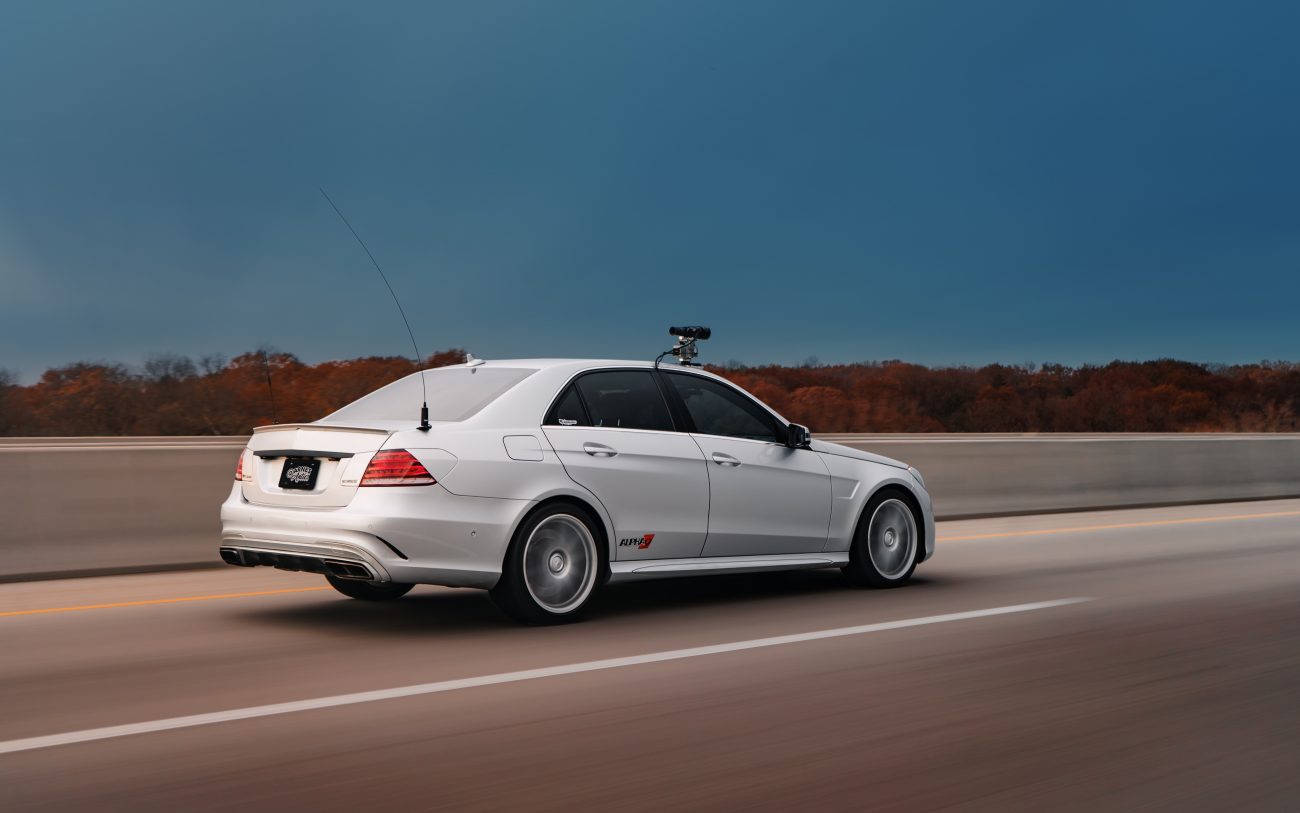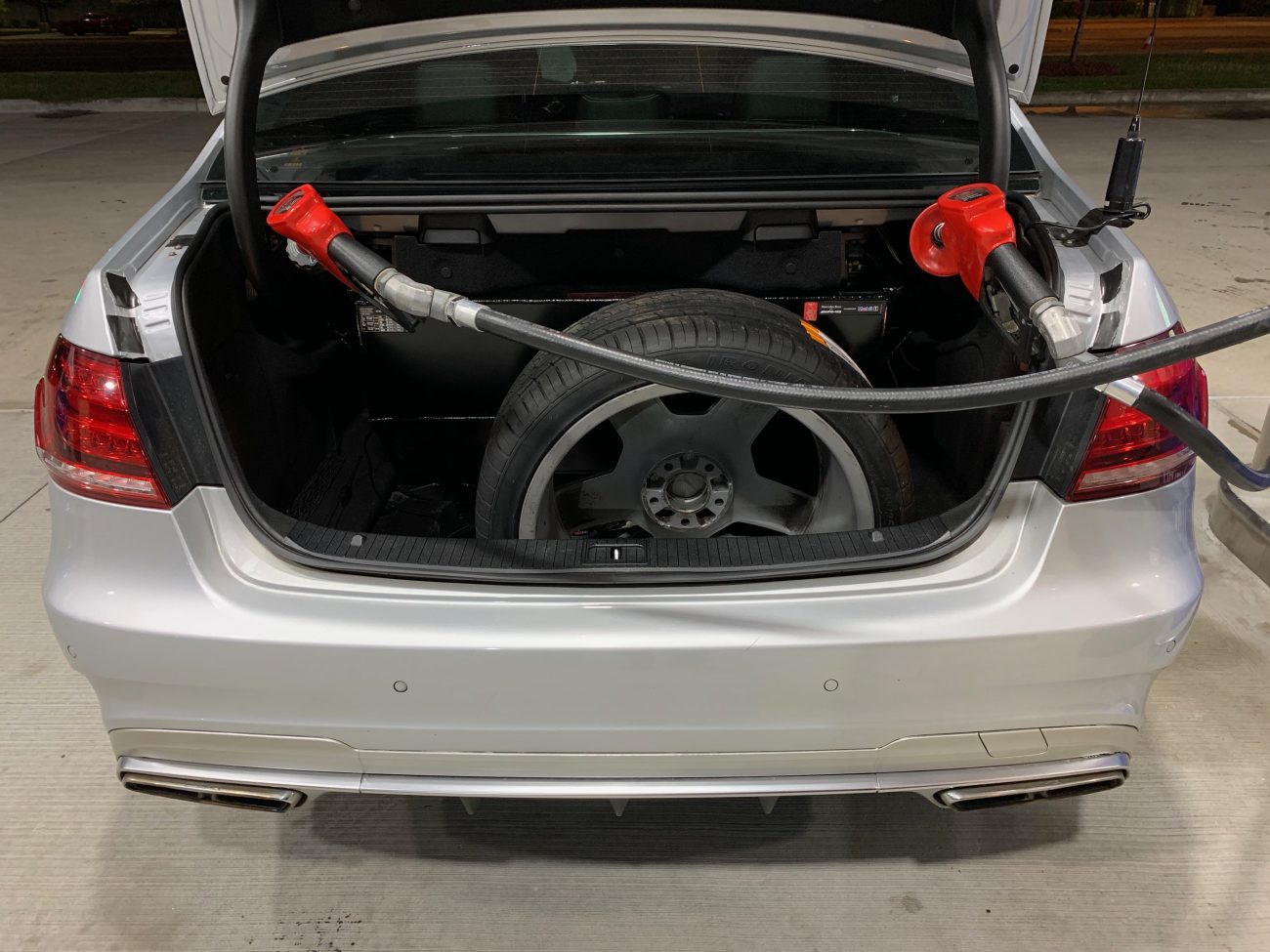 Packed With Technology
If the term "countermeasures" means nothing to you, skip to the next paragraph. For the nerds, here is the full list: Escort Max 360c & backup Max 360, both of which had run the route and had GPS lockout data stored. ALP Laser diffusers with Net Radar system. 2X Waze, plus a special Android app which gave a heat maps of common reports from the past 30 days. Custom-programmed Uniden scanner. Cobra CB radio, tuned to <0.5 SWR. Thermal scope with gimbal. Uniden HomePatrol 2 scanner with GPS. Brake light and rear light cutoff switches. 2X Image-stabilized binoculars including NLA 12V power adapter. Berkeley Chadwick, because binocs are nothing without a killer spotter. Aircraft warning device. Traffic light changer. Electronic air horn and P/A. A state-by-state law enforcement guide. A 10-code cheat sheet. A deck of FOP cards.
It's Go Time
After months of dedicated preparation, the car was almost ready, the date yet to be determined, the route dependent on weather, and the weather far from ideal. I'm dramatizing slightly, but there were so many variables that made it challenging to even reach the starting line. While we preferred the Northern route across I-80, we also preferred leaving in mid-October; but the car wasn't prepared, so we were looking at November, and the Northern route was already receiving significant amounts of snow. As a result, I developed complete plans for both the Northern and Southern routes, including gas stops, scouts, police guides, and scanner programming. One day before our scheduled departure for NY, Arne was suffering from a bad case of food poisoning, as if there were any good cases. He was willing to go, trooper that he is, but I made the call to postpone, as I firmly believe that the crux of cannonballing is the single variable that you can control: yourself. The most important preparation is psychological preparation. However, the following weekend was looking ideal only for skiers on the Northern route, and our spotter Berkeley was potentially unavailable, so we decided on the Southern route and lined up a backup third member.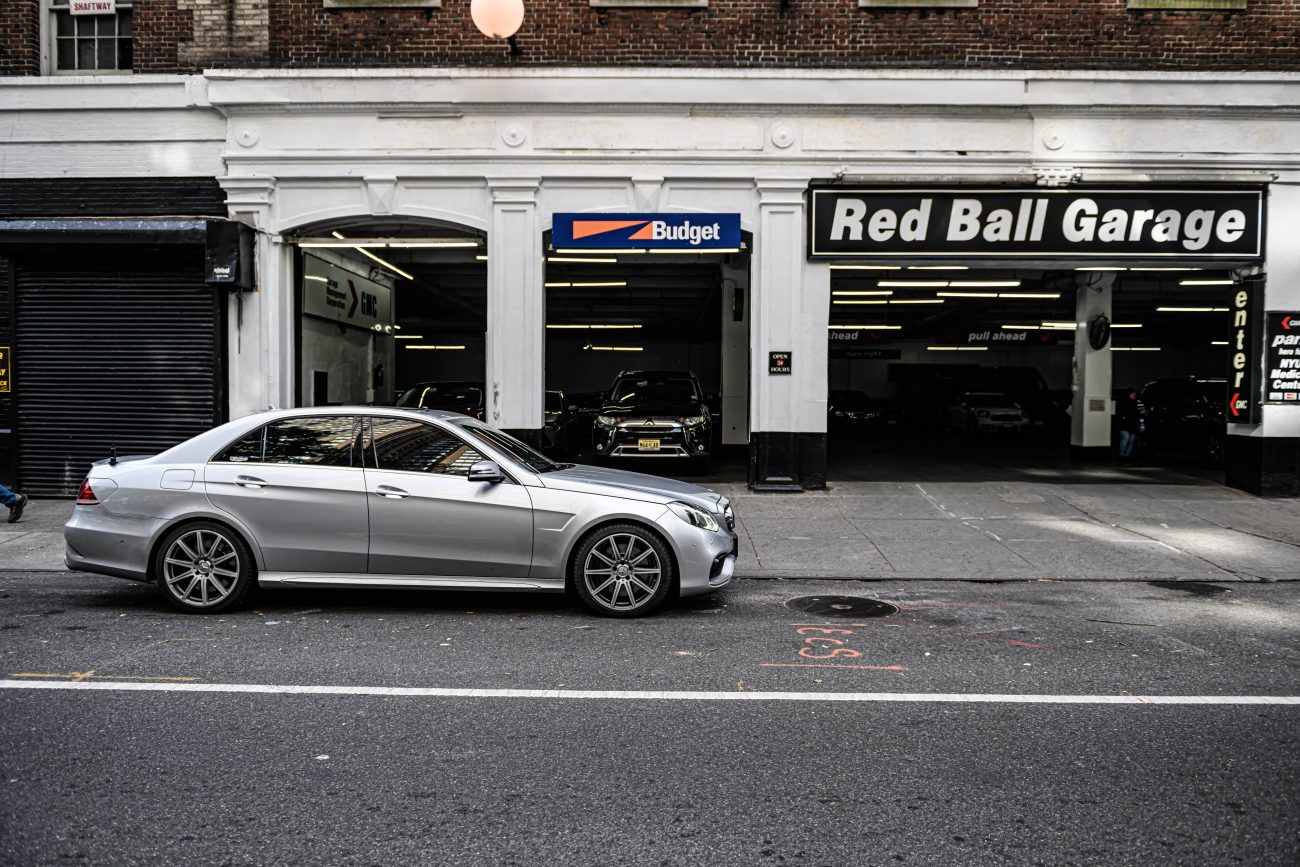 Last Minute Changes Keep Things Interesting
As with most weather forecasts, it was completely wrong, and 30 hours before our departure we switched once again back to the Northern route. Berkeley cancelled his plans, and we were on. This was it. Years of dreaming, multiple reconnaissance and training runs, and we were set to leave the Redball. Immediately things went south, figuratively, as our planned route out of New York had some of the worst traffic we had ever seen. It was so bad that we were considering a classic LeMans start – parking the car in NJ and running to it from the Redball. It would have been quicker than driving. We sat stewing for a maddening two hours, waiting for the traffic to clear. When it didn't, we had to choose another route out of the city that added almost 10 miles to our drive, but we had to leave – our timetables showed that we couldn't delay any longer. And we were off.
The advance planning paid off, the car was blissfully fast, and our team got in sync quickly – it helped that we had done the 2019 C2C Express together previously. The equipment was all working, minus the HomePatrol (it's not a Cannonball if at least one countermeasure doesn't work), and our scouts were ready to roll. There was one variable, however, not being hunters, that we did not anticipate: deer. We saw dozens of them with the thermal scope grazing by the side of the road across Pennsylvania, and dozens more freshly pulverized in the fast lane. This added an extra element of danger and concern.
Approaching Ohio, we had a full team of scouts lined up, and they got so internally competitive about who could lead us the farthest that I thought we might have a mini local Cannonball on our hands. The first gas stop passed in less than five minutes, despite Arne spilling fuel all over his shoe. The bewildered and sleepy gas station attendant sauntered over to mark off the spill with cones, all the while casually smoking a cigarette, for which Arne berated her. Not because he cared so much about her lungs, but to hopefully prevent all of our immediate and fiery demise. It should also be noted that Arne made fun of me on this run AND on the C2C for packing multiple pairs of shoes. It should also be noted that Arne made fun of me on this run AND the C2C Express for packing more than one pair of shoes.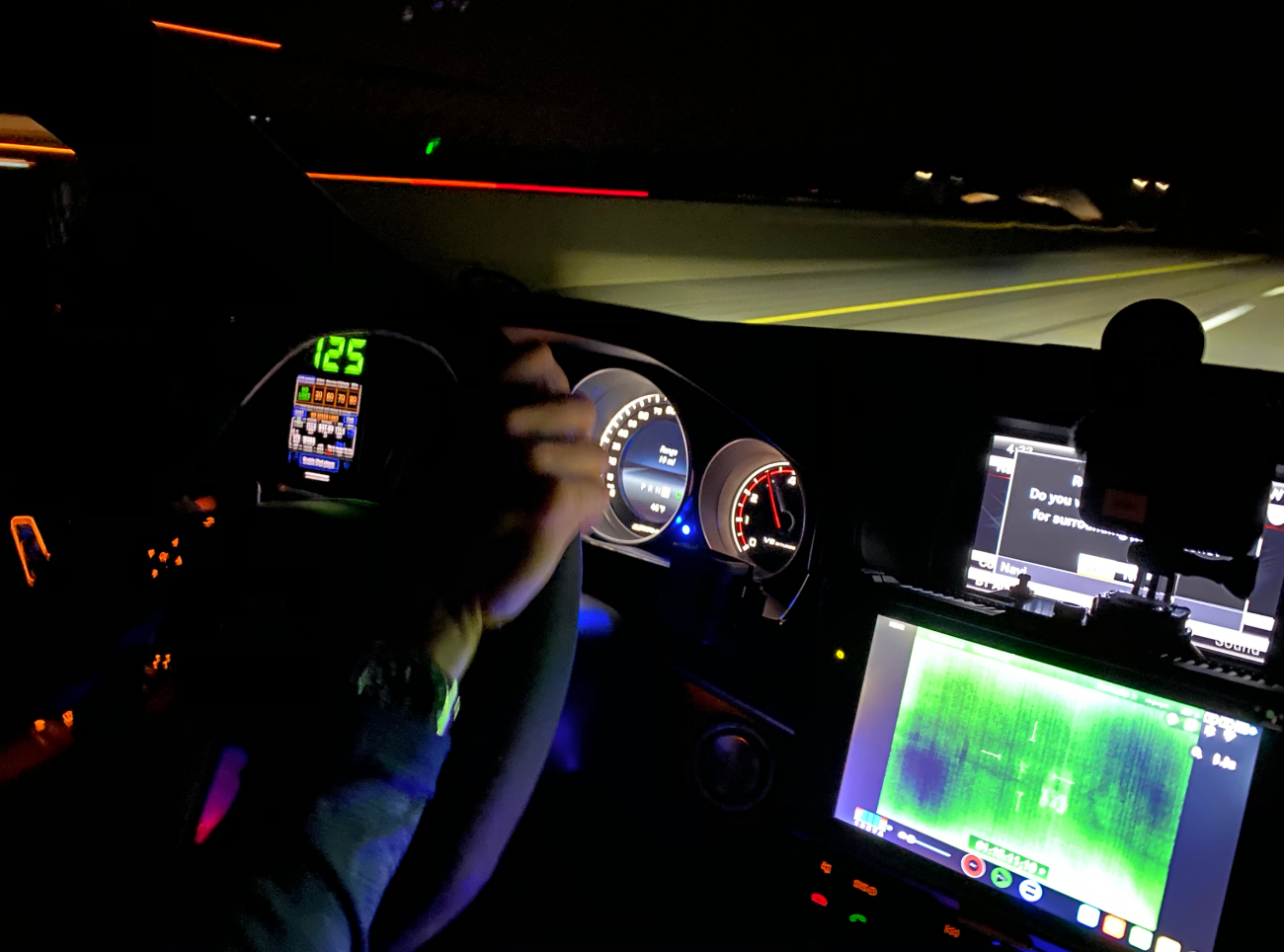 As is true with any Cannonball attempt, the time is banked in the first 1000 miles, and your hopes get incredibly high as you look at your average speed, deluding yourself that all you have to do is casually maintain it and you will win. This was especially true for us as we had the cloak of darkness as well as a nearly unbroken chain of scouts from Ohio through Illinois. And as always happens, we spent the next 3-4 states frustratingly giving all that time back, watching our average speed slip as we cursed the Midwestern drivers who had apparently removed their rear view mirrors.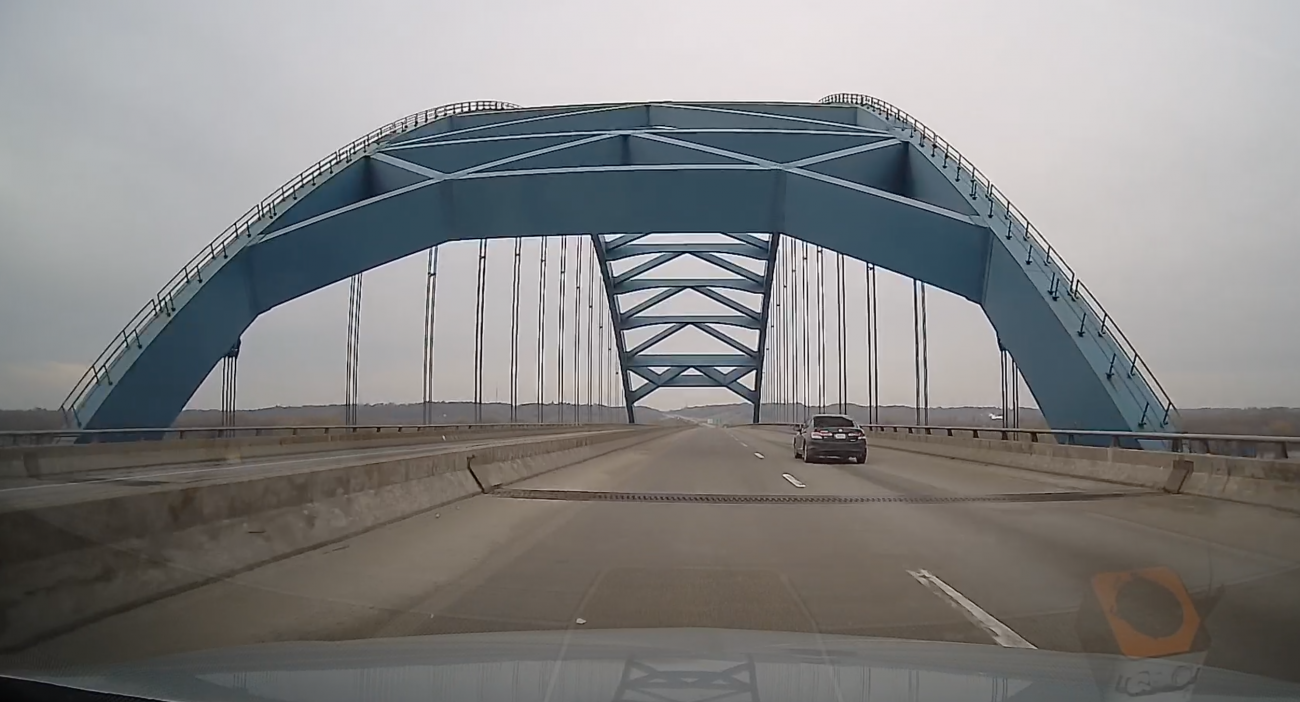 While we had a few close encounters of the Blue kind, the most concerning was getting tagged by an oncoming cruiser well into the triple digits. Surprisingly he did not turn around, but when we called our scout (one of yet another crack team, this one assembled by Kyle of 1320video) whom we had just overtaken, he said that the cruiser was next to him at the gas station filling up, and his radio was going crazy. Somehow our scanner was silent, so we had no idea if we were the subject of all that excited chatter; but when we saw another trooper come flying through the median to set up looking our way, we had our suspicions. Thankfully we pulled an Alex Roy move and snuck by him in the draft of a semi truck at a leisurely 65mph.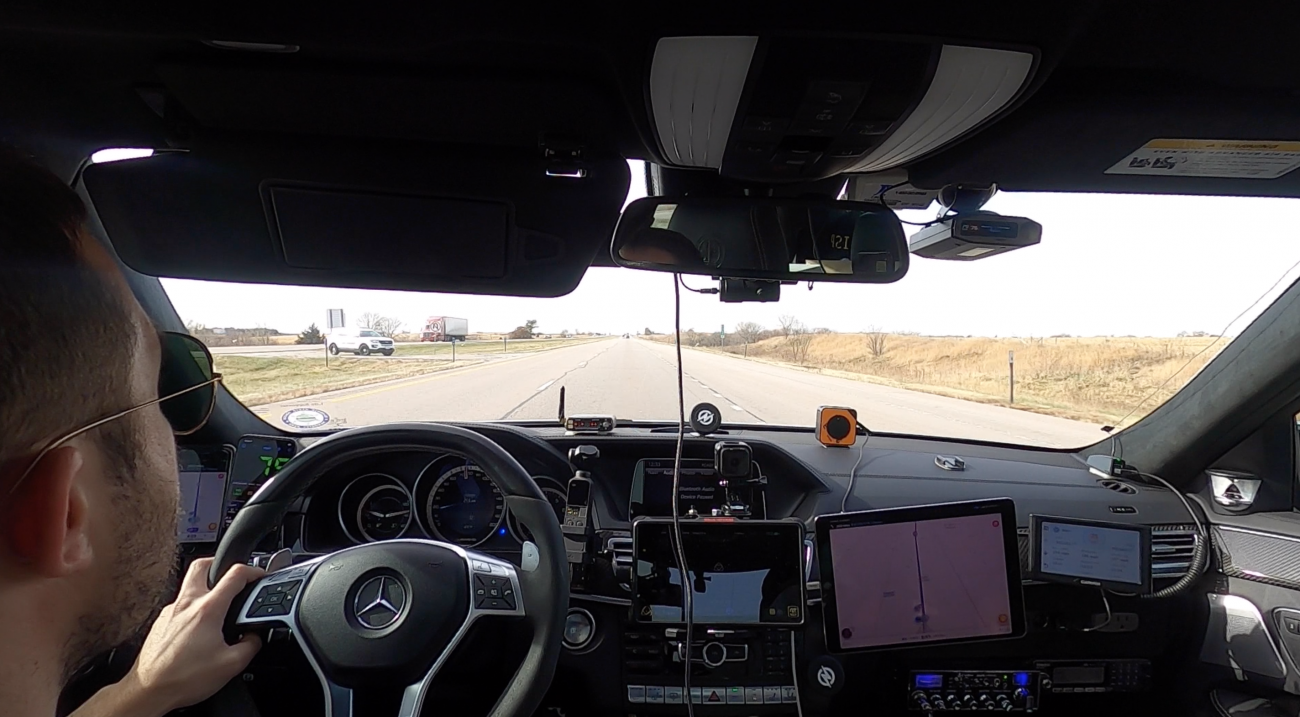 Many people ask how it's possible to drive so fast for so long without getting caught. Having done some ride-alongs with cops, it really comes down to the concept of easy prey. Most drivers are so inattentive that they aren't aware they are speeding and don't see the cop until he has already started writing their ticket – it's like shooting fish in a barrel. Being aware is more than half the battle – the countermeasures just help for those few officers who are putting in the extra effort. To quote Super Troopers, when Captain O'Hagan is chiding Foster for his measly three tickets written, the rebuke is a simple "Try hiding!" If I was a cop, I would catch every Cannonballer out there, because to catch a speeder you have to think like a speeder, but I'd let them go anyway because I disagree fundamentally with the entire philosophy behind and current methods of speeding enforcement.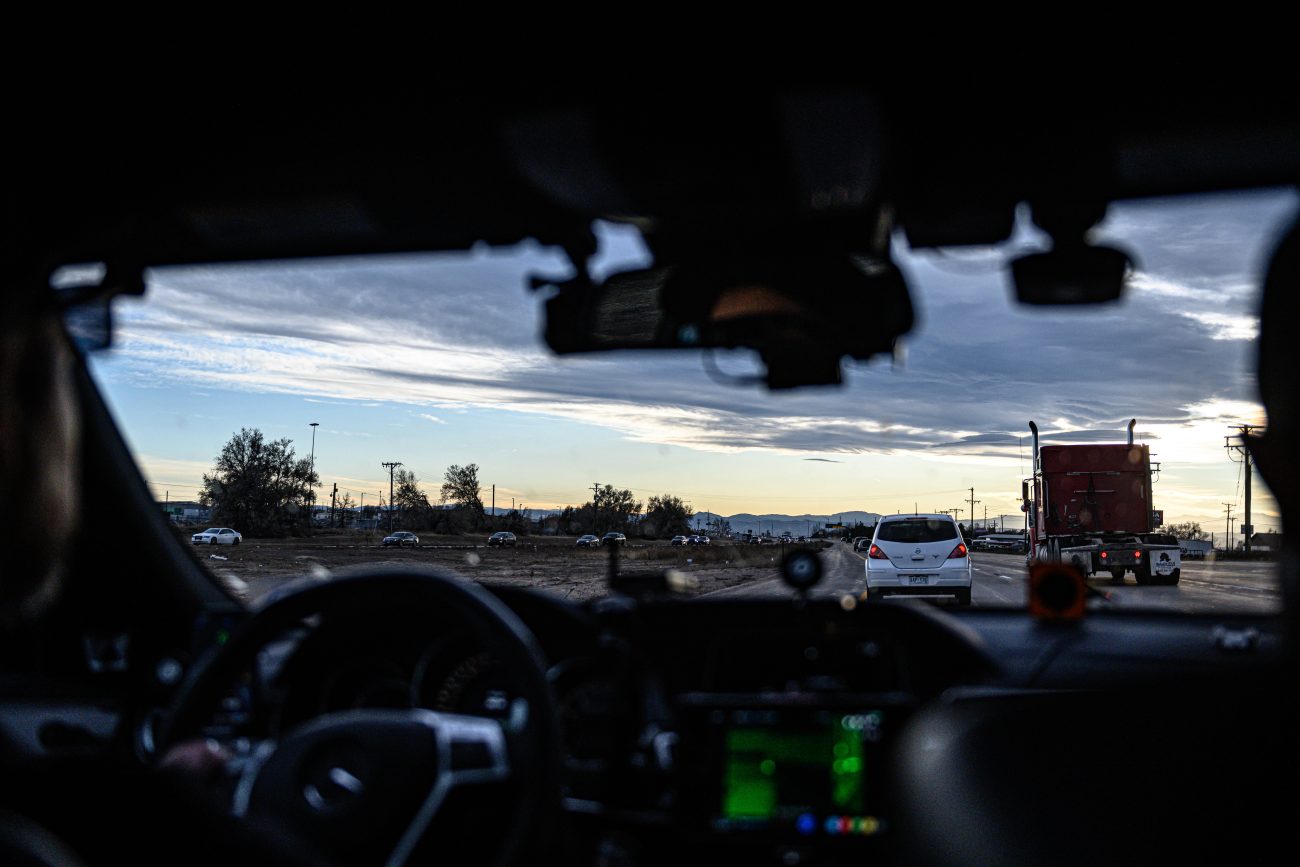 Cannonball Pit Crew in Colorado
Back to the run. Arne's friends from iCraveBoost Performance met us at our third gas stop, and that was providential, for they found out that the pumps weren't working and quickly lined up an alternate fueling location. It was a glorious sight rolling in to see Schiller standing there with two nozzles in hand, ready to fuel us up while we emptied our own tanks and took a breather. His wife Nichole drove out ahead to scout, but despite our beautifully orchestrated fuel stop and staggered scouts through Colorado, we continued to lose time. Lots of it. Arne got stuck behind a Sheriff driving painfully slowly for almost an hour, and when he refused to pass the cruiser despite my impassioned pleas, I took a power nap, the most sleep any of us would get on the entire run. In Arne's defense, he was concerned about passing a Sheriff with a massive scope on the roof and a cockpit full of screens, which is justifiable…but I would have passed him. It's not like he was Homeland Security.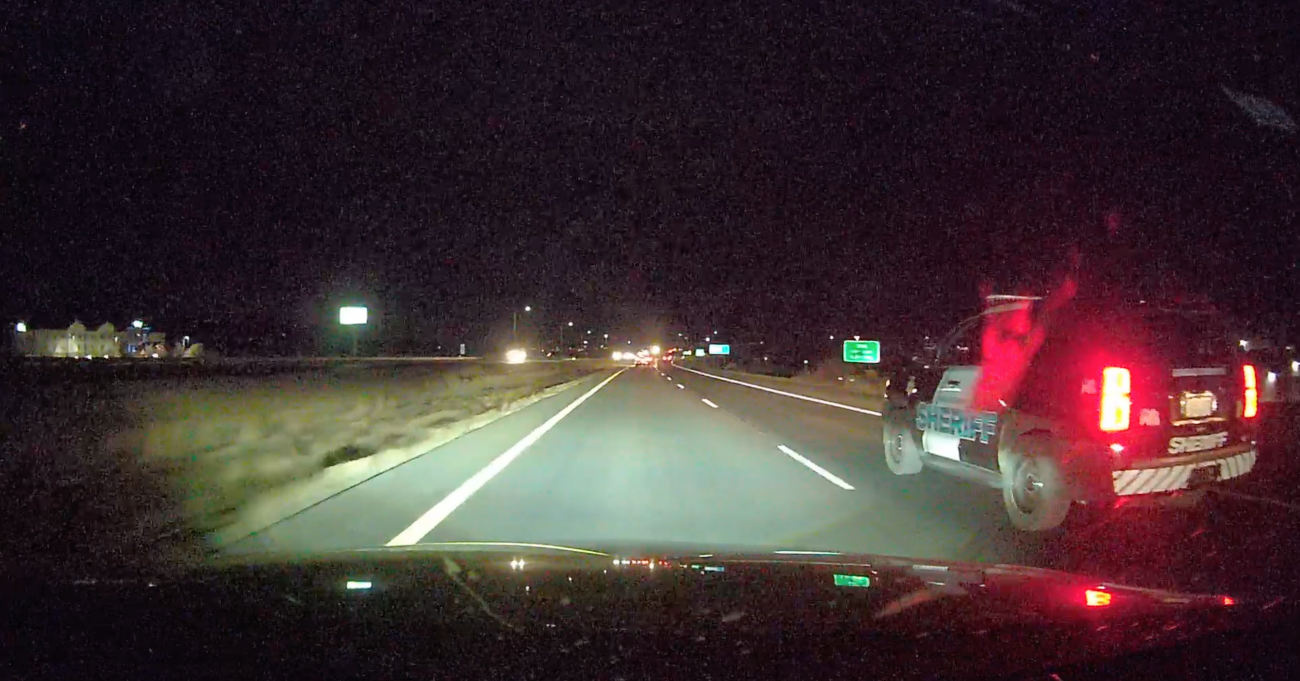 Has My Curse Followed Me?
After nearly 20 hours on the road, fatigue started to set in, and that turned to despair as our average slipped to around 101mph. This was barely above what we needed to break the record and it left us with zero cushion, which might doom us in the final approach on surface streets – Ed estimated that we would lose about 1.5mph off of our average in the last ten miles. And then my Cannonball curse reared its ugly head: the E63 started bucking violently and losing power. Having lost a transmission in the Monte on another run, that was my immediate diagnosis. Arne coasted to a stop off an exit which of course had no sign of civilization, and I started replaying my heartache from so many past runs while I texted my wife and Ed (who was watching our run, likely praying for us to make it safely, and slowly, to the Portofino) to tell them it was all over. Tears did not flow, as I was numb – this had happened so many times that it was almost expected; it seemed like the inevitable outcome. I couldn't begin to process the difficulty of trying to find a tow, a ride, a hotel, and a flight home from the middle of nowhere Colorado; all I could do was wallow in self-pity.
And then Arne started the car back up. Because when your computer gets a virus, what do you do? Hit the power button. That fixes everything. And…it did. We were not stopped for 10 seconds, and we were back on it. Arne called his tuner, and he determined that the issue was caused by the 91 octane fuel,we had put in at the last gas station along with high elevation and low temperatures. No, we weren't being cheap – there was no 93 available. The engine was detonating and then shutting down cylinders, so we could not go full throttle until we put 93 back in the car. And, of course, the next gas station didn't have it either. The E63 being the monster that it is, at two-thirds throttle our speed was limited to a measly 175mph. A certain famous Dan Gurney quote from the 1971 Cannonball comes to mind.
Arne Makes Quick Work of Utah
Utah was wide open with hardly anyone on the road, and despite the engine issues we banked some serious time as Arne proved what a capable driver with a proper car can do on an open road. The huge undulations, or "frost heaves" as we call them back East, provided quite the wild ride at 140+ mph, and, while I had the utmost confidence in Arne's skill and experience, my thinly-veiled concern for the equipment was vocalized in a reticent "how are those tire pressures?" They were fine. Unlike my 2.5-ton beige behemoth, this Autobahn cruiser was designed for this abuse and was barely breaking a sweat.
Our final gas stop, bathroom break, and driver change, and all that lay between us and the record was three states, one major construction zone, Las Vegas, and a fruit inspection station. We dumped our now-rotten organic bananas, which, for the record, turn brown WAY faster than non-organic ones. Las Vegas slowed us down a bit with multiple speed traps through the city along with being stuck behind a difficult-to-identify Charger for a while.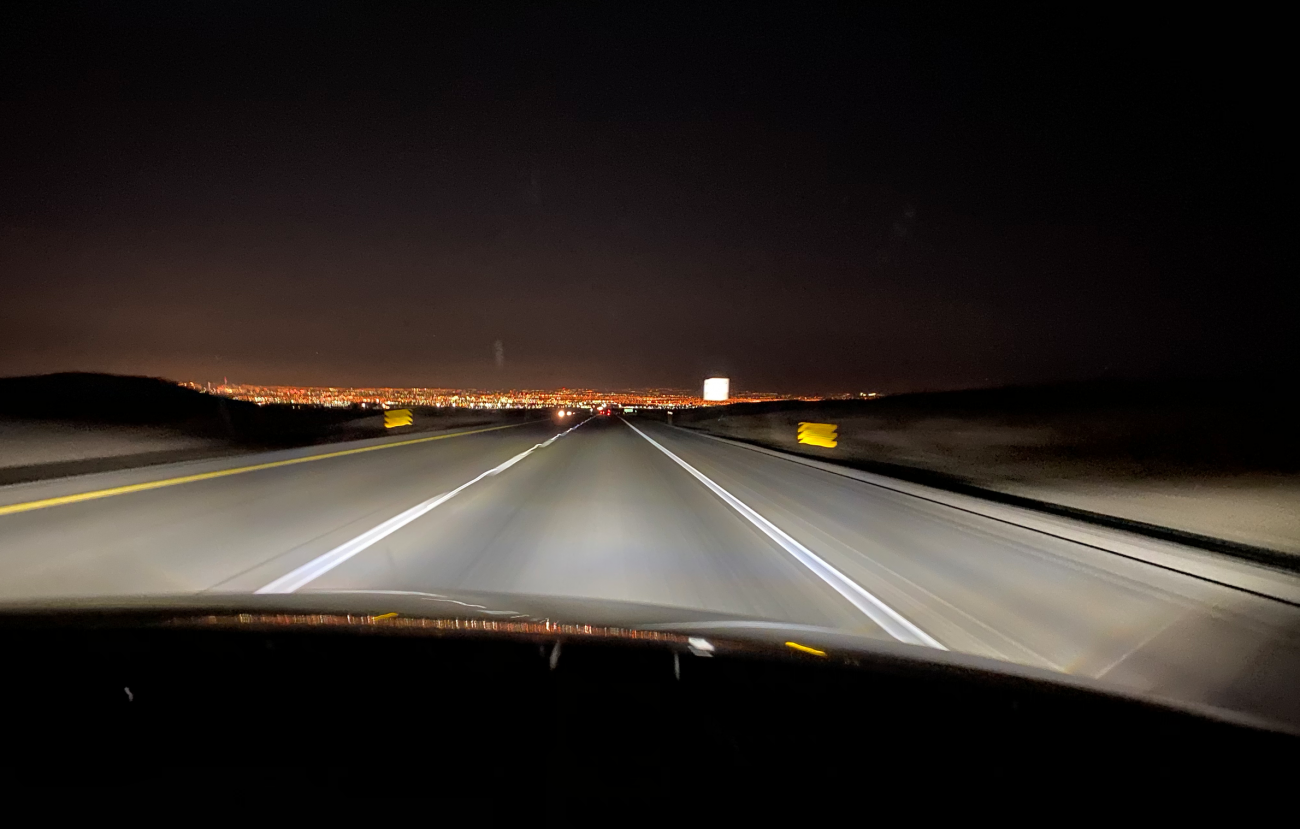 A Scout to Beat All Scouts
Once into California we got a fresh injection of adrenaline in the form of a two-wheeled Cannonballer, Carl Reese, who was to be our scout into LA. People say we're nuts… this guy is on another level. His plan was as follows: "I'll run about 130 and use my high beams to move people out of the left lane. You guys tuck in behind me and I'll clear the way for you." Umm, okay! Words could not describe how much of a morale boost that was, as I felt like I was psychologically drafting him, just at the point where our fatigue would cause us to slow down. While I was more worried about his safety than anything else, the scene must have really confused other drivers, as it probably had the appearance of a Russian mobster convoy. Something out of the movies. If anything, that confusion was what prevented us from having an army of CHP waiting for us ahead.
Our motorcycle escort peeled off to refuel, and the last 100 miles or so were on us. We were all alone to the finish, as our final planned scouts were out at the club, along with the rest of the Western world who had no inkling of what history was about to be made. Our average was back up to 103.4; but because it ain't over until it's over, although I can't speak for the other guys, I felt no excitement or anticipation. Zero. I was just focused on making it there without being the cause of disaster. And that disaster almost happened in the form of a navigational error. I was unsure of the way to go on a highway split, so at the last minute I locked up the brakes and made an evasive maneuver and came to a stop on the wrong side of a barrier from the way we needed to go. That was fine, at least better than going full speed down the wrong highway. I threw it into reverse and continued down the right road.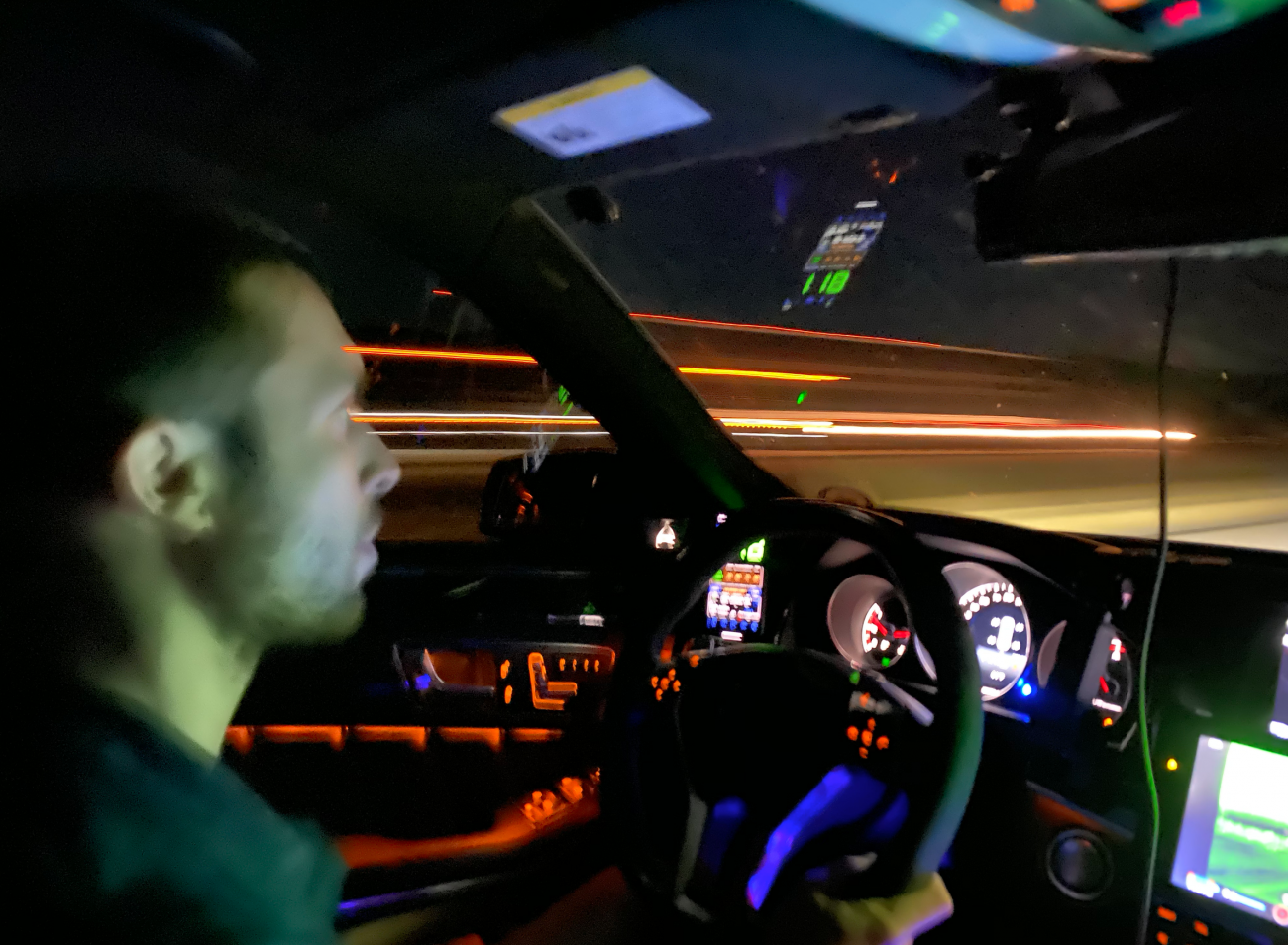 We Made It!
Coming into LA was eerie, as we could see – and smell – the dark smoke that was lingering from the Getty fire. Traffic was almost nonexistent on the highways, and after exiting onto the surface streets it seemed like a ghost town, to the point we wondered if the Portofino would even have its lights on when we arrived. Our traffic light changer had no effect, and while I was prepared to run every light in between the highway and the Portofino if necessary – after stopping and signaling with our emergency horn of course – there was no need to as we were welcomed into Redondo Beach by a sea of green lights. We started to get excited, Arne was yelling instructions at me to make sure I didn't screw up, and we anticipated roaring into the Portofino to cheers, champagne, and fanfare worthy of the incredible feat we had just accomplished. No, rather, the deserted streets were a precursor to the anticlimactic arrival that Ed describes so well in his book. We cruised in, took photos of the GPS screens, and got out of the car, wondering what to do with ourselves now as we ambled aimlessly around.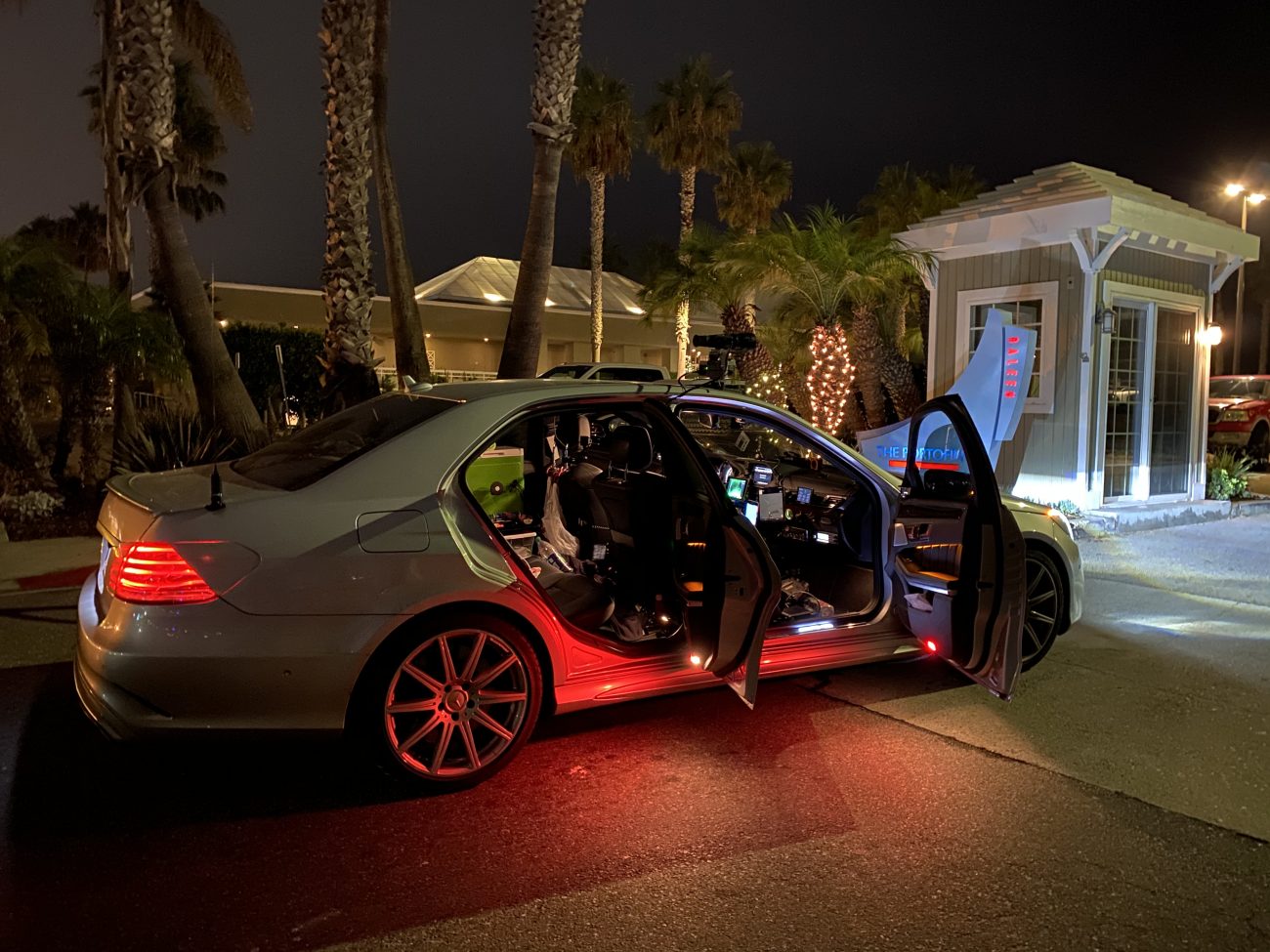 As if to put a period on the sentence that was waiting for an exclamation point, a Redondo Beach police cruiser rolled in lazily a few moments later, casually making his rounds of the parking lot. Looking for someone, anyone, with whom to share the moment, I walked over to make conversation. "Have you ever heard of the Cannonball?" "Yep." "We just set the record!" "That's pretty cool." We gave him some patches and a Cannonball Memorial Run challenge coin, staged some photos, and thanked him for his service, while he lamented his lack of anything interesting to do that night. He returned later with some Redondo Beach PD patches for us as a gesture in kind.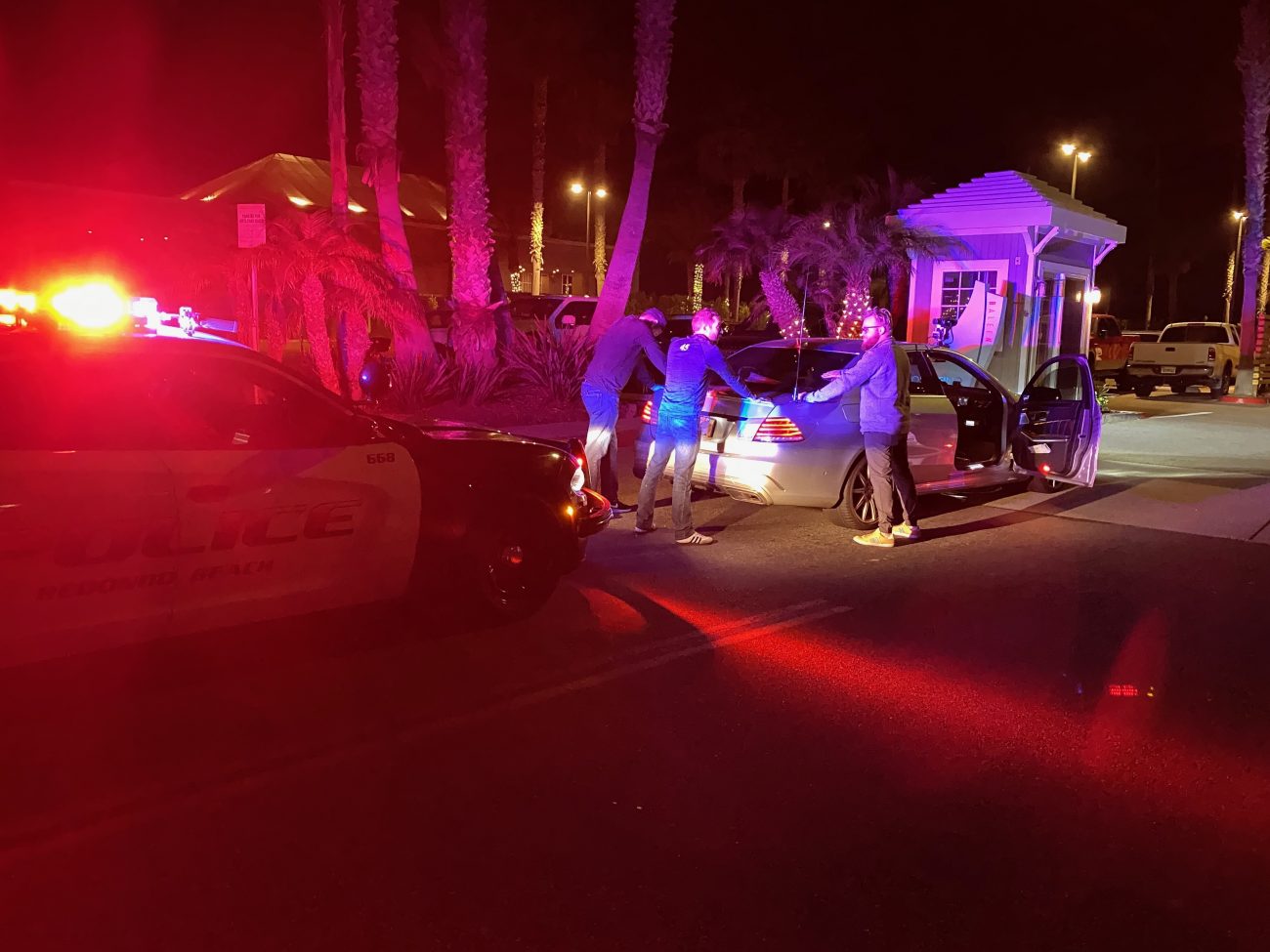 A New Cannonball Record!
So what the heck were the numbers? Ed's record was 28:50, what was ours? Well, we managed it in a blistering 27 hours 25 minutes and 7 seconds, averaging 103.1 mph for 2825 miles from the Red Ball parking garage to the Portofino. We were stopped for just over 22 minutes, and that's with four fuel stops. Our team was rehearsed. The car was a beast. The weather was sublime – not a drop of rain. The scouts, invaluable. The countermeasures the best that money could buy, and better, given my and Arne's experience. Berkeley was the spotter of the year, sleeping maybe ten minutes the entire drive. And our luck held out, because that is always the determining factor.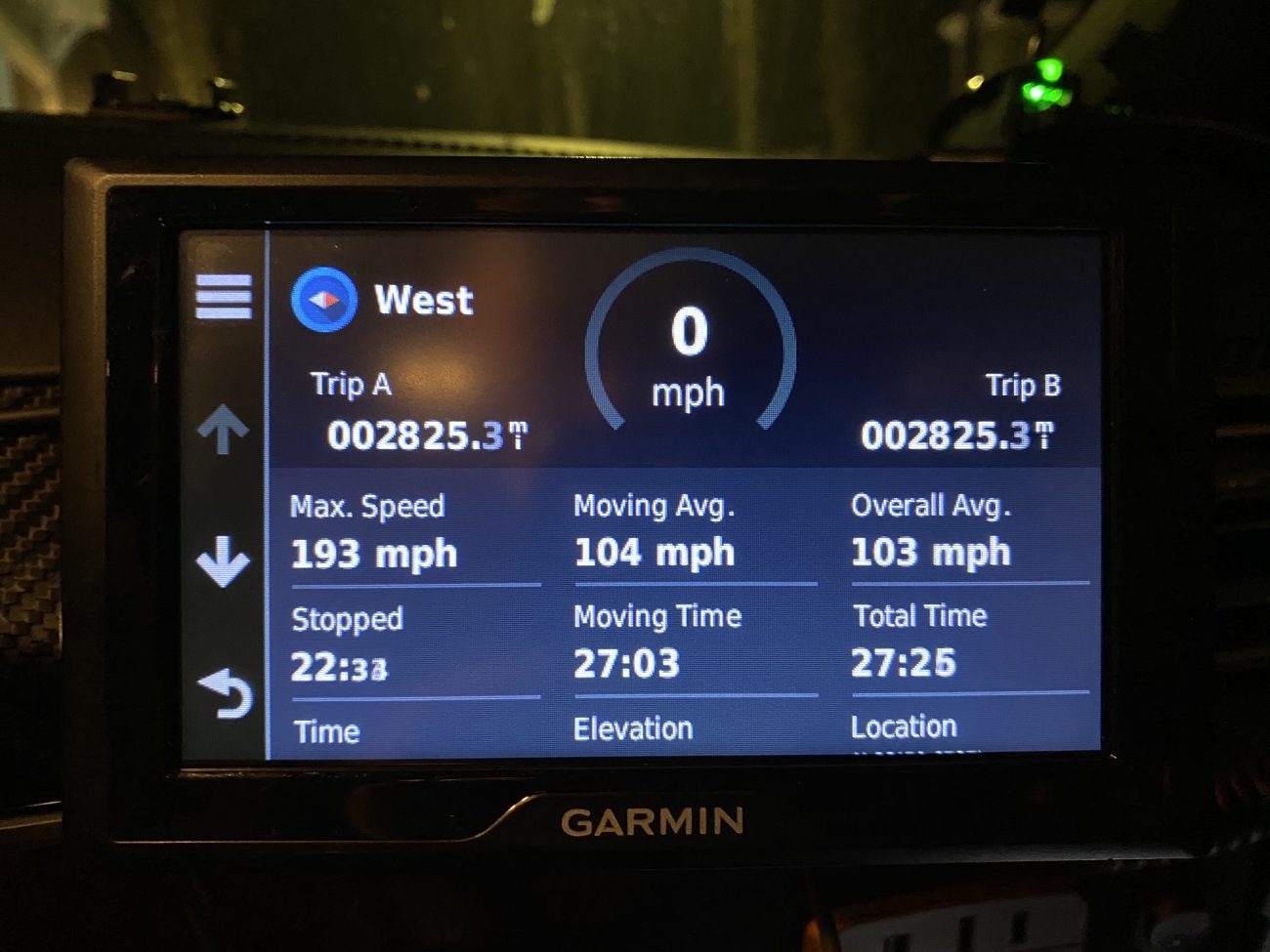 An Ironic Time to be Pulled Over
The finish line wasn't the end of the story though. Ironically enough, the Portofino couldn't give us a room because their reservations system was closed out but their accounting wasn't, and the desk clerk did not understand the significance (or the math) of us having driven from New York, THAT DAY, in order to stay at their fine and historically significant establishment. So we checked in and showered at another hotel that was happy to take our money, and following Ed's post-run tradition, headed out to Denny's. And got pulled over. By the Redondo Beach Police Department. For suspicious license plates. Arne thought that the other officer had put these guys up to this as a prank, but after being yelled at to keep his hands on the wheel and turn the car off, we quickly realized this wasn't for funsies.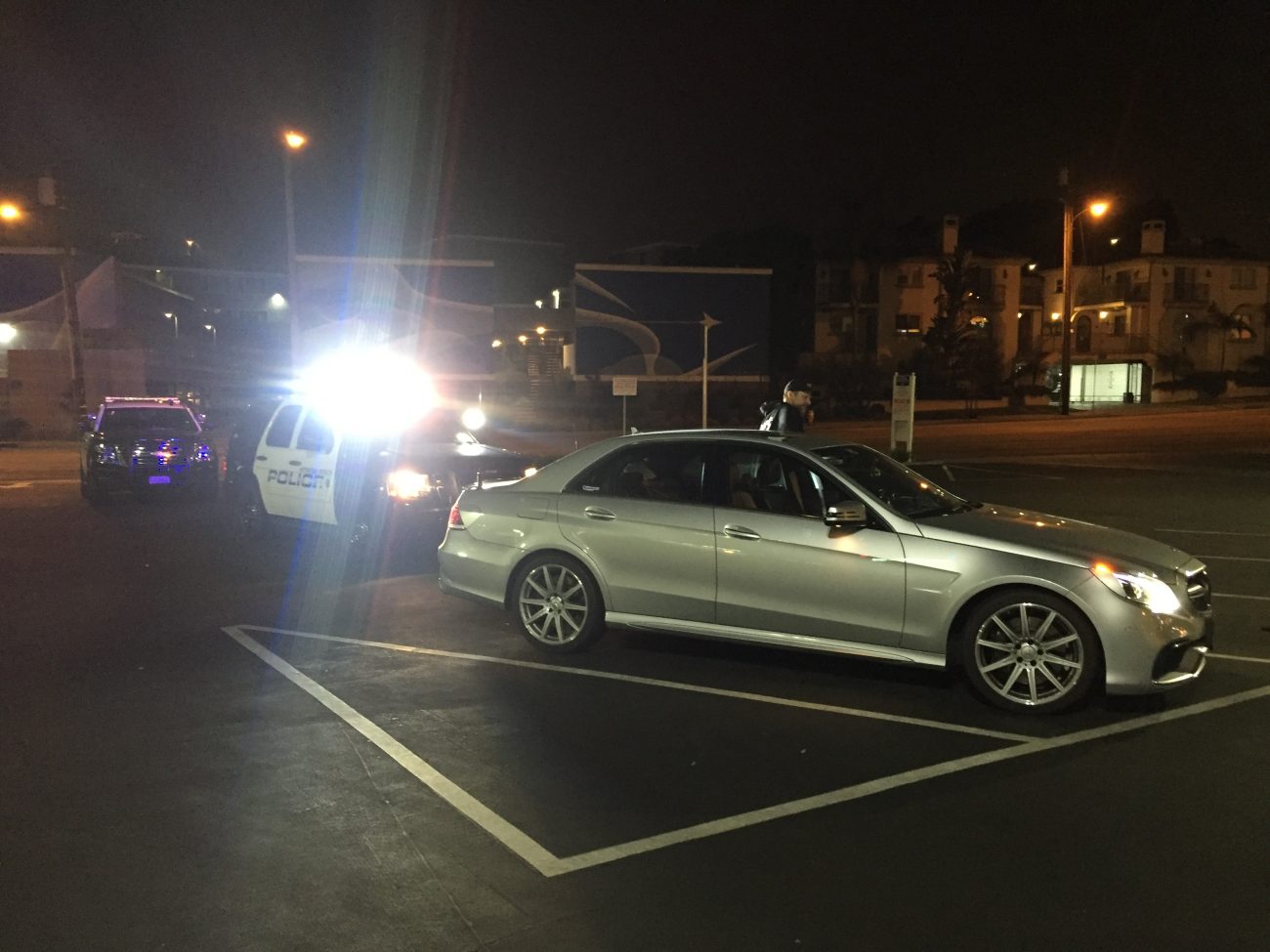 Always wanting to lighten the mood with officers, I had the brilliant idea of asking him if he collected patches, which is the universal police currency, and handing him his fellow officer's patch which had just been given to us. It backfired, as he did not see the irony nor the humor in that, although the situation itself was dripping with irony: we had just driven over 2800 miles across the country at record speeds, avoiding nearly any attention from law enforcement, only to get yanked on our way to Denny's. At the speed limit. After calling in backup, he finally determined that we were not (currently) up to anything nefarious, and bade us goodbye. We locked the car, went in to a deserted and cold restaurant to order breakfast, and I fell fast asleep at the table.
Doug Tabbutt is first and foremost a redeemed sinner. Professionally, he is the founder and owner of Switchcars, Nuts4Sticks, and Caridiots (launching Dec 2019). He started Switchcars when he was just 20, and is working on becoming a serial entrepreneur. Doug won the 2018 C2C Express in his 1977 Monte Carlo with a time of 33:33 from NY to LA, and now he and Arne hold the overall Cannonball record with a time of 27:25 from NY to LA. Doug is on a perpetual journey in life to be the guy that says "hold my beer, watch this." You can follow his automotive shenanigans on VinWiki and Instagram.