goldRush Rally Day 4 – Detroit to St. Louis
In Detroit we had picked up Syed's wife Erica. We would be rolling to Indianapolis and then St. Louis together in the E63. The plan was for me to give Erica some lessons on Police spotting and using all of the countermeasures as she would be the co-pilot starting in Memphis.
That morning I left the Greektown Hotel early to pick up Syed and Erica from their home where they spent the night. I had to make a quick pitstop at a local carwash though because Erica's car was a mess after a few days on the rally.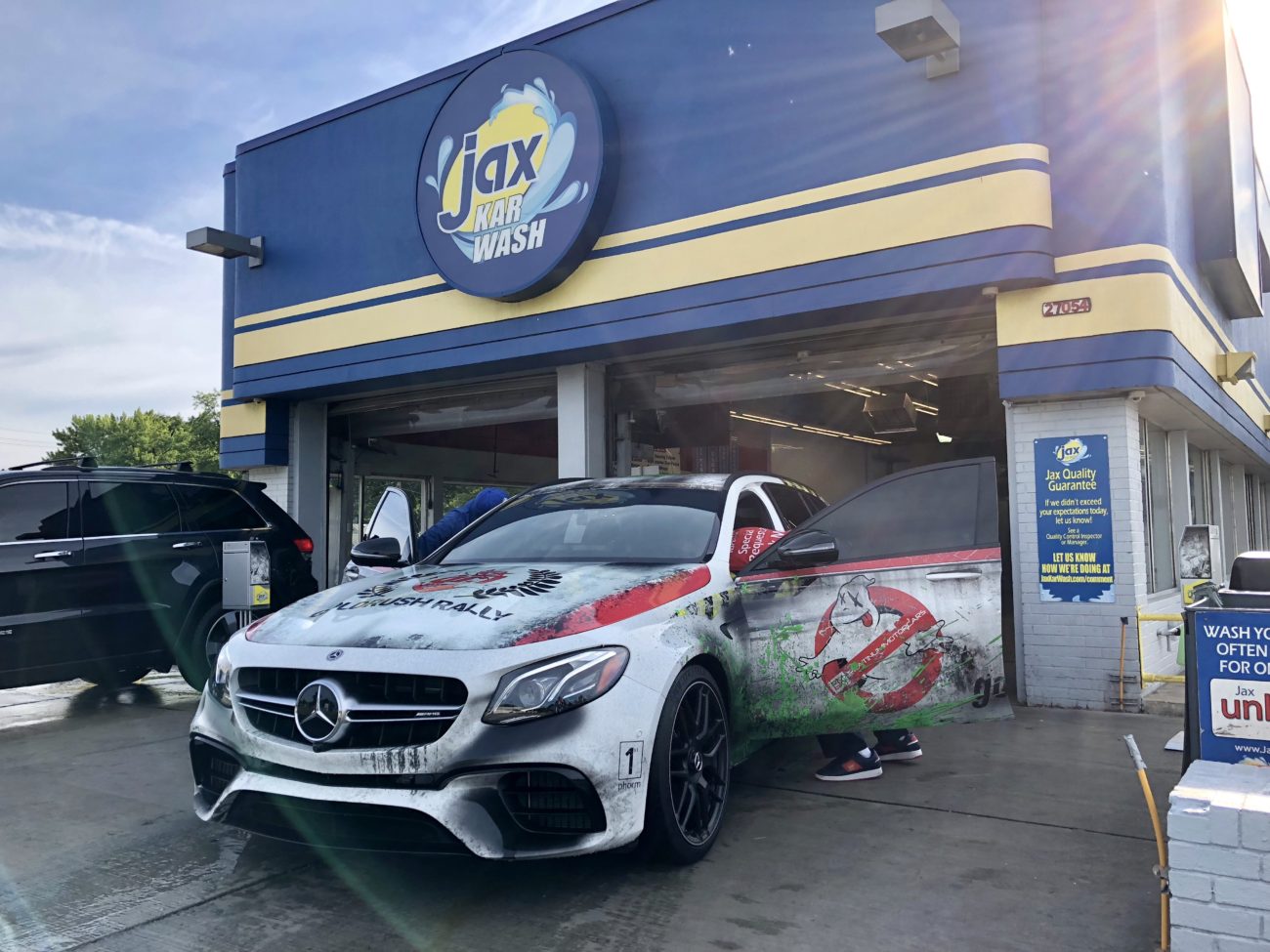 Once I got to their house We did a quick clear-out of the car tossing a lot of the junk and leaving things behind that we no longer needed. It felt good to have less stuff in the car. We loaded up and headed to LBI Limited for breakfast. A quick look around and we set out to the parking lot to get in the car and leave. This is where things got interesting.
goldRush Party of Five
Ryan's Lightning McQueen 911 and the Guntherwerks 400R both needed to stay in Detroit for the morning to get a little service work. The 400R needed a tweak to the alignment and Ryan's car a transmission service. Seeing we had the most room, Chad's wife Robin and Ryan's co-driver Mark would be joining us on the way to Indy and possibly all the way to St. Louis.
A mad dash to make room we piled all of the bags and stuff from the back seat into the trunk area. We ended up with a pile so high you couldn't see out the back window! We filed in and set off for what I thought was going to be a miserable day packed in the car like sardines. 
It quickly became the best day of the rally as the conversation brought laughter the whole way. As we made our way out of the city we caught up with the rest of the Detroit "40 Roll" Team consisting of Anthony in the Polizei 991, Doka in the Lamborghini Huracan, Nick in the 911 and Gassan in the Mercedes-Benz SL550. Their driving "style" was not all that popular with the others on the road. I'll leave it at that!
On the desolate 4 lane back highways in Ohio the goldRush party of five hit 170mph while trying (and succeeding) to shake some jack-weed in a Pontiac GTO who wouldn't back off and thought he could hang. Coincidently it was the highest speed we'd achieve on the whole rally. With 5 damn people and a hatch FULL of luggage the AMG did it with ease!
Indianapolis Motor Speedway
In typical goldRush Rally fashion, they had a pretty epic experience lined up. Not only would we get to do the traditional "Kiss the Bricks", we were set to do some laps on the Motor Speedway oval!
goldRush Rally Drives On The Speedway!
We staged up at the very front of the pack. Only the pace vehicle and Kurt Busch in his Ford GT were in front of us. As we were led out on track I was surprised how narrow it actually was. Crazy to think how they race on there at well over 200mph! We followed along in a 100mph parade around the track.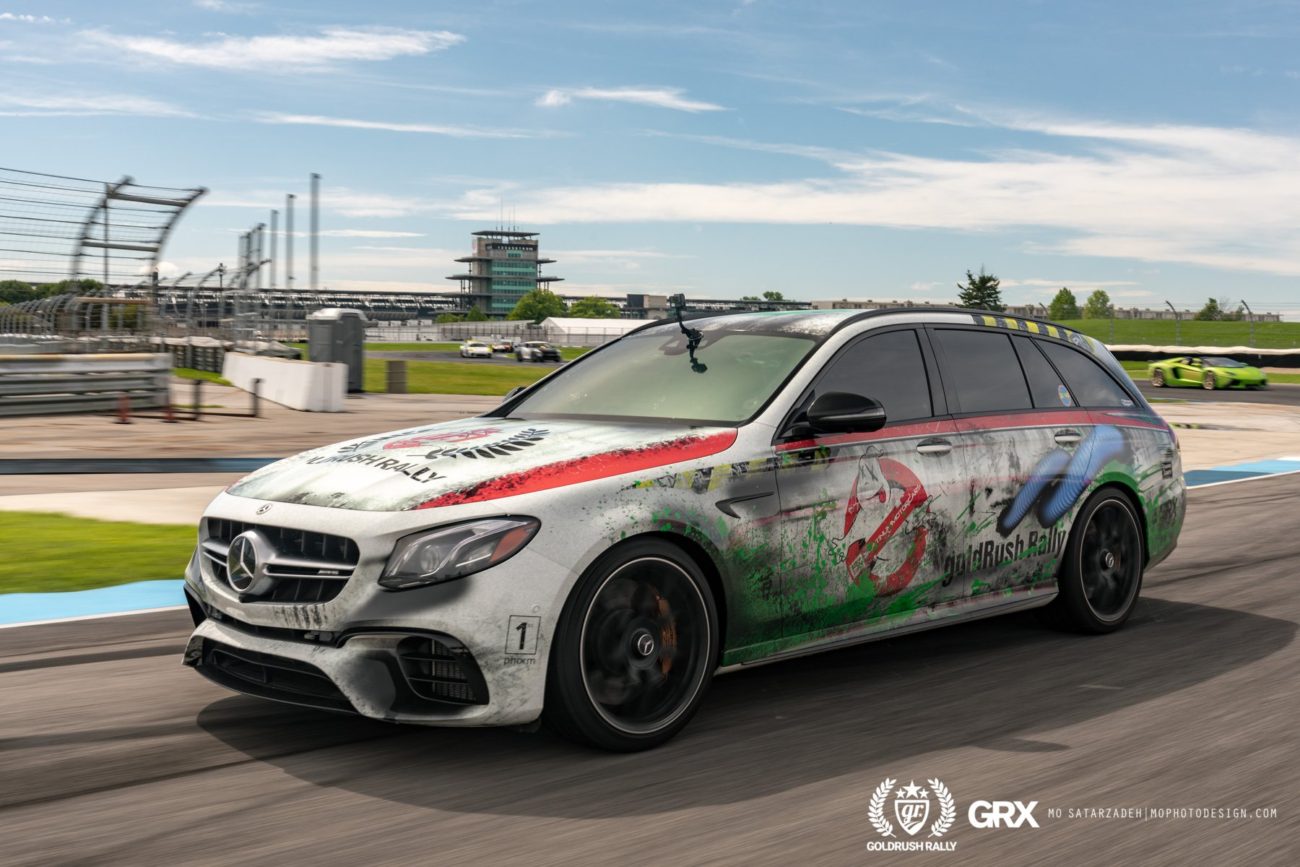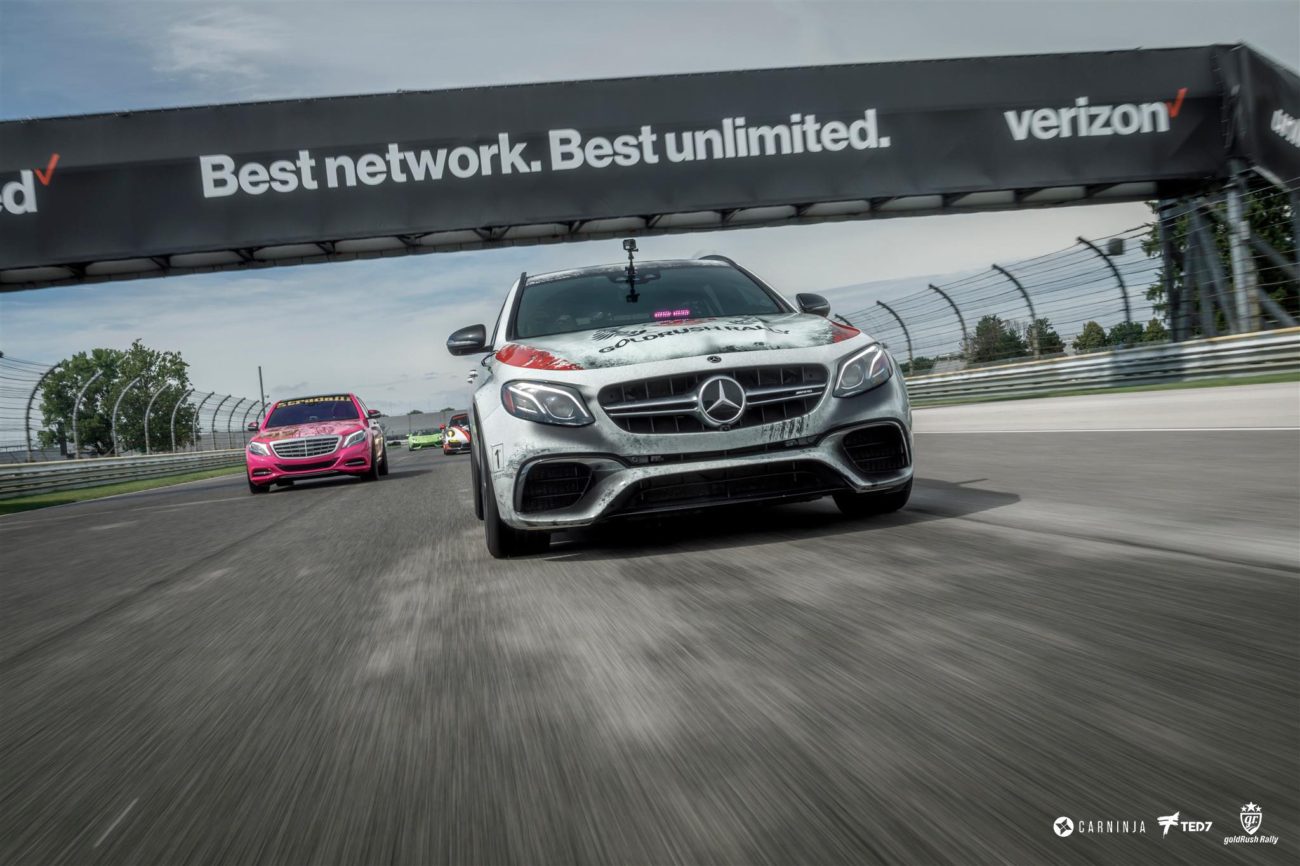 After the excitement we headed into Indianapolis for dinner and then onto our destination of the Ritz Carlton in St. Louis. It was a long but fun-packed day.
goldRush Rally Day 5 – St. Louis
My last day on the rally was bittersweet but the fun wasn't over. A police escort to the Gateway Arch and another one to 1st Phorm for a party and BBQ.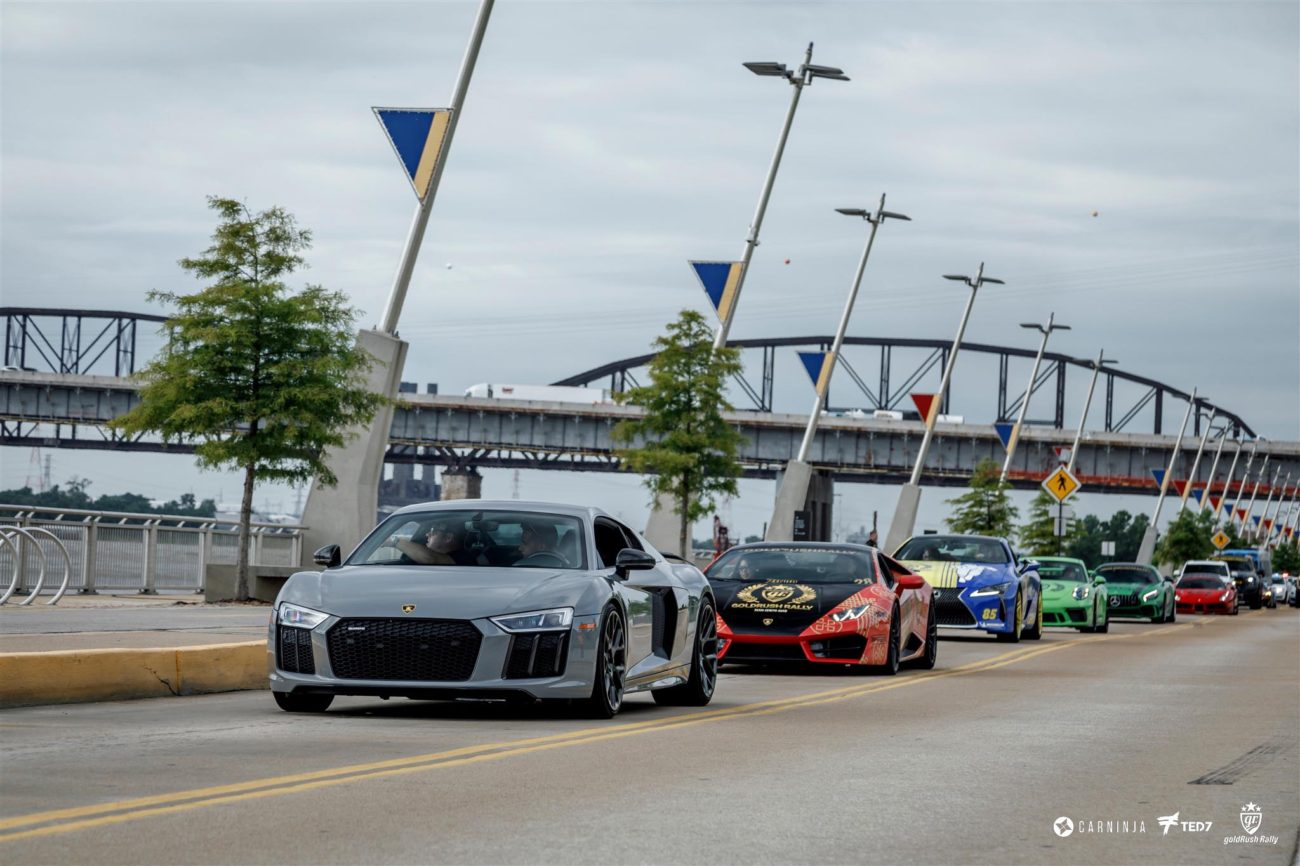 The Police escort from the Gateway Arch to 1st Phorm was not nearly as organized as the one in Detroit which ended up being a good thing. It basically involved them blocking traffic for us to get on I-40 and then with only a couple officers we were pretty much on our own with next to no traffic which made for some fun. With the purple strobe lights a blazing I hammered down in formation with my fellow goldRushers.
When we arrived at 1st Phorm they had the red carpet rolled out for us. Many fans sat waiting along the roads leading up their headquarters.
My friend and business partner Drew had driven down from Chicago in my ALPHA 9 E63 AMG and was planning to meet me at 1st Phorm to pick me up. We were also hoping to grab a few minutes with Andy and Sal Friscella to give them each a gift. One of our new locker compliant gym bags from our company Seven Supply. We ended up having a long meeting with our new friends.
All Good Things Come To An End
Syed and Erica took ECTO 1 and continued on to Memphis. They proceeded to get a big speeding ticket the next day! Somehow they got away with the fake New York license plate but my professional Police spotting was surely missed.
It was great to see old friends and make new ones. I always look forward to seeing the goldRush family each year. Now I need to get back to the drawing board for next years goldRush Rally. It's getting hard to top these great themes each year!
For Cannonball, Rallies and nonsense follow all of my automotive adventures:
Facebook: Arne's Antics
Instagram: @arnesantics
Special thanks to Mo Satarzdeh, Ted 7 and Tillman Light Drawing for the photos!