In 2015 I began a journey into the underground world of Cannonball. Never did I think I would befriend the two most famous modern day Cannonballers. Alex Roy and Ed Bolian had been legends to me since their record runs. Never in a million years could I predict what would unfold just a few years later in the 2018 C2C Express when I got the Cannonball invitation I couldn't refuse!
Cannonball Revival
I attribute the modern day resurgence of Cannonball to Alex Roy. He was the first person to set out to beat the fastest NY to LA time of 32 hours 7 minutes set during the last US Express in 1983. In 2006 Alex and co-driver Dave Maher beat the odds and reset the record with a 31:04 time in the now infamous Polizei 144 BMW M5. This sparked my interest in making an attempt at some point.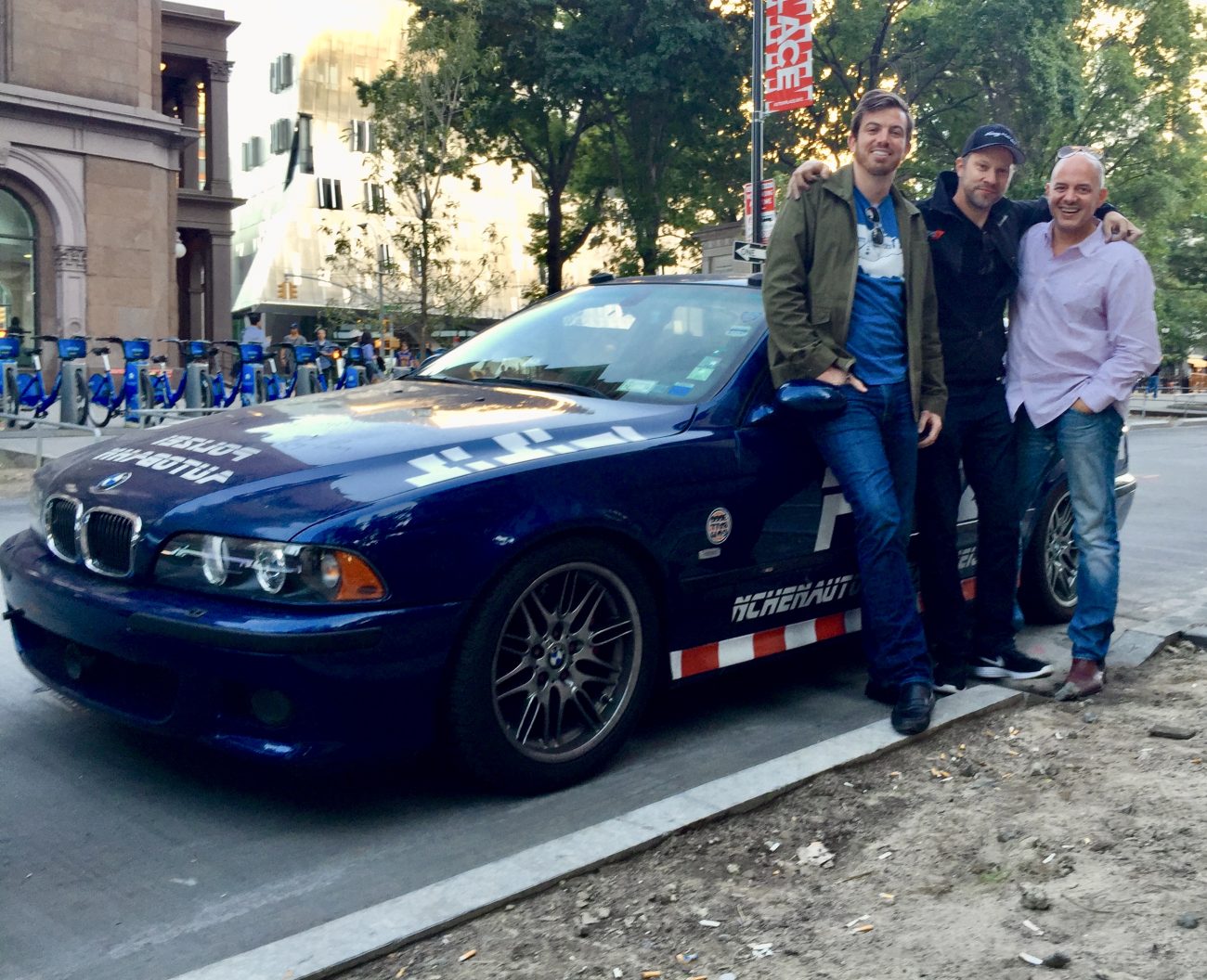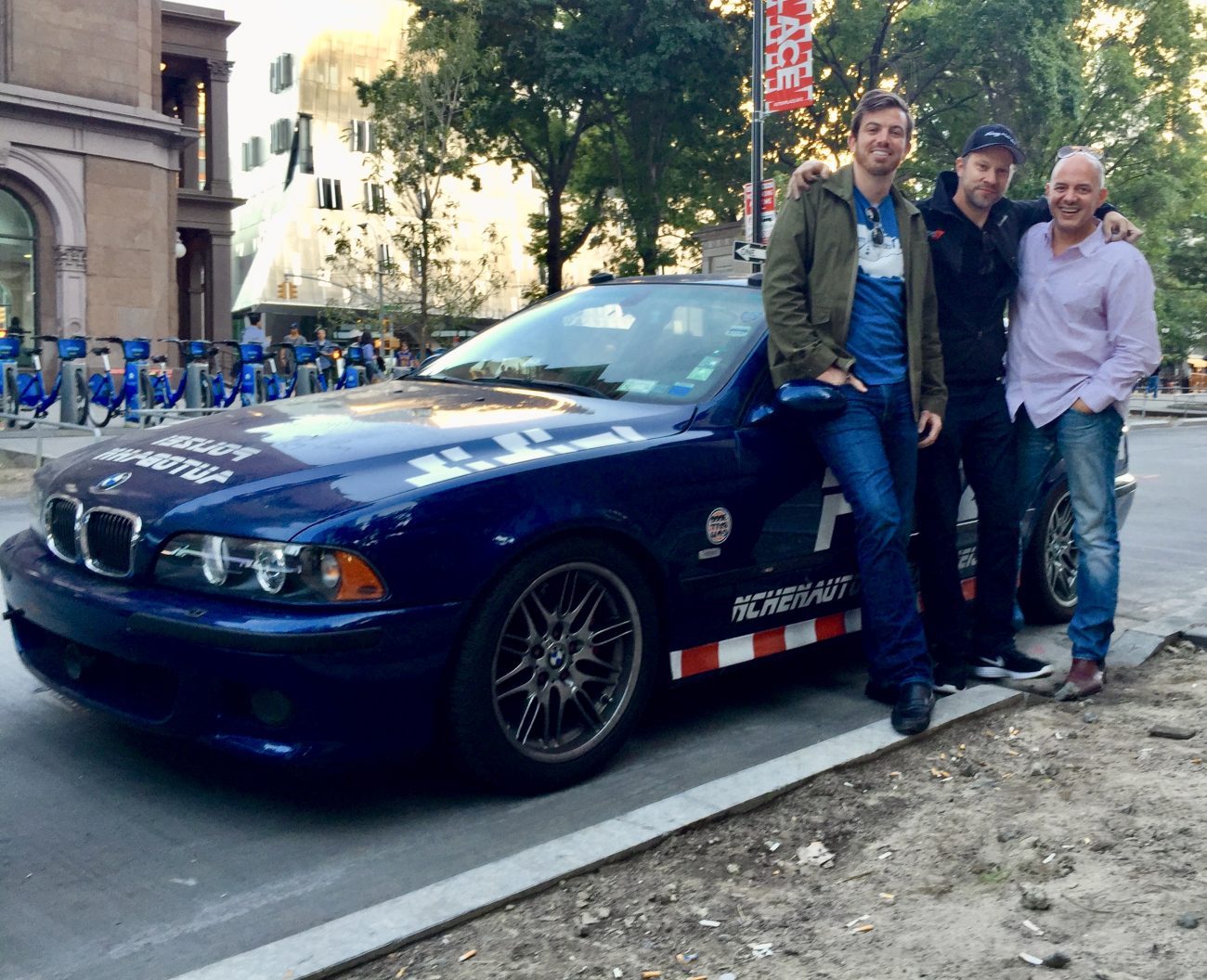 Then there is Ed Bolian. In 2013 he smashed through the 30 hour barrier in his CL55 AMG with an unbelievable time of 28:50 with an overall average speed of 98mph across the entire country. They said it was a barrier that could never be broken and Bolian smashed right through it!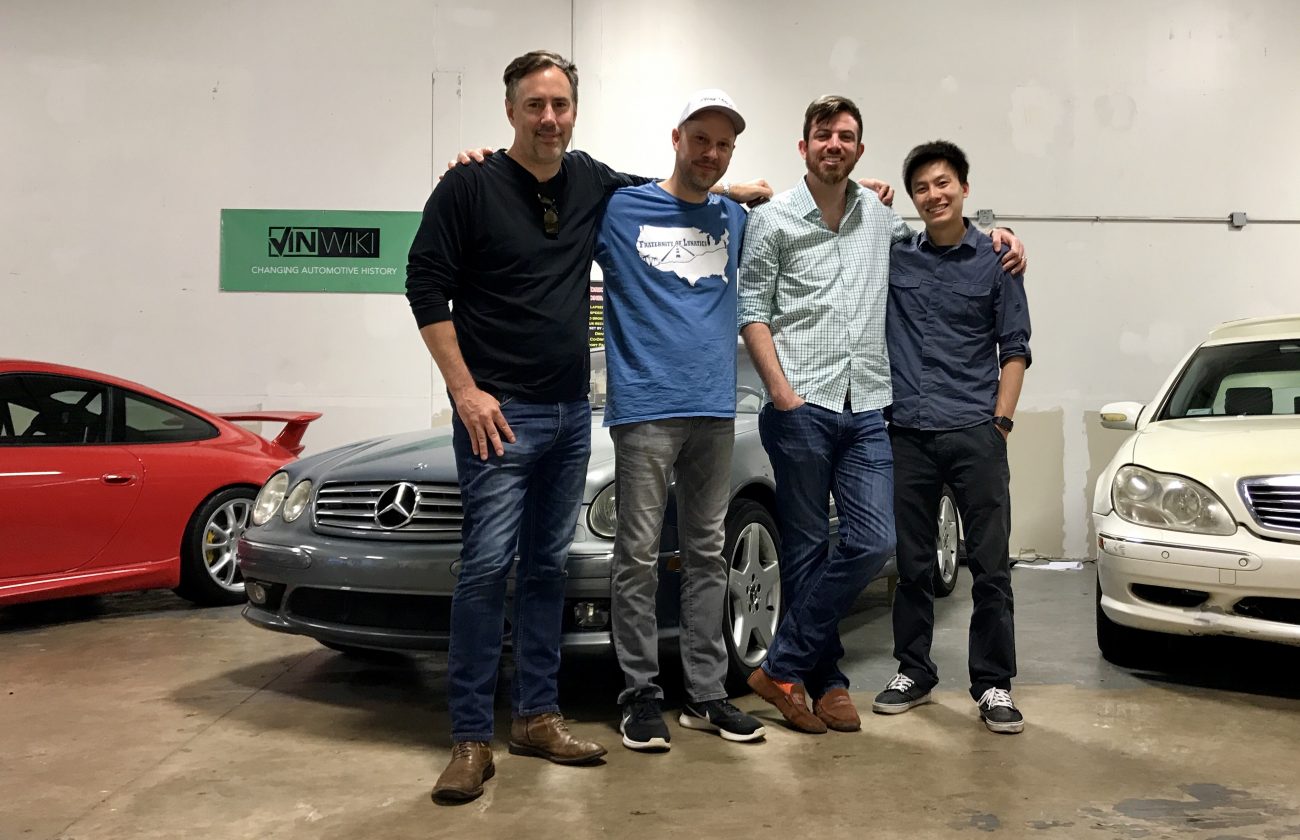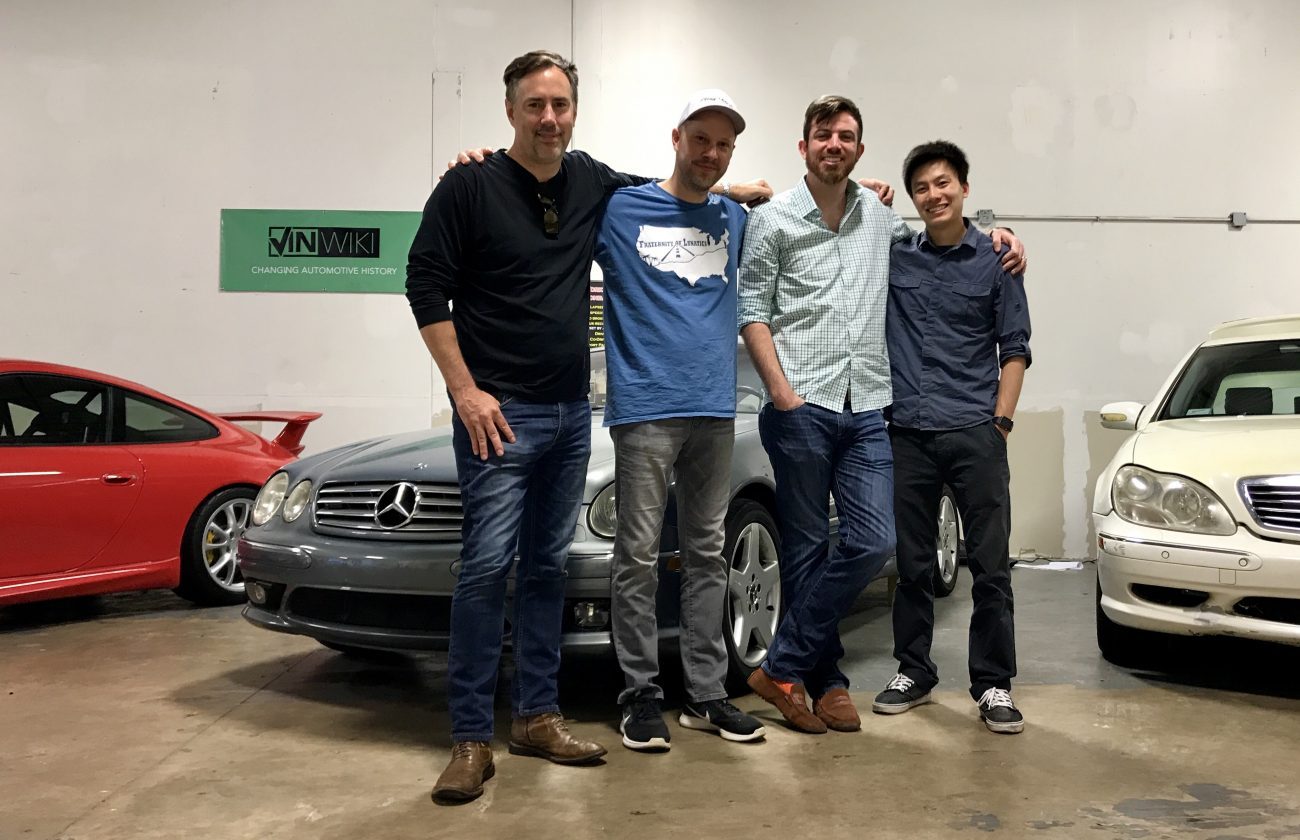 I Get the Invitation of a Lifetime!
The C2C Express is a cross country drive following the traditional 2800 mile NY to LA route from the Red Ball Garage in Manhattan to the Portofino Inn in Redondo Beach. The clock starts in NY and doesn't stop until LA. The same event Ed, Forrest and I won in 2016 in my Bluesmobile.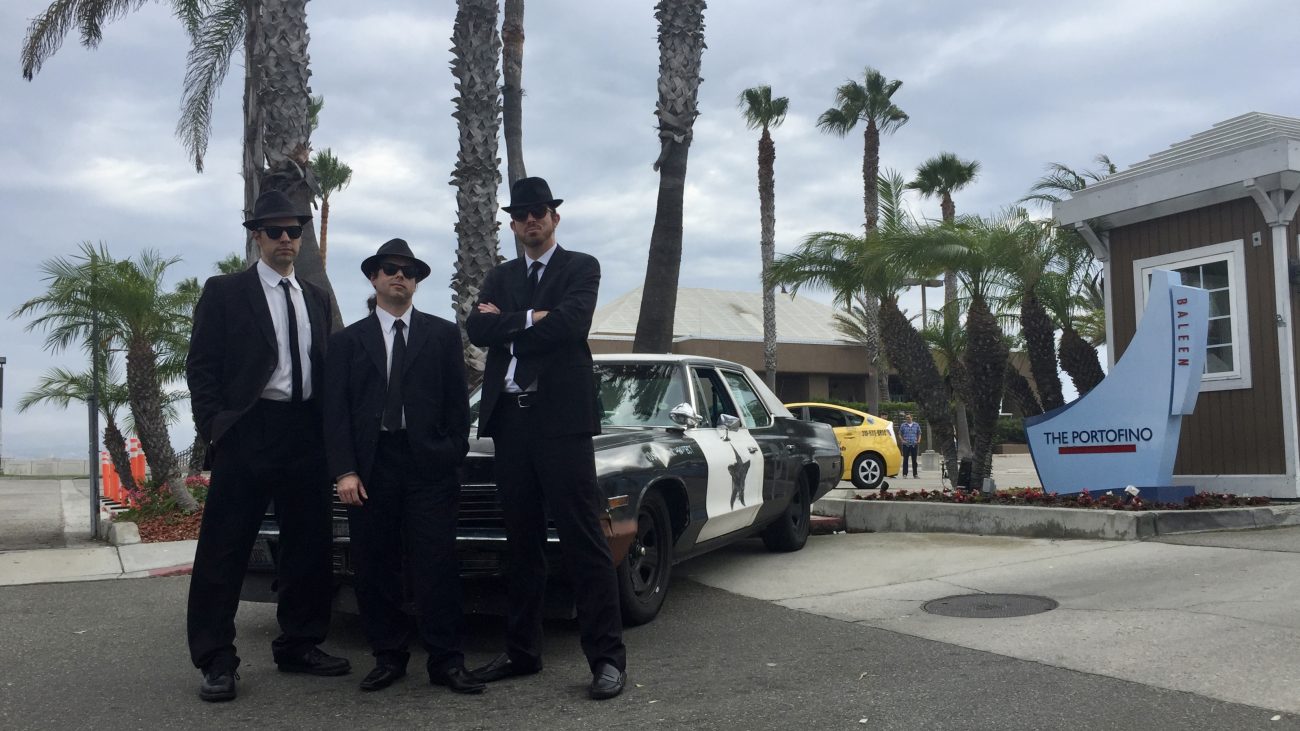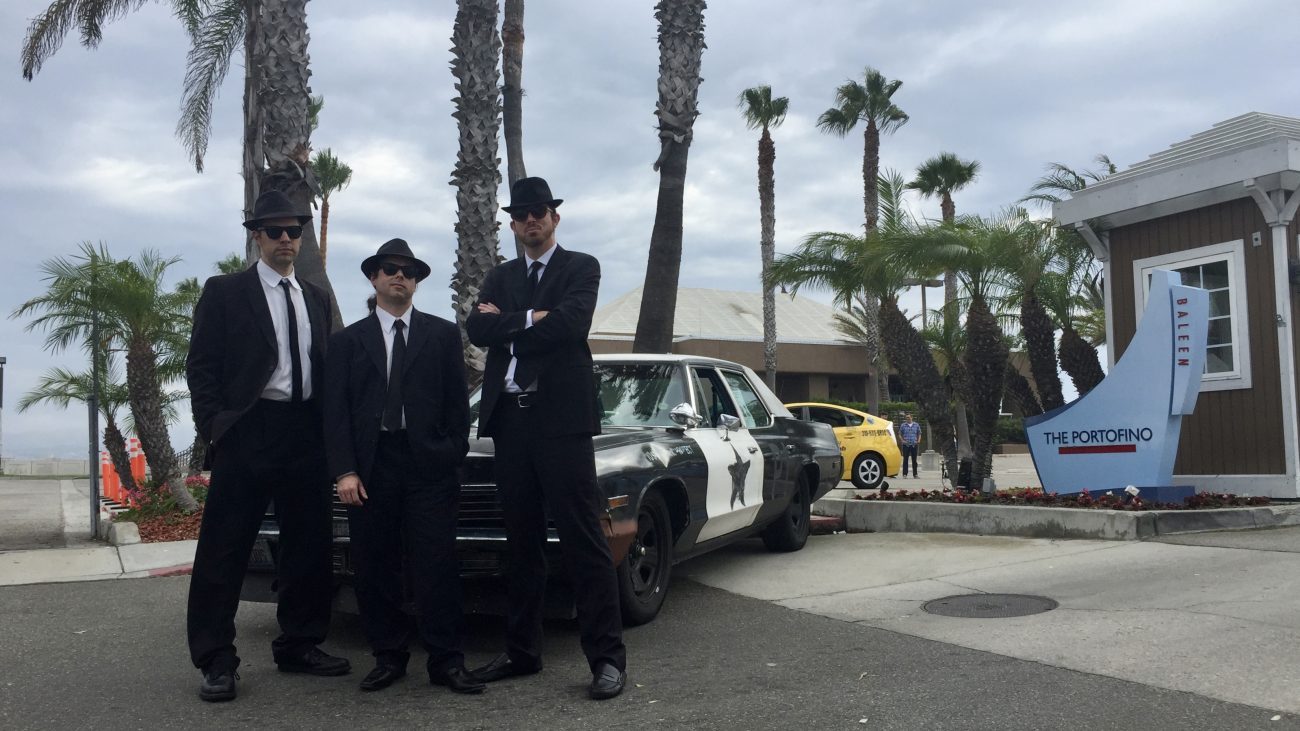 This year I had no plans to go on the C2C Express. Family and life in general kept me from building another car. Of course I tend to fall into amazing opportunities and that's just what had happened.
Ed had been asking me to join him in his 1985 Brock Yates Edition Audi Quattro 4000s for some time. I kept telling him most likely I wouldn't be able to make it but it seemed he really wasn't taking no for an answer. Two weeks before the run he called again and informed me I had no choice but to come. Alex Roy had accepted the offer to run in the Yates Edition Audi. I was the the last piece Ed needed to form the Cannonball Dream Team of the fastest names in the business. That was all I needed to hear. I told him I was in and hung up the phone. I remember thinking to myself, did that just happen? Was I running a Cannonball with Ed Bolian AND Alex Roy??
My Slowest Cannonball With the Fastest Drivers
This C2C Express surely wasn't going to net us a stellar time. The Yates Edition Audi was not built for Cannonball. It was built for the One Lap of America. Not to mention it only had 130 HP. The car was 1 of 12 built by Brumos Audi and featured a larger gas tank (allegedly), trip computer (was missing), Recaro seats and special badging. Ed's car however seems to have a standard 18 gallon tank and the trip computer must've been removed. Since there is so little information about the car who knows.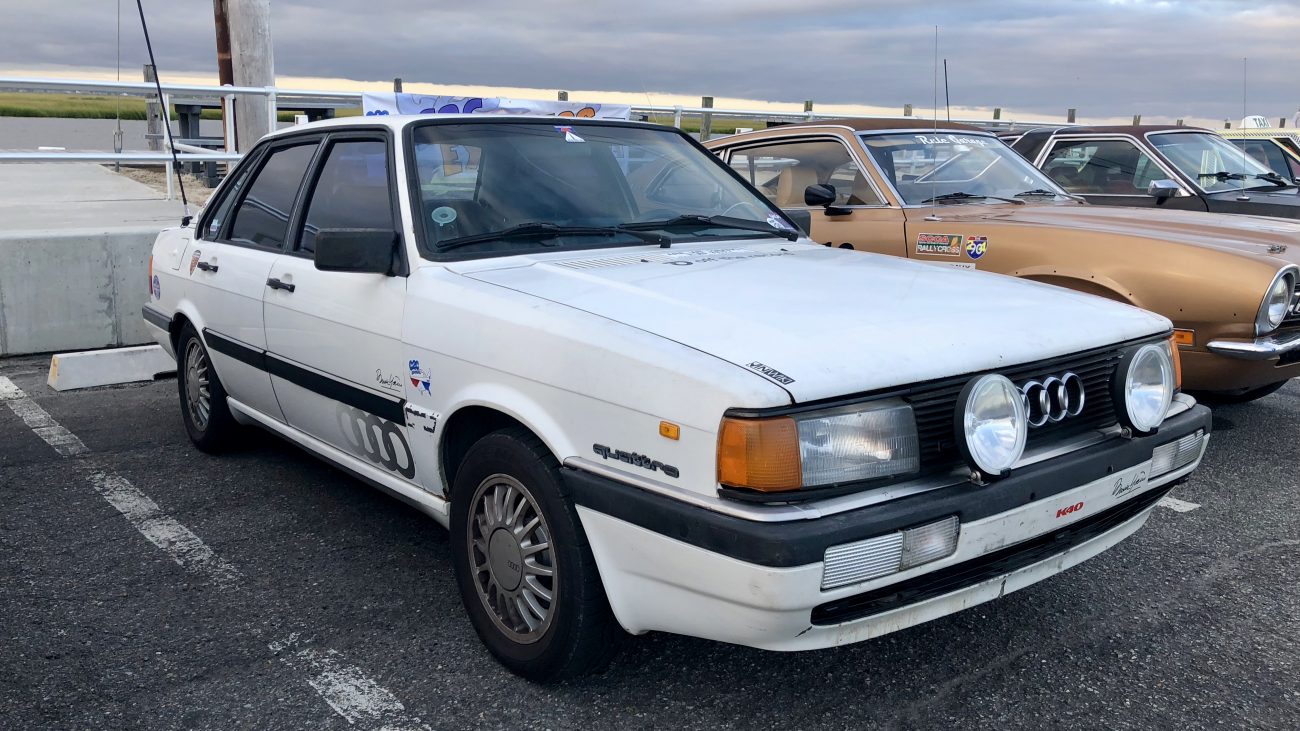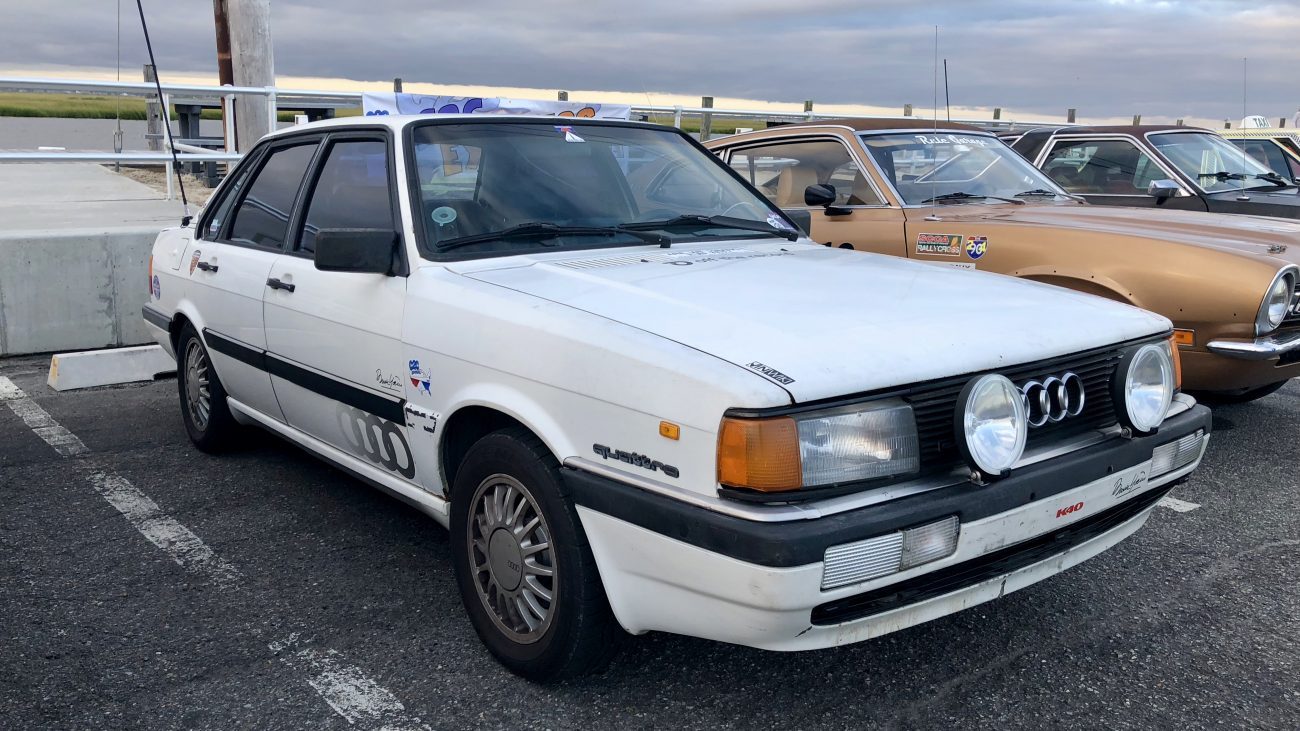 Down to the Wire
Like every other Cannonball I've been on, preparations always come down to the wire. Ed had the car with a local vintage Audi expert who had been chasing problem after problem. The car had been sitting for 20 years which even though it had been garage it wreaks havoc on a car.
Upon return of the car, Ed found it kept eating shifter bushings preventing the car from having 1st and 2nd gear. After a number of tries a 3D printed bushing finally solved the problem or so we hoped.
While the car was now running, the suspension, steering and brakes were in dire need of attention. The car went to CarTunes and got some anti-laser gadgetry care of K40 and then to Autobahn Performance who worked round the clock to knock out the punch list. The guys from Off The Record App stepped in to the help with the bill. Hopefully we wouldn't need their app to find a lawyer to cope with any tickets during the trip.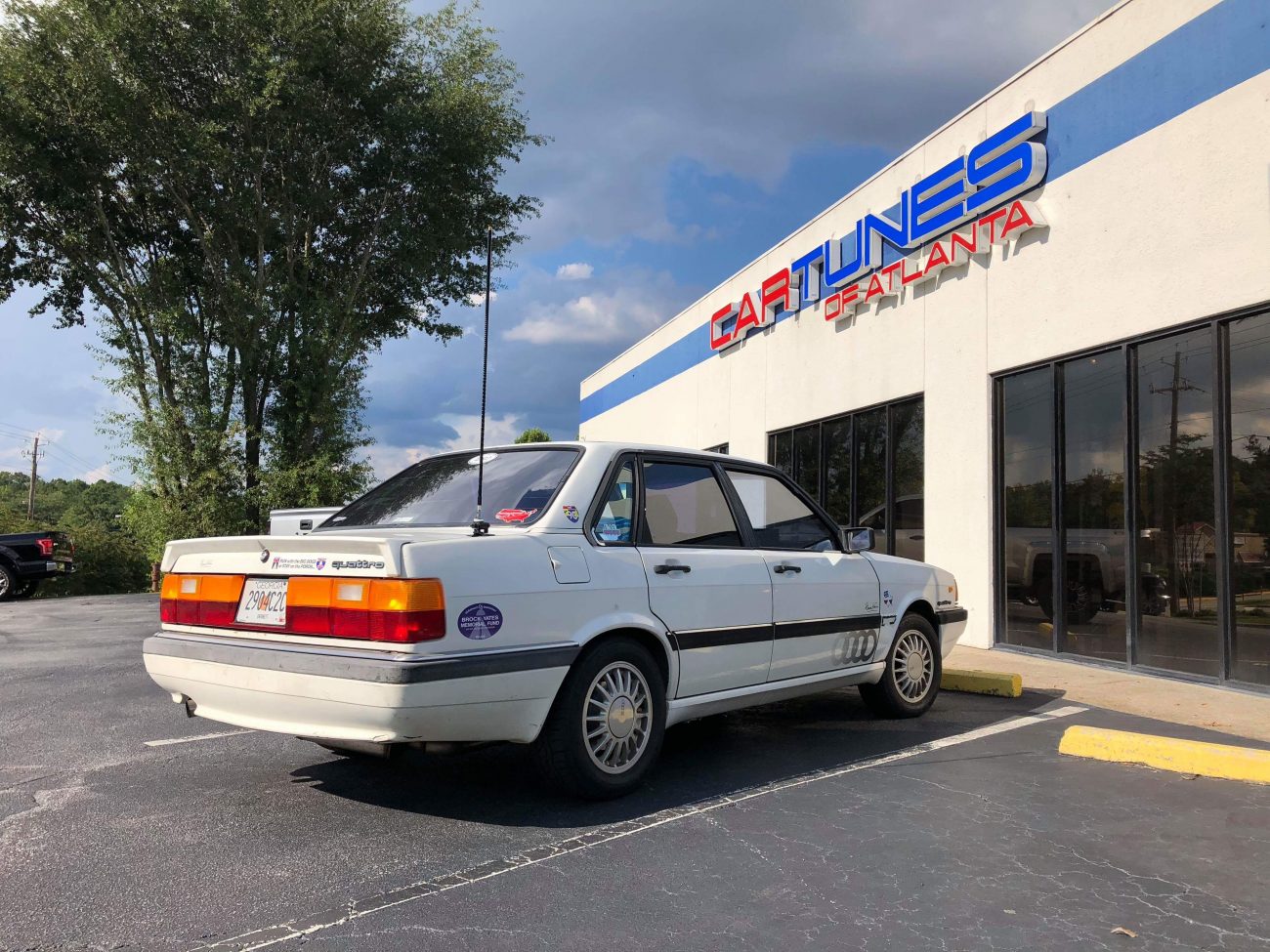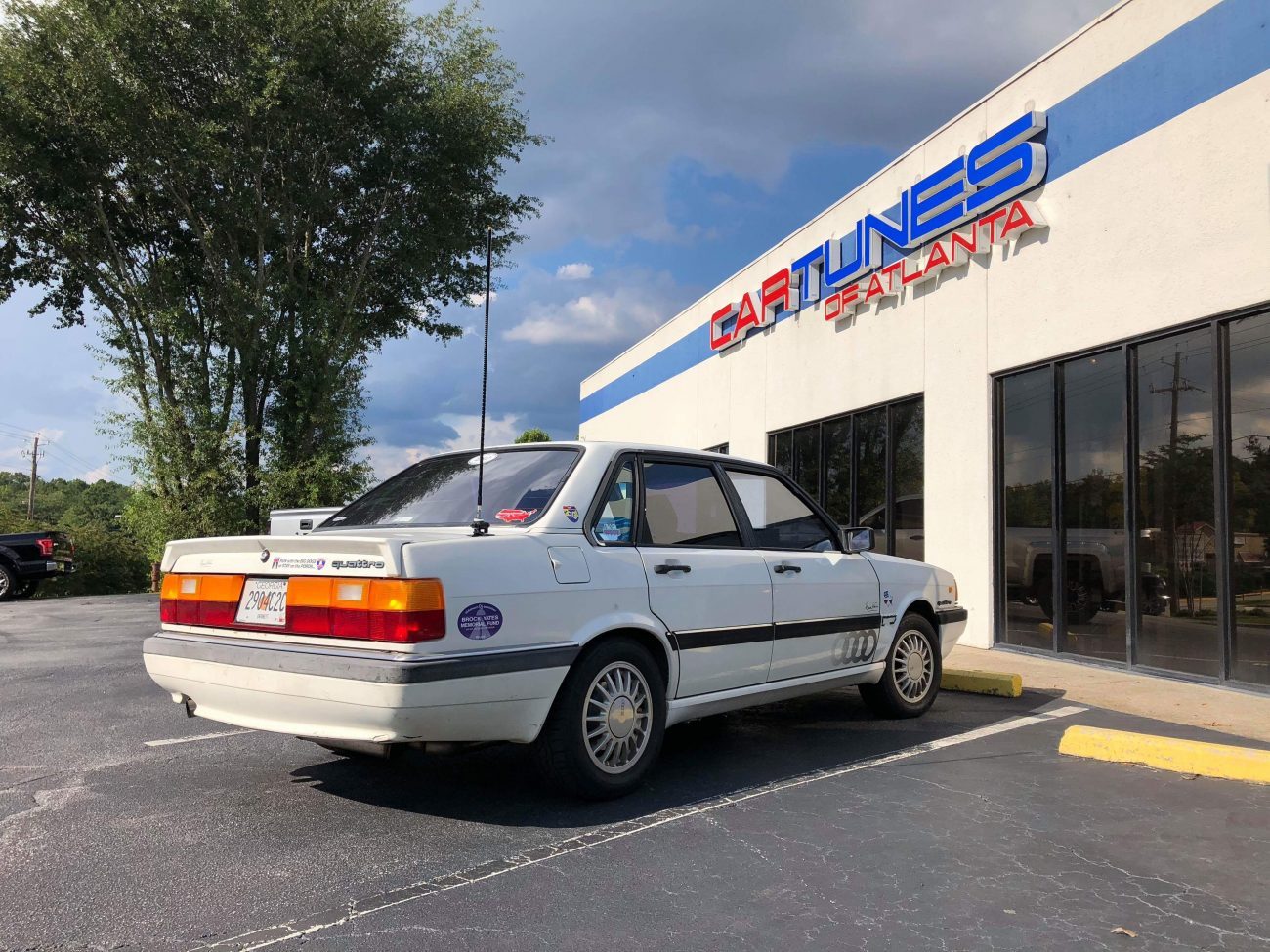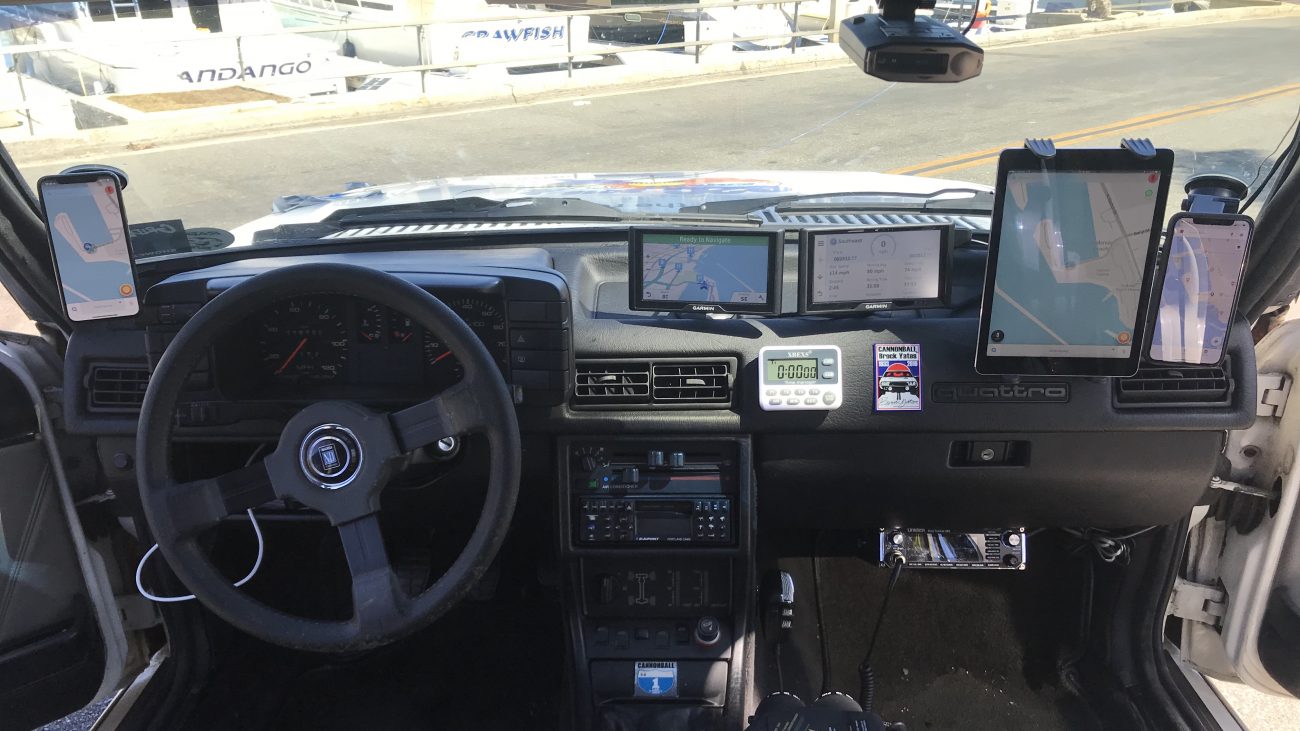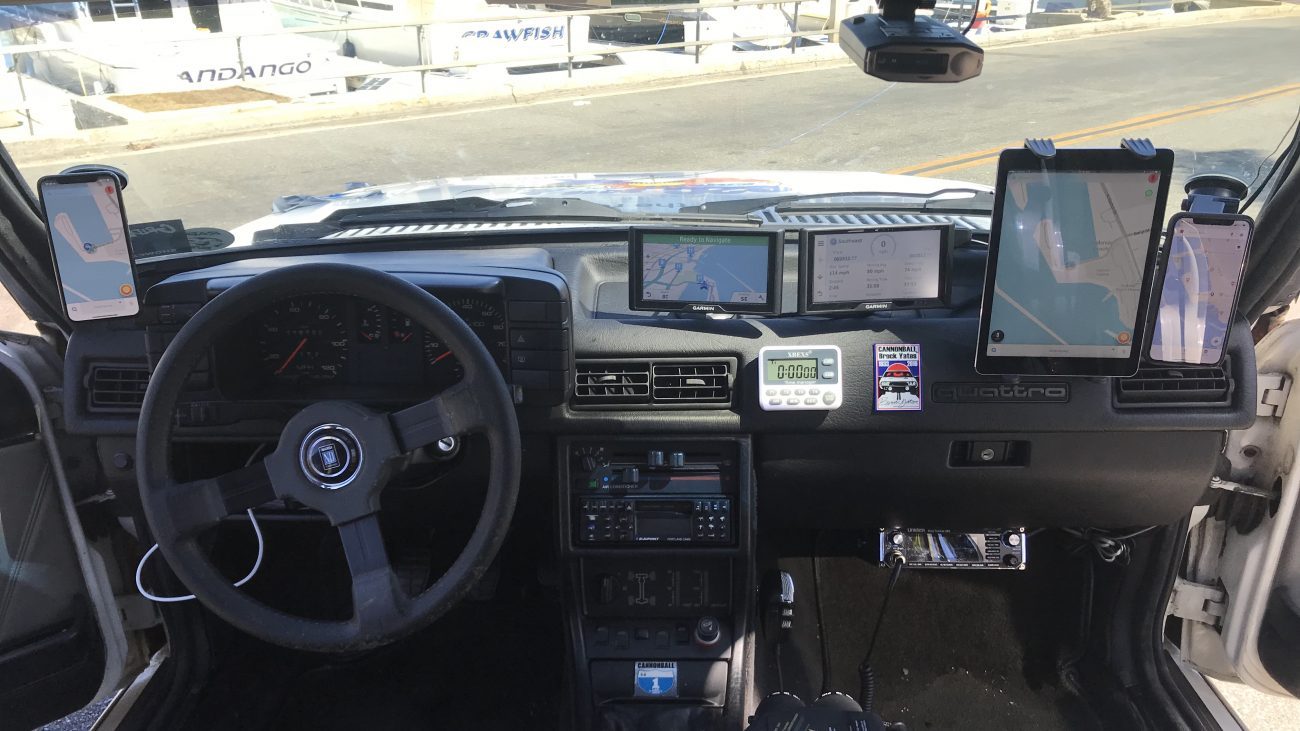 A Fuel Tank on Wheels
In the participant group chat before the run, some interesting developments were happening. Most notably a 1963 Ford Galaxie was being put together which featured a 187 gallon fuel tank mounted behind the driver and passenger seat. His idea was to run the car without stopping for fuel. Something to my knowledge had never been done successfully.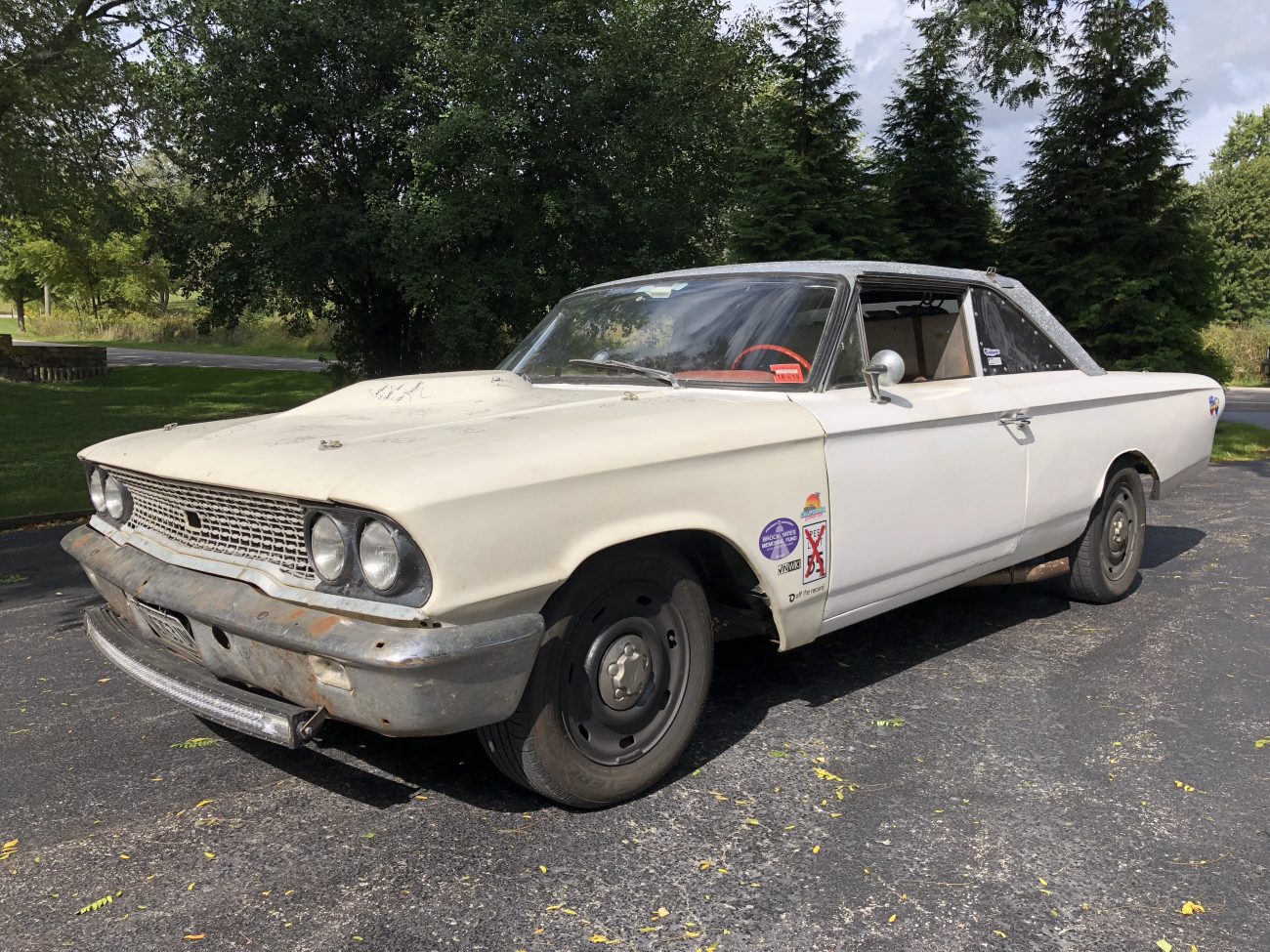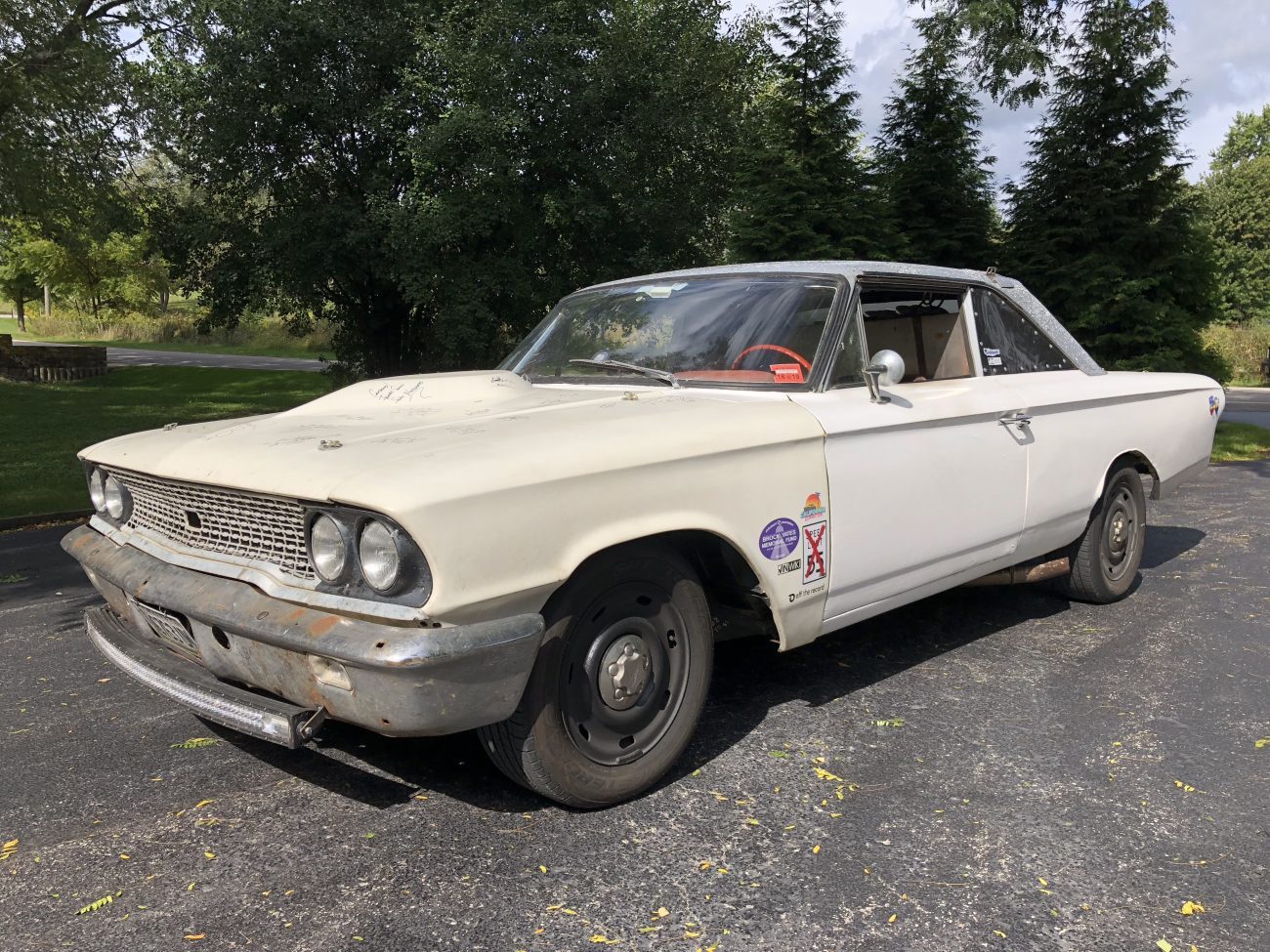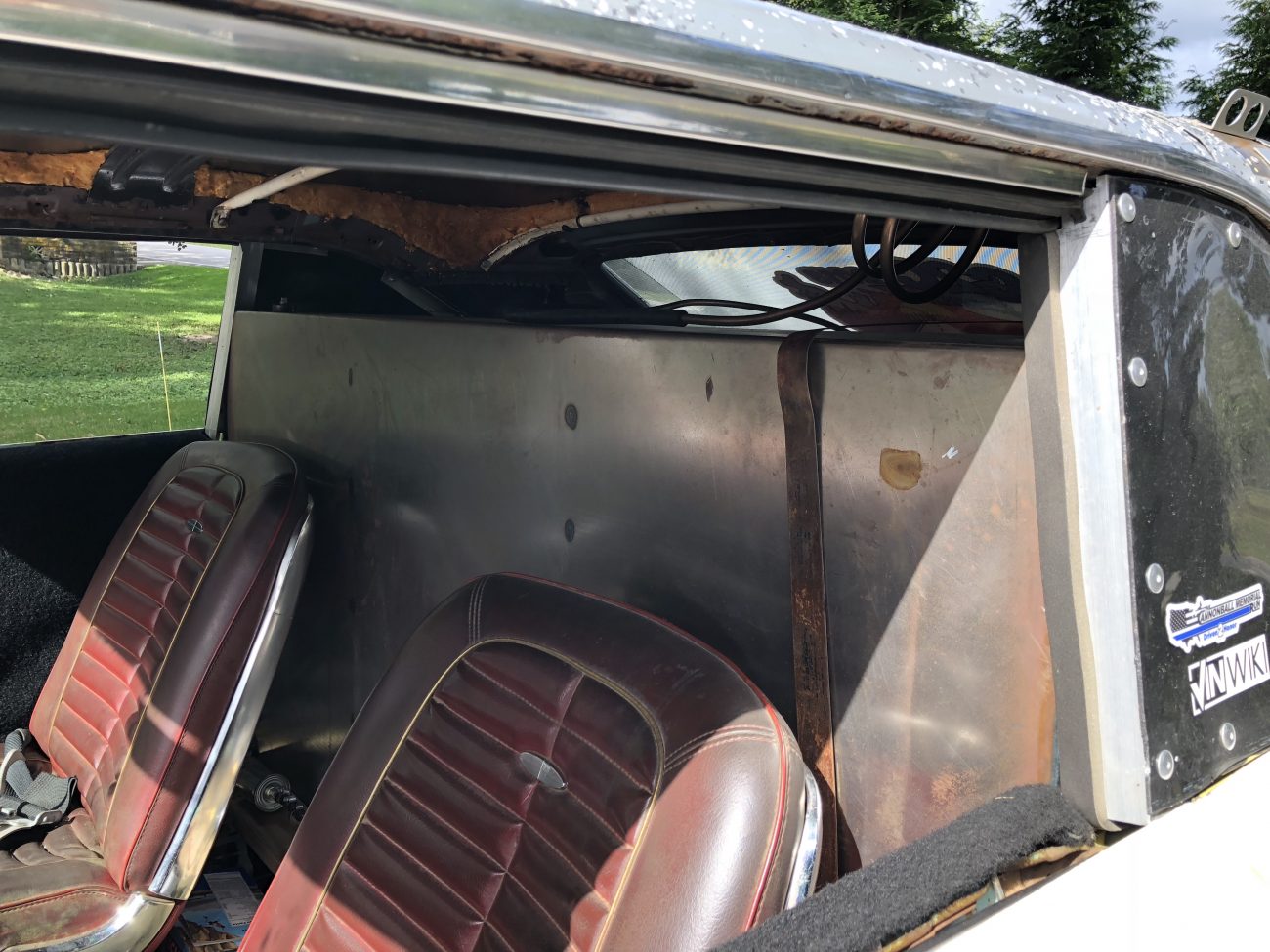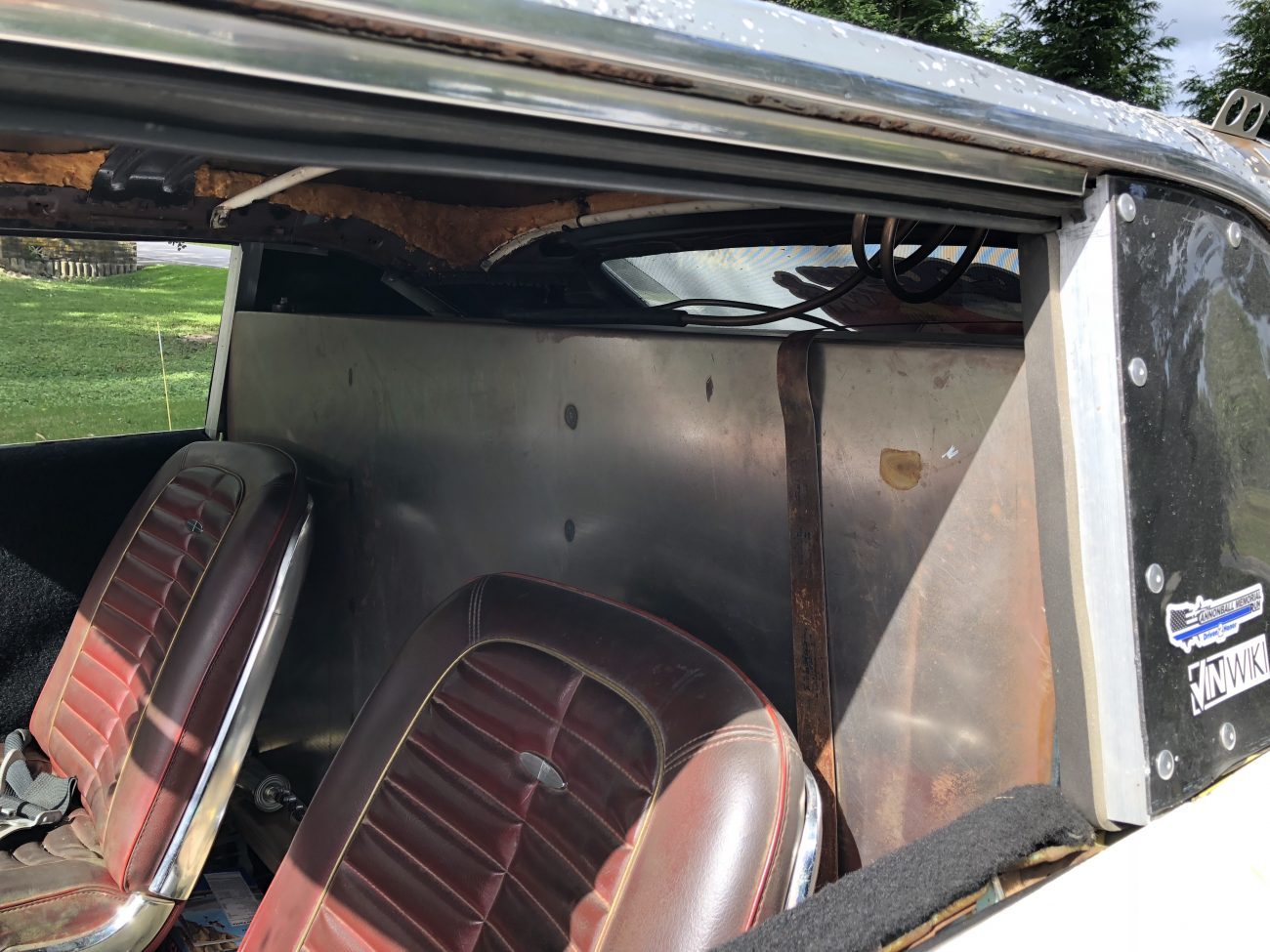 The Roster of Crap Cars
With 16 cars in the running, this year was slated to be the biggest Cannonball since the last US Express in 1983. Some interesting cars were on the grid. Doug from Switchcars was back with his Pro-touring prepped 1977 Ultra-Beige Monte Carlo from last year. Organizer Ben "Safari" Wilson had a yellow Ford LTD Taxi Cab with a fake "FRESH" California license plate. Solo NY to LA record holder Dave Simpson had a 302 powered Ford Futura. There was a well prepped F-250 duallie, diesel Mercedes 300 and a slew of other competitors eager to see who could get to California in the shortest amount of time.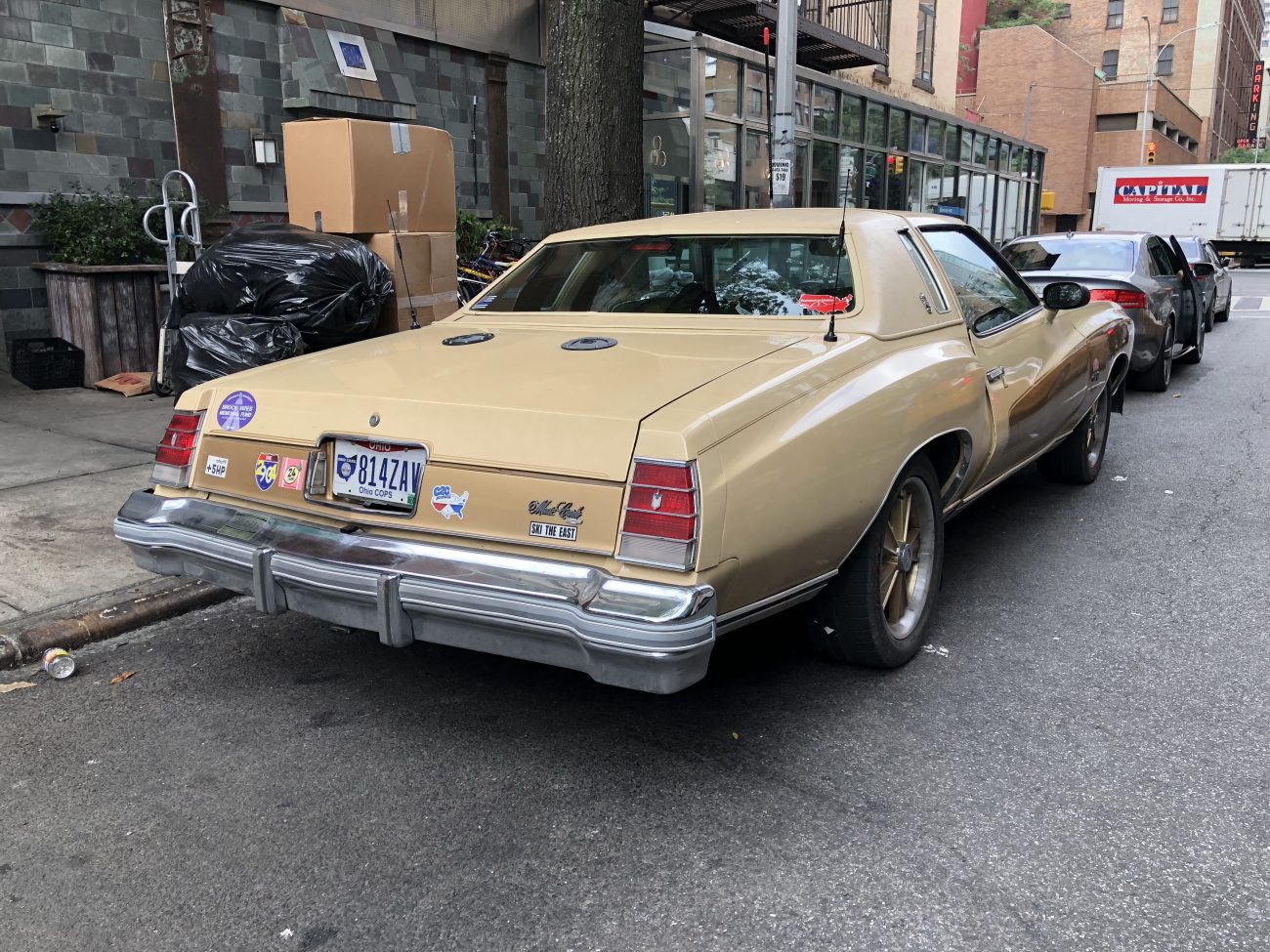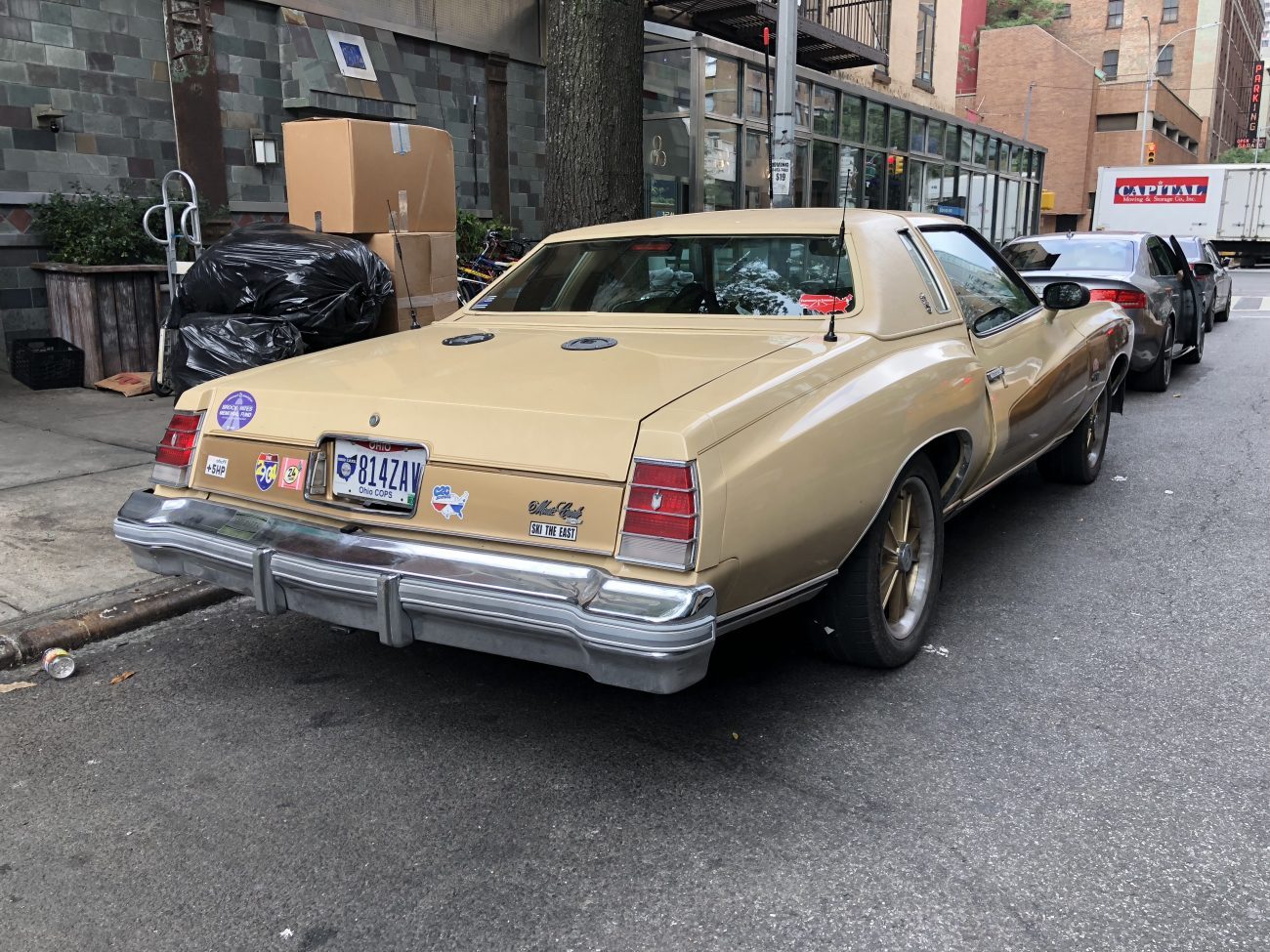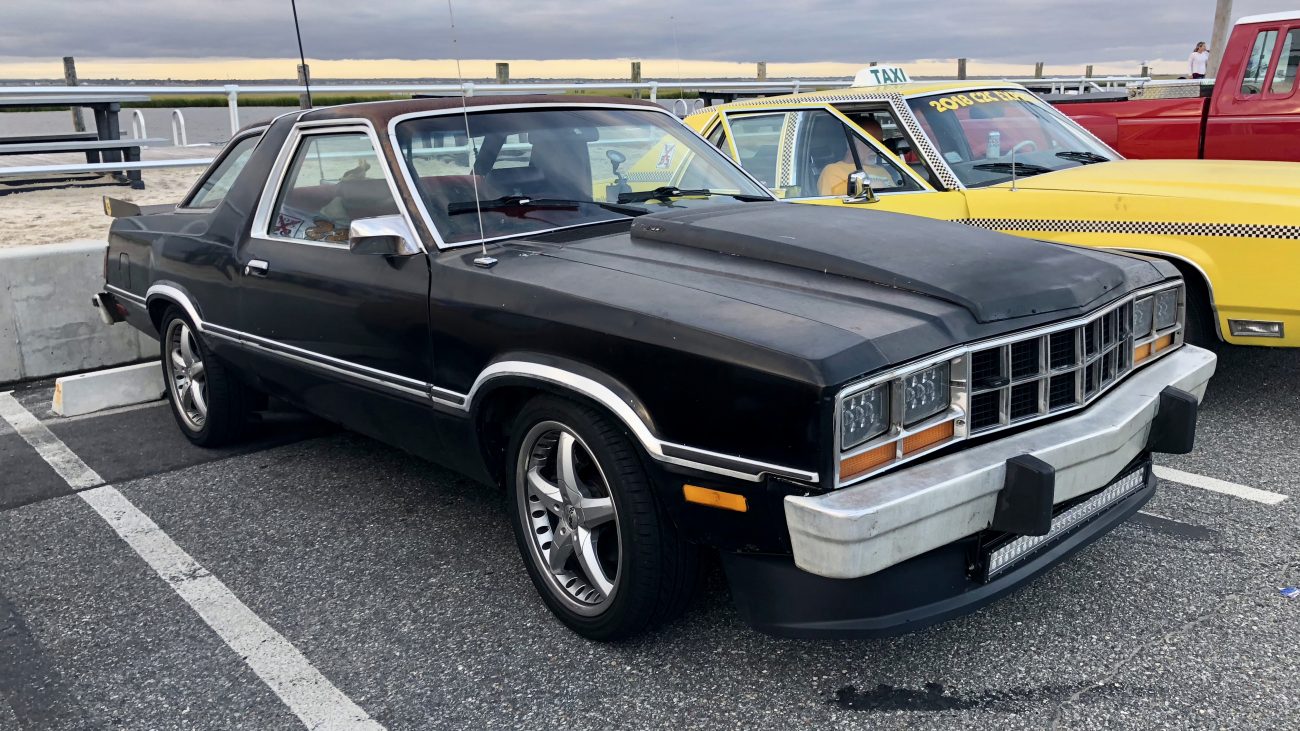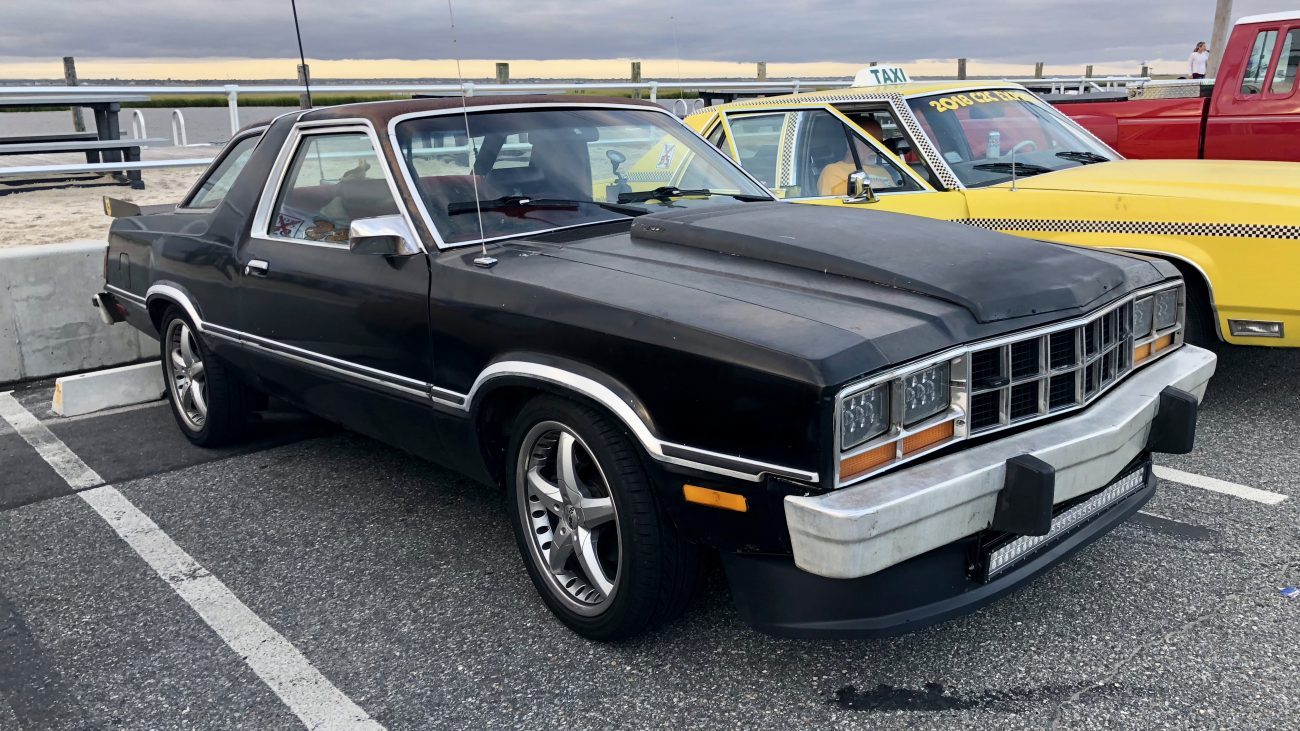 It's Go Time. Cannonball!
We met up with Alex at the Red Ball just an hour before departure Saturday morning. Normally it's best to have a night time departure for a night-day-night run with the least amount of traffic. Since the Audi was not well suited for nighttime driving and it wasn't going to be very competitive anyway, we chose to leave at 10am to maximize daytime driving.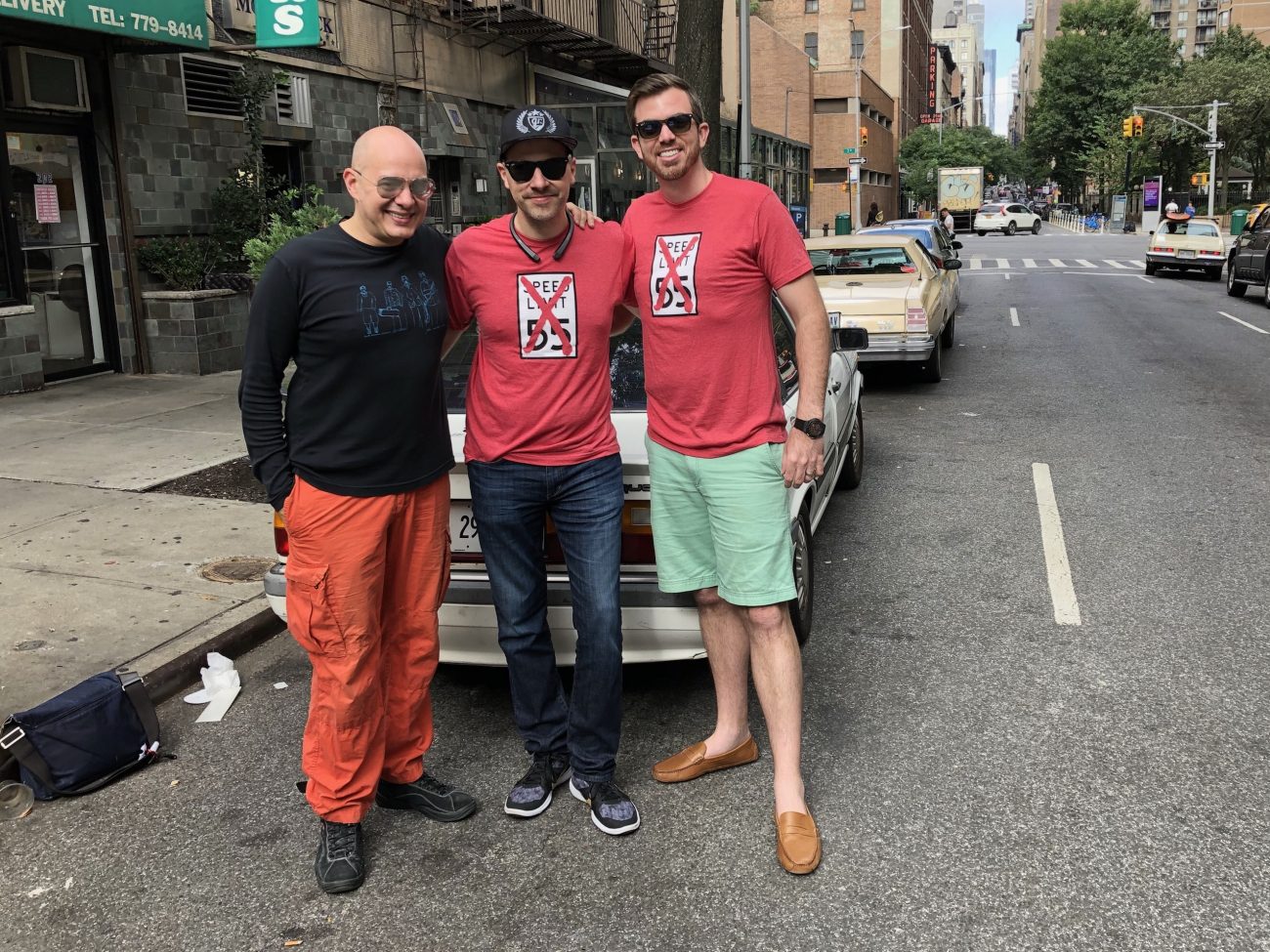 At 10:25am I snapped the time-stamped picture marking our start time. Since Alex lives in NYC it seemed fitting for him to take the first stint. Ed jumped in the shotgun position to manage his VINwiki livestream. Alex hopped in the driver's seat and I sat in back and got ready to have a front row seat sitting behind 2 of the most legendary modern-day Cannonballers. That is when the first of many setbacks occurred.
Off to a Terrible Start
The driver's seat was adjusted for 6'5″ Ed and it would move forward but wouldn't latch to hold in place. For the first 3 minutes we didn't even move. Once it was decided it couldn't be fixed, we threw a case of water in between the front and rear seat to sort of wedge it into a somewhat suitable position for Alex. We were off to a great start.
Traffic was heavy leaving Manhattan in the morning. It was also made worse by the Lincoln tunnel being under construction. It was made better however by a call from Alex's mom wishing us a safe trip. Sweet woman that Mrs. Roy.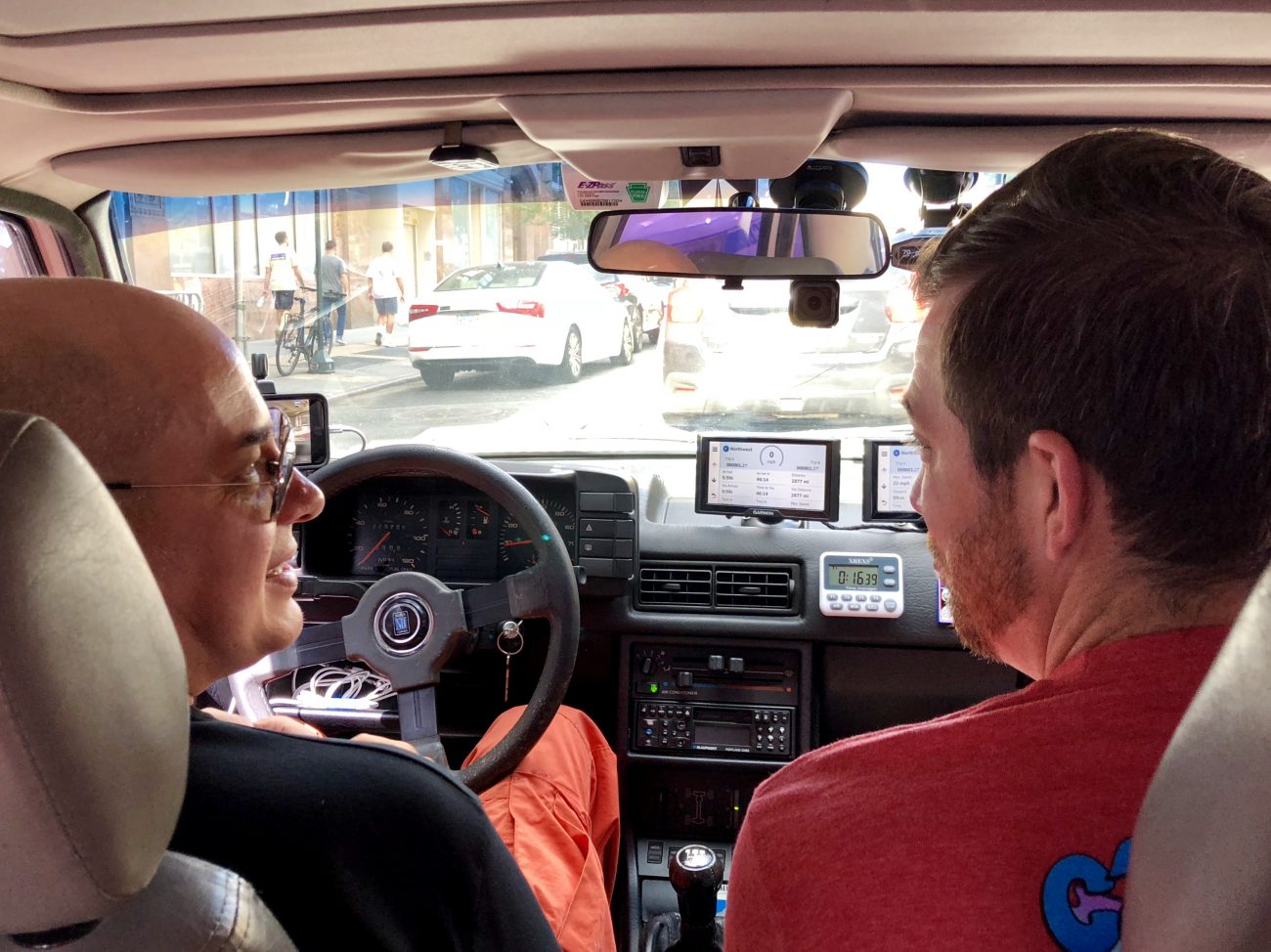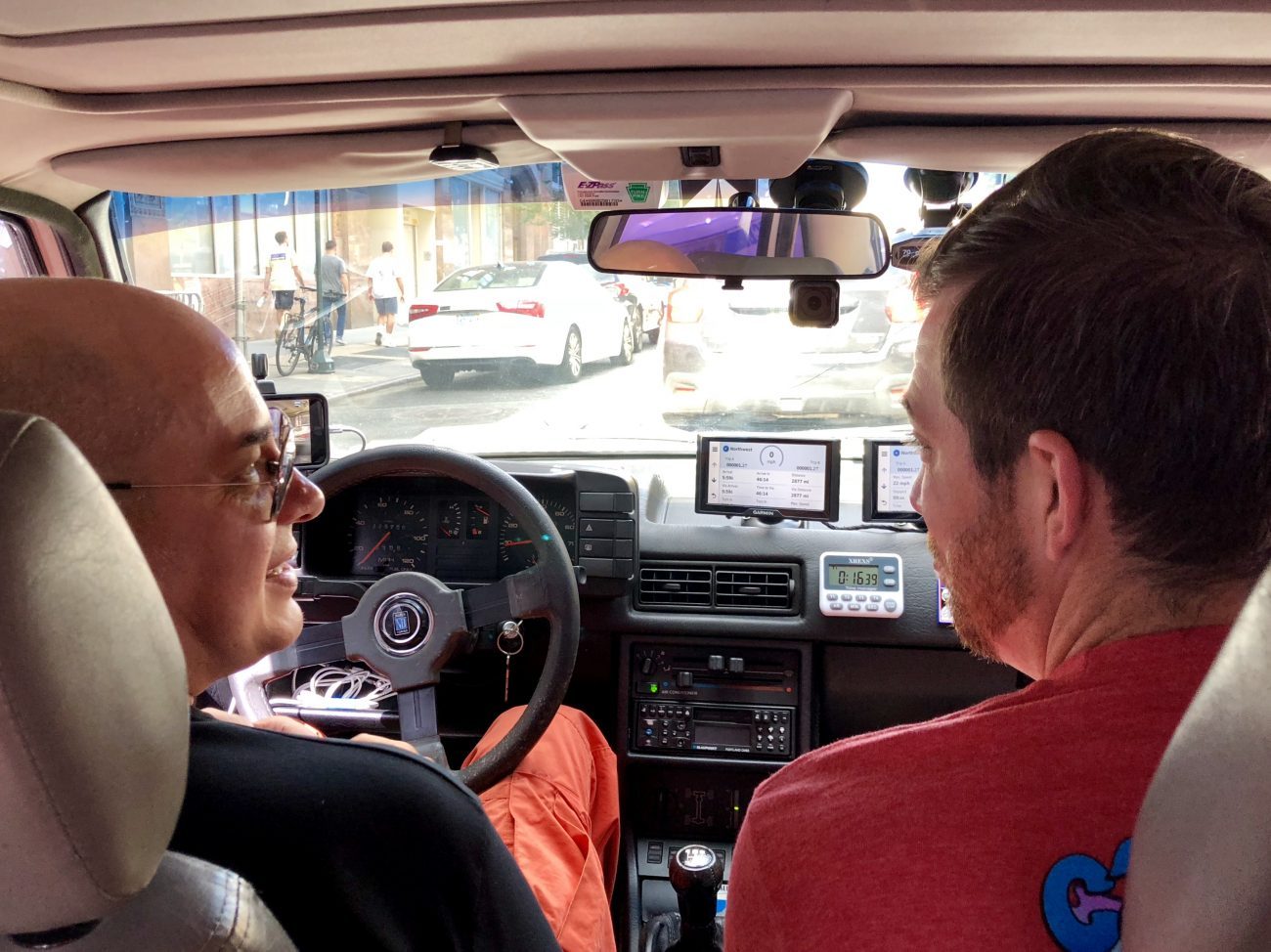 The Limits of an Old Audi
Out on the road it became apparent the highest cruising speed should be 95 mph. 100 mph was up at 5000 rpm in 5th gear. Top speed was alleged to be a gear limited 115 mph. Alex skillfully piloted the car through New Jersey an into PA with the 5 cylinder engine singing. The exhaust was louder than expected. It was going to be a long trip.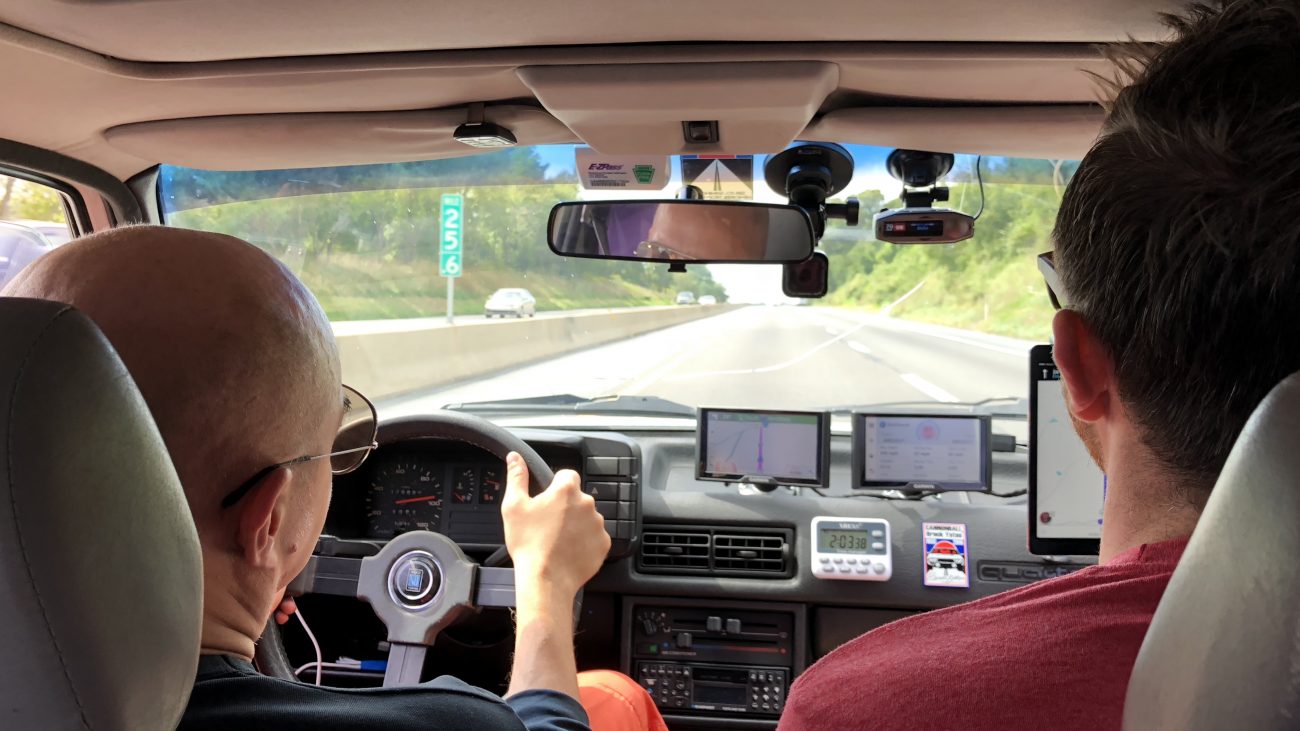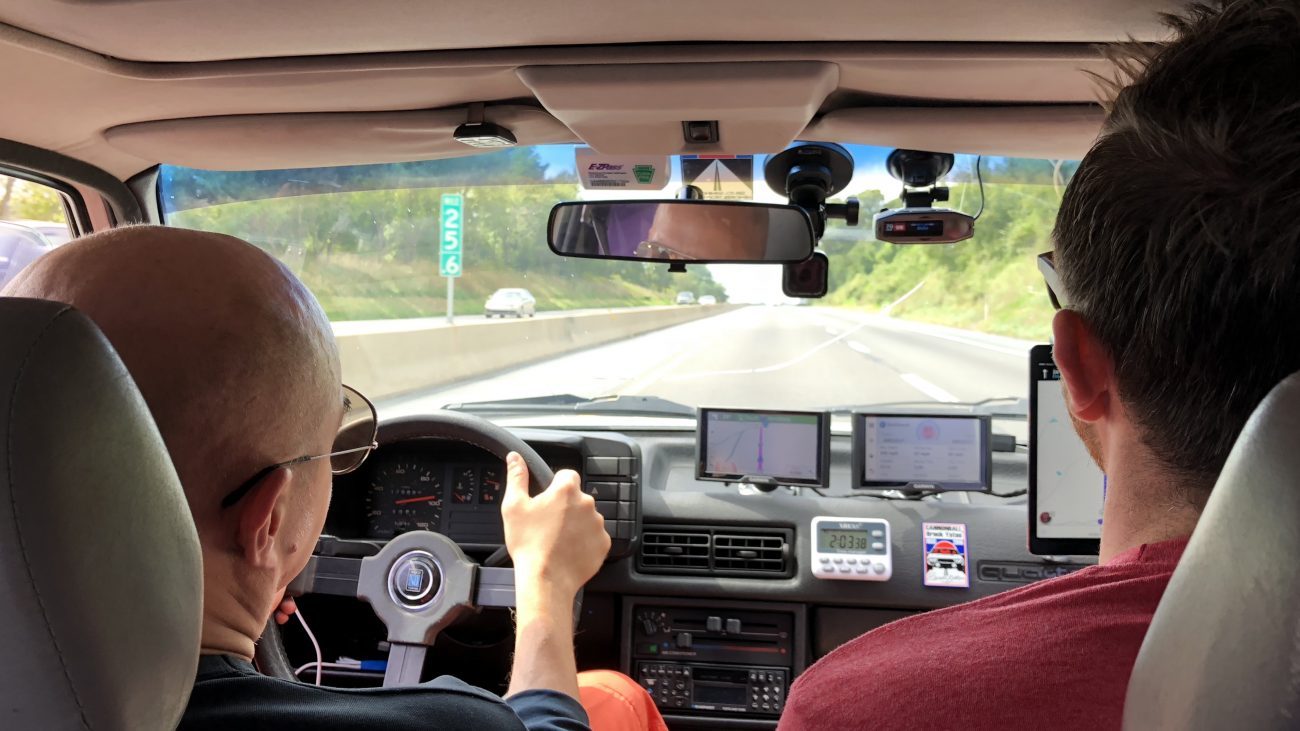 Our first gas stop was at 340 miles. Our range was about 10% less than expected. The standard Cannonball fuel stop fire drill commenced. Ed popped the hood to check the oil, Alex headed into the gas station for a bathroom break and snacks and I pumped the gas.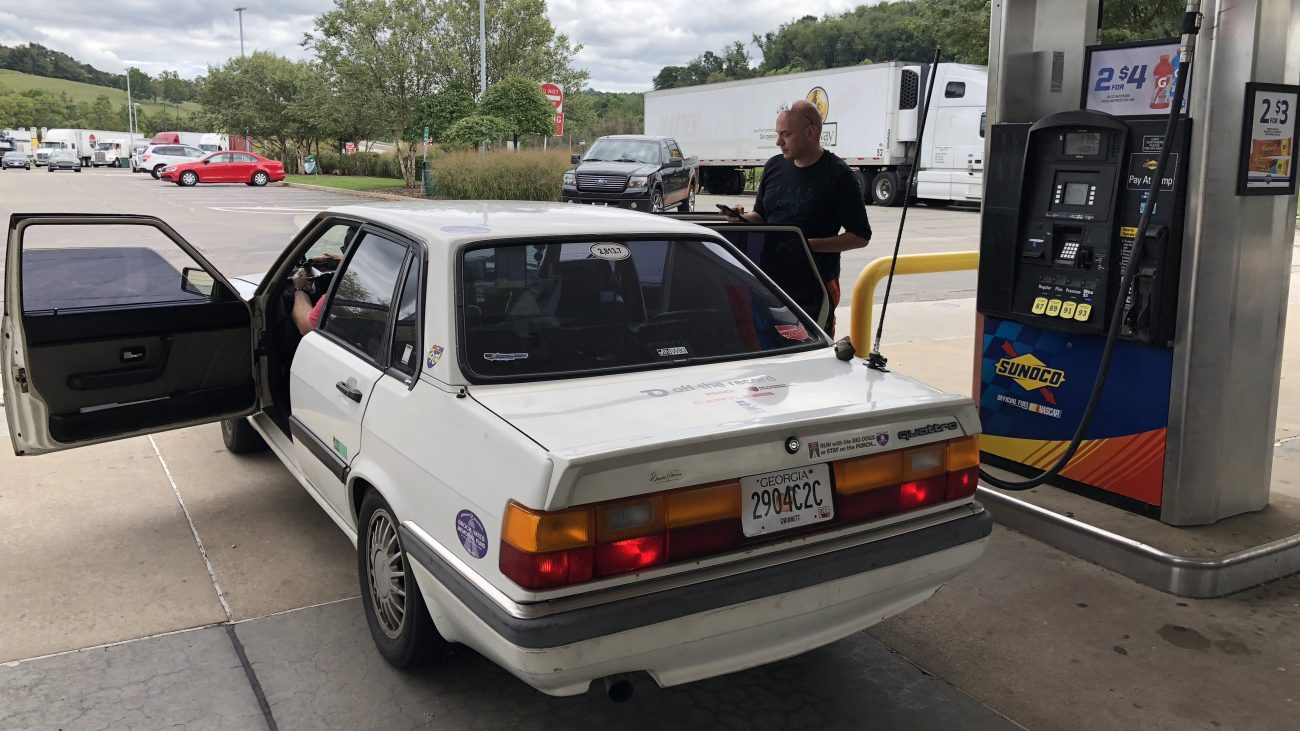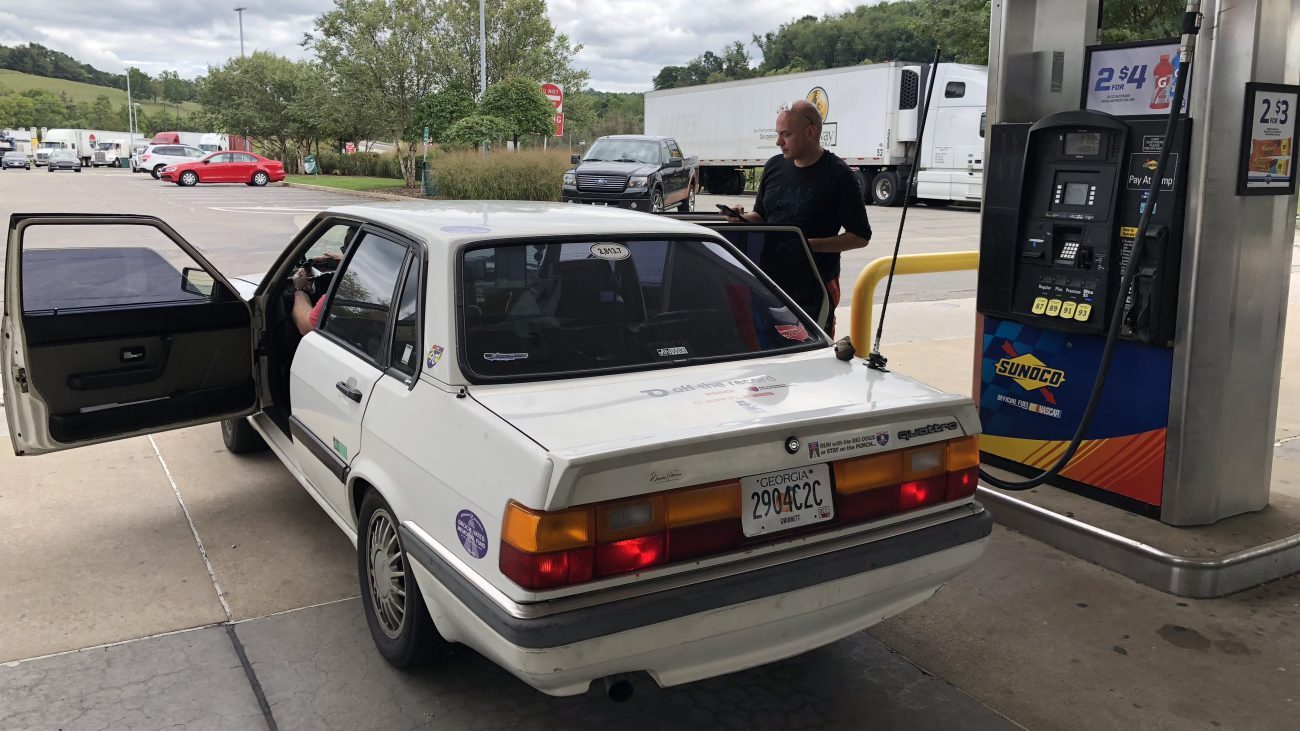 Back on the road, Ed was behind the wheel. After the first few hundred miles it quickly became a apparent this would be more of a non-stop road trip than a Cannonball for us. We each would drive a tank of gas and rotate shifts for the next 1.5 days.
Meeting the Bears of Missouri
As night fell we ran into Fred in his rolling gas tank Ford Galaxie for the first of many times along the route. Around the same time we ran into one of Missouri's finest. Around 10pm we noticed the oil temperature was very hot. Alex eased up and was cruising in the upper 70's trying to get things stabilized. The Galaxie passed by and went out of site.
Soon after we passed by a speed trap and didn't think much of it. Next thing you know we had the boys in blue pulling us over. The infraction? 78 mph in a 70. Perhaps the most pathetic speed to be pulled over for on a Cannonball. A few minutes later Alex was off with a warning.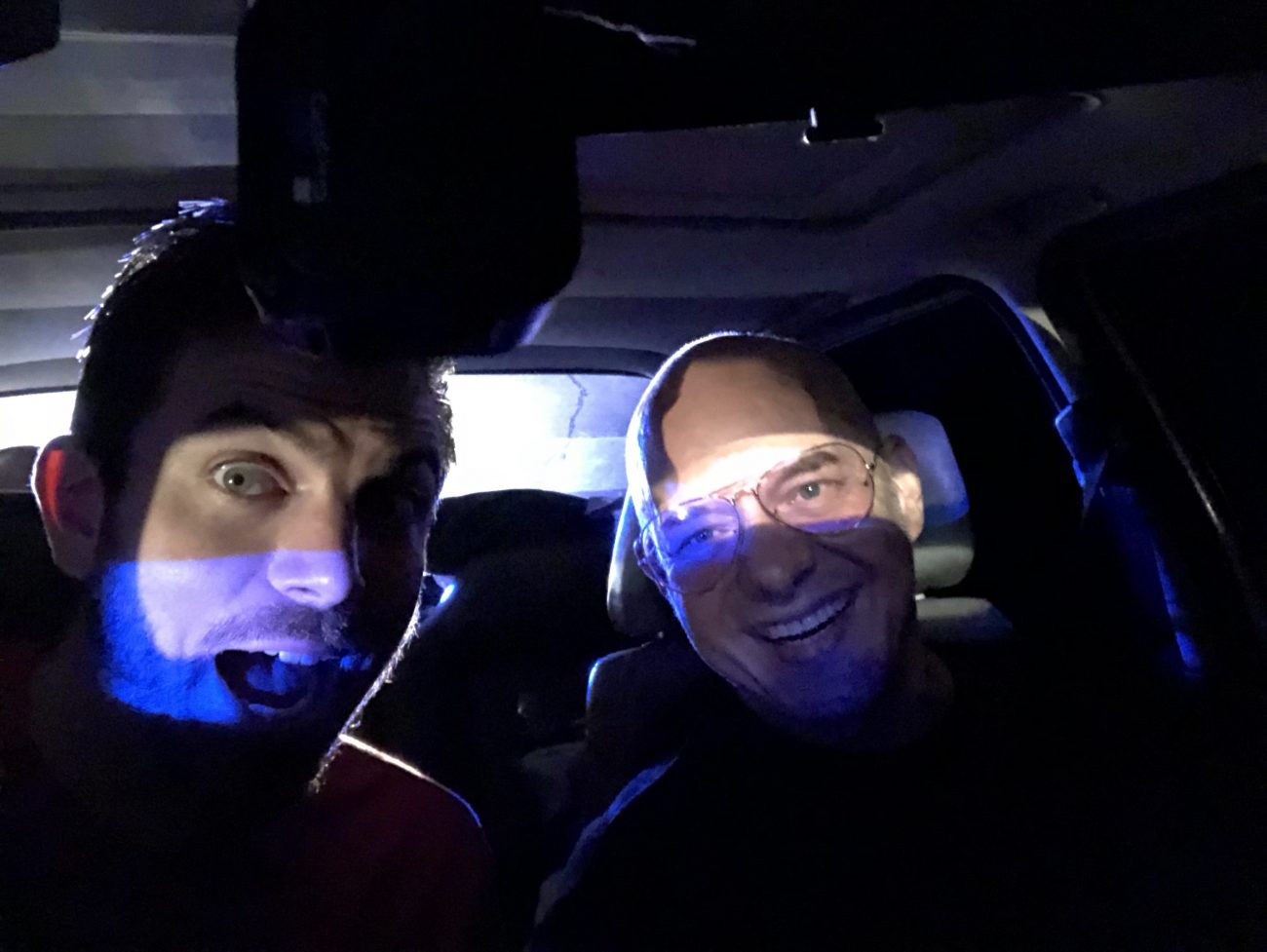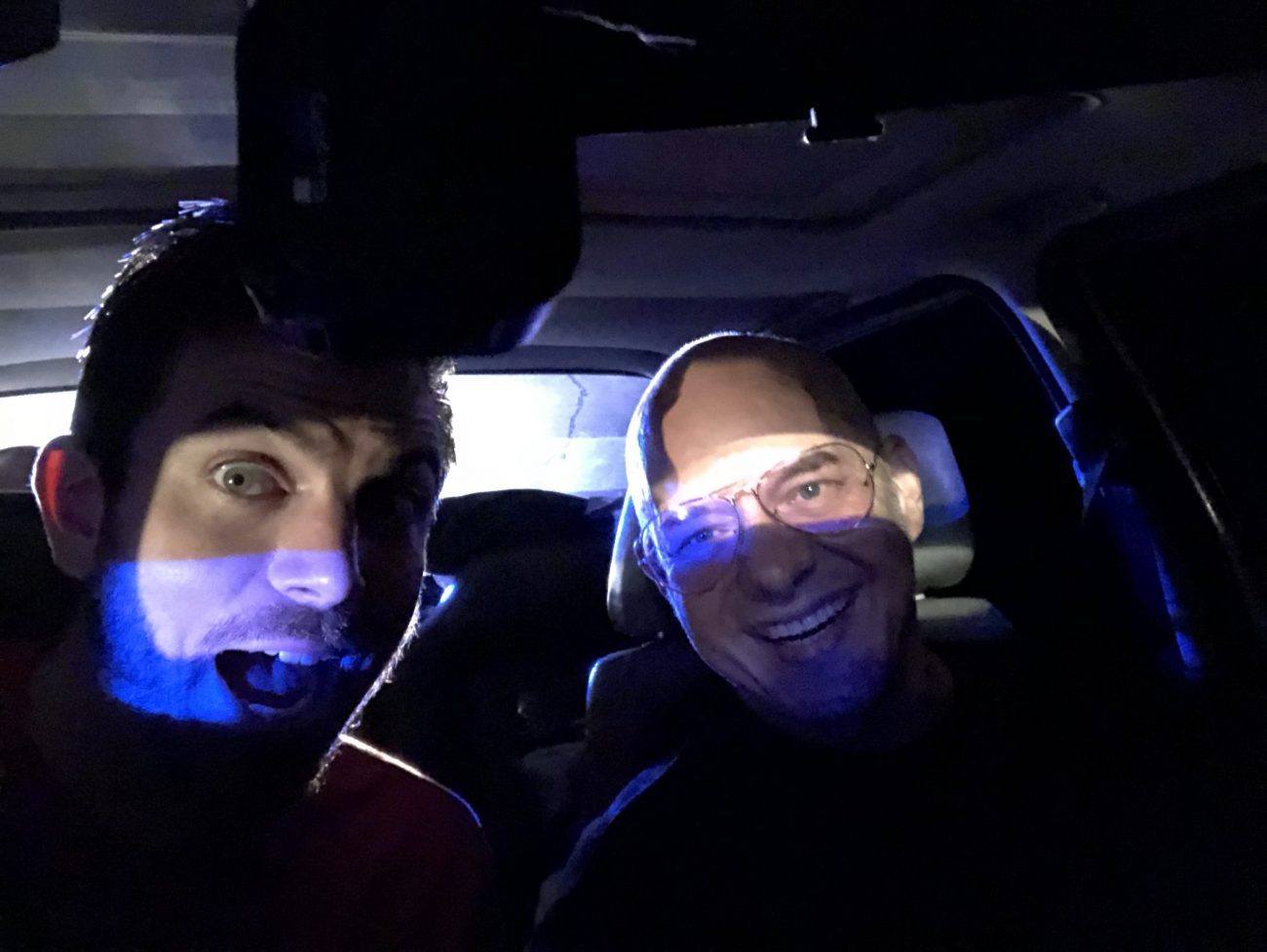 As the night wore on fatigue began to set in. I volunteered to take the hardest few hours from 3-6 am to let the guys get some rest for the long day ahead.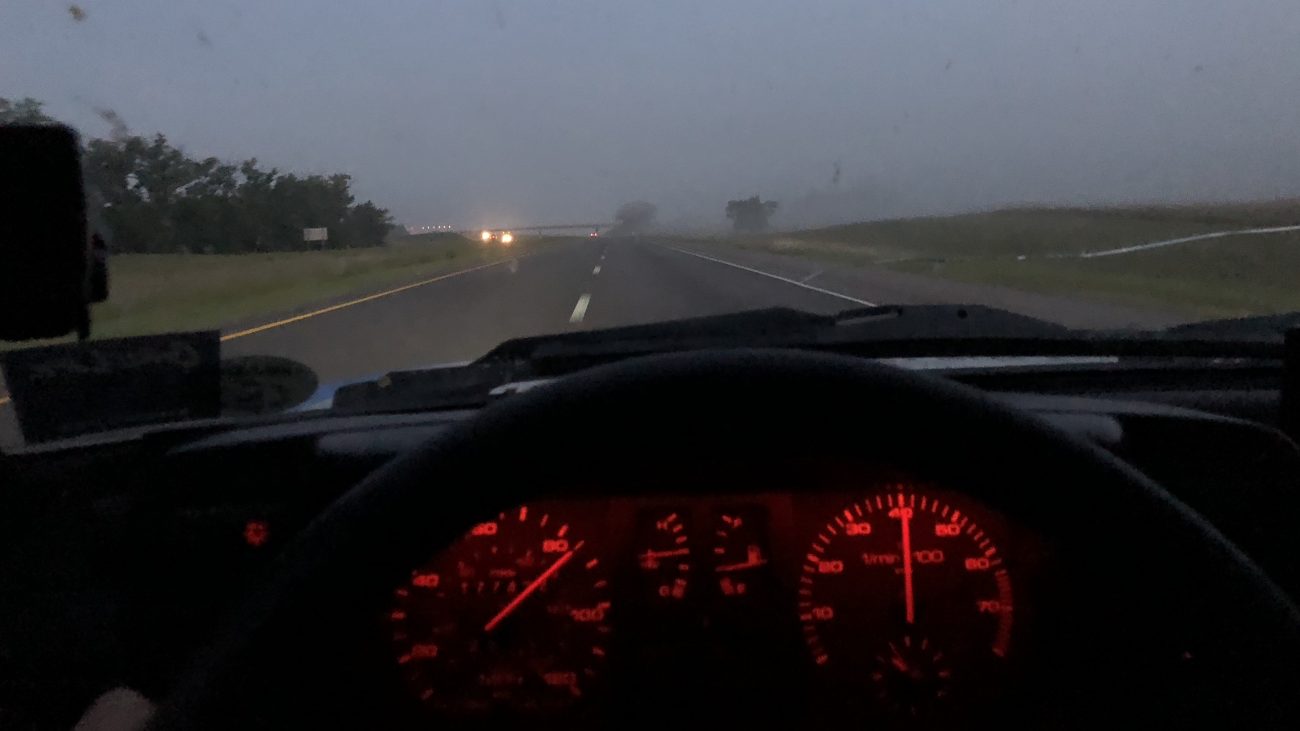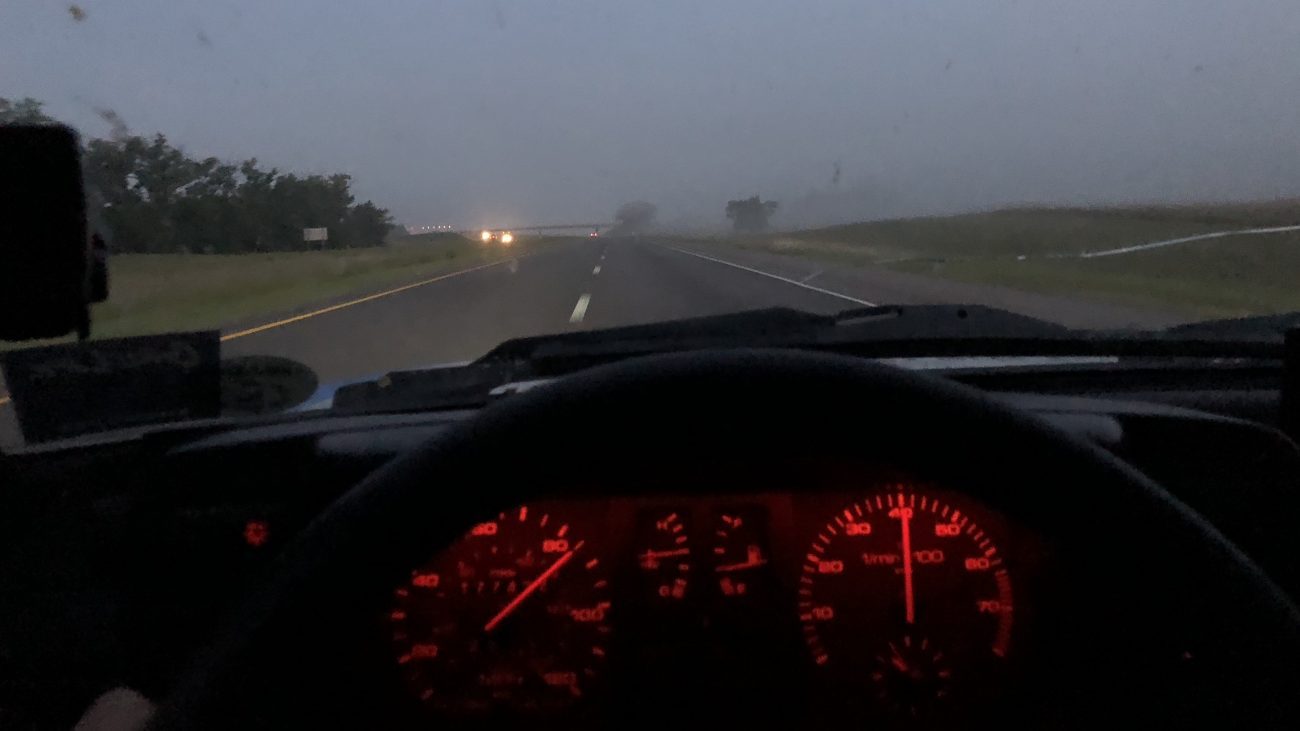 Overheating Plagues Our Progress
At 10am Sunday morning we happened upon the Galaxie yet again and passed by. Of course running the car hard it overheated and we had to pull off the road. With coolant coming out of expansion tank the Galaxie got ahead of us again.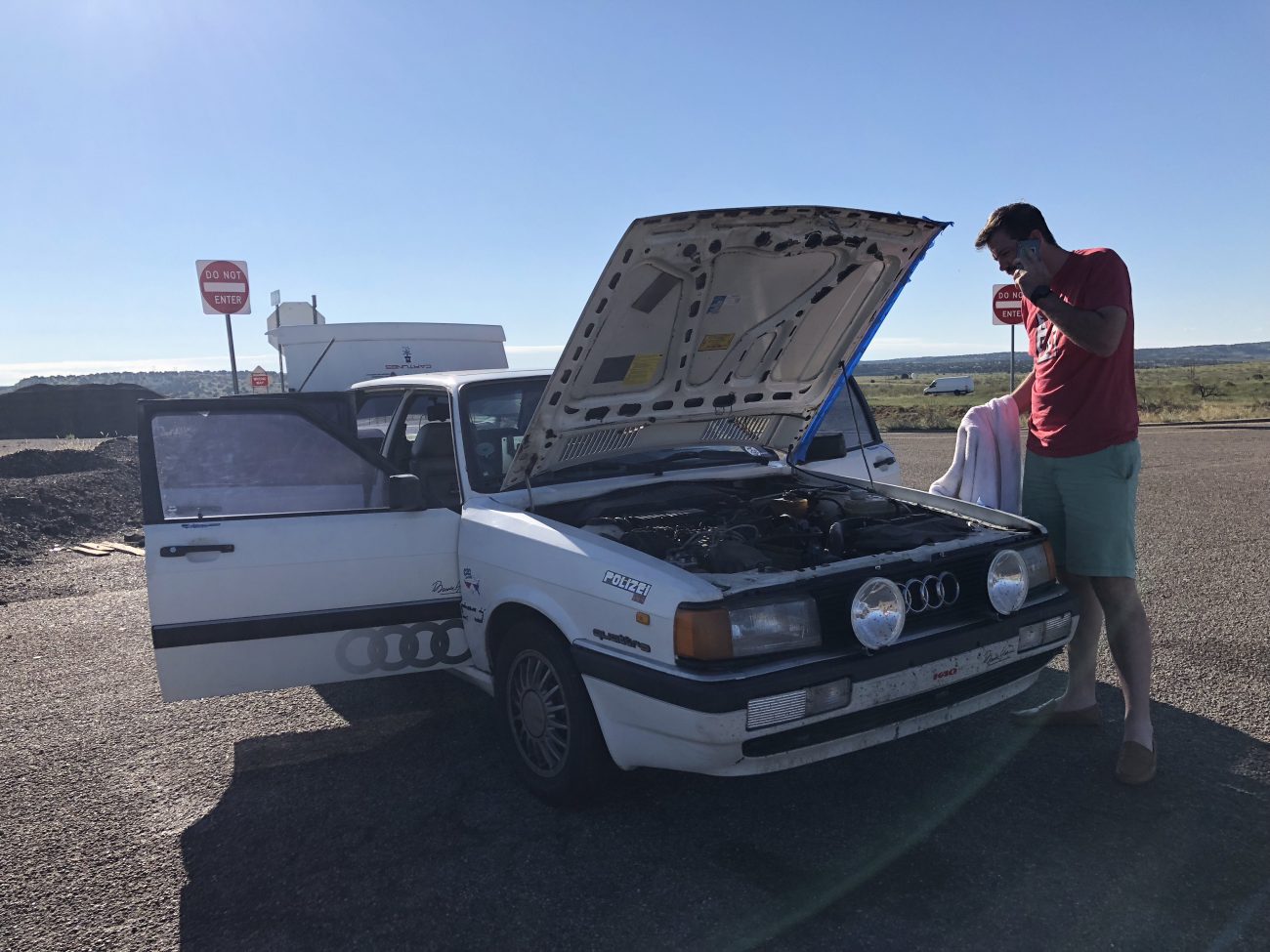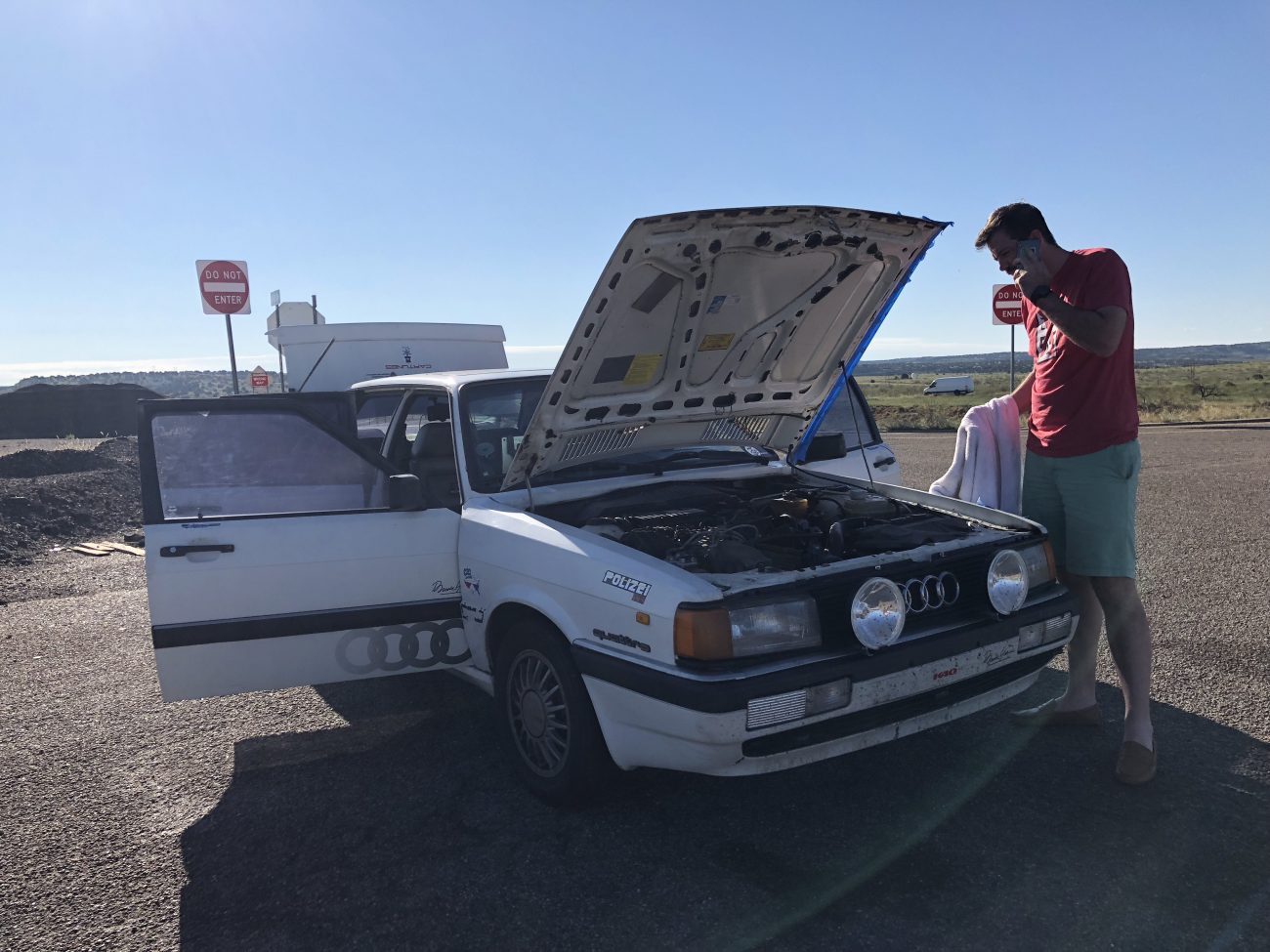 Things only got worse into the afternoon. 108 degrees in AZ & NM with no A/C was miserable only made worse by having to run the heater on full blast to try to keep the engine cool enough to keep going. At this point we were having to refill the coolant at every gas stop. Our cruising speed now limited to 85 mph.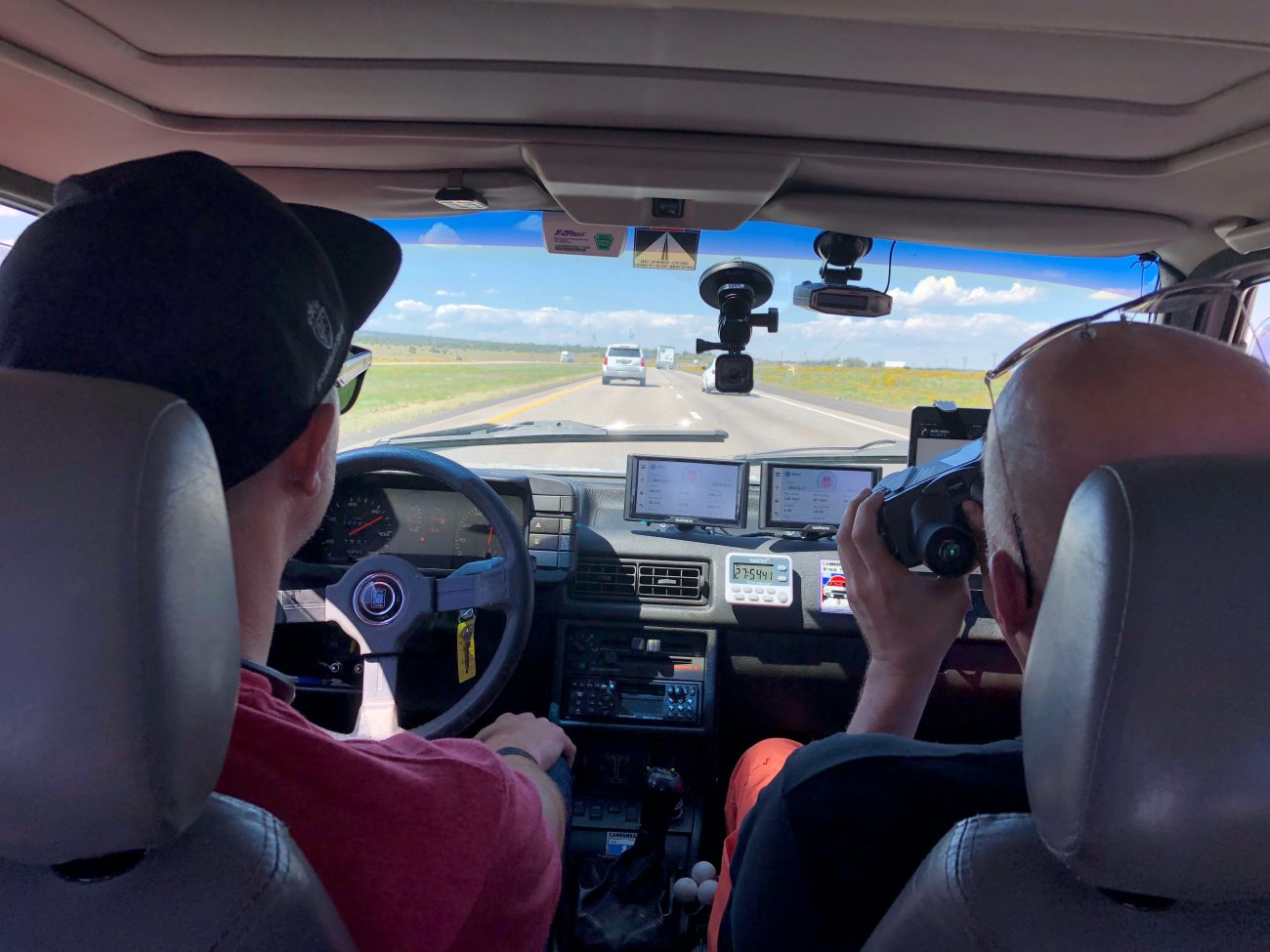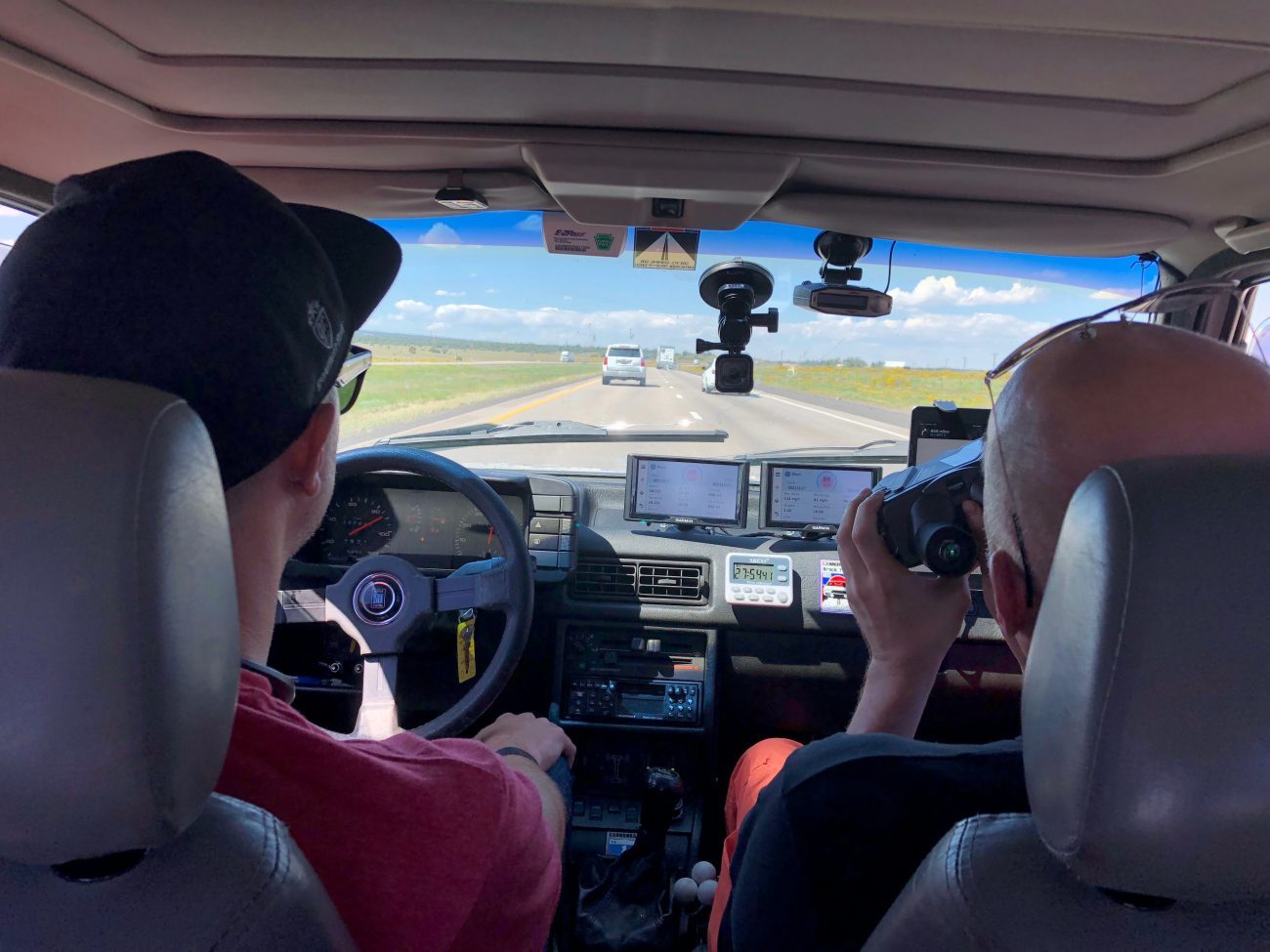 Pretty much every time we let Alex drive, he would push it too hard and smoke would start billowing from the hood. We maintained the routine of stopping, buying all the coolant a gas station had, letting the car cool enough to add it, and then resuming.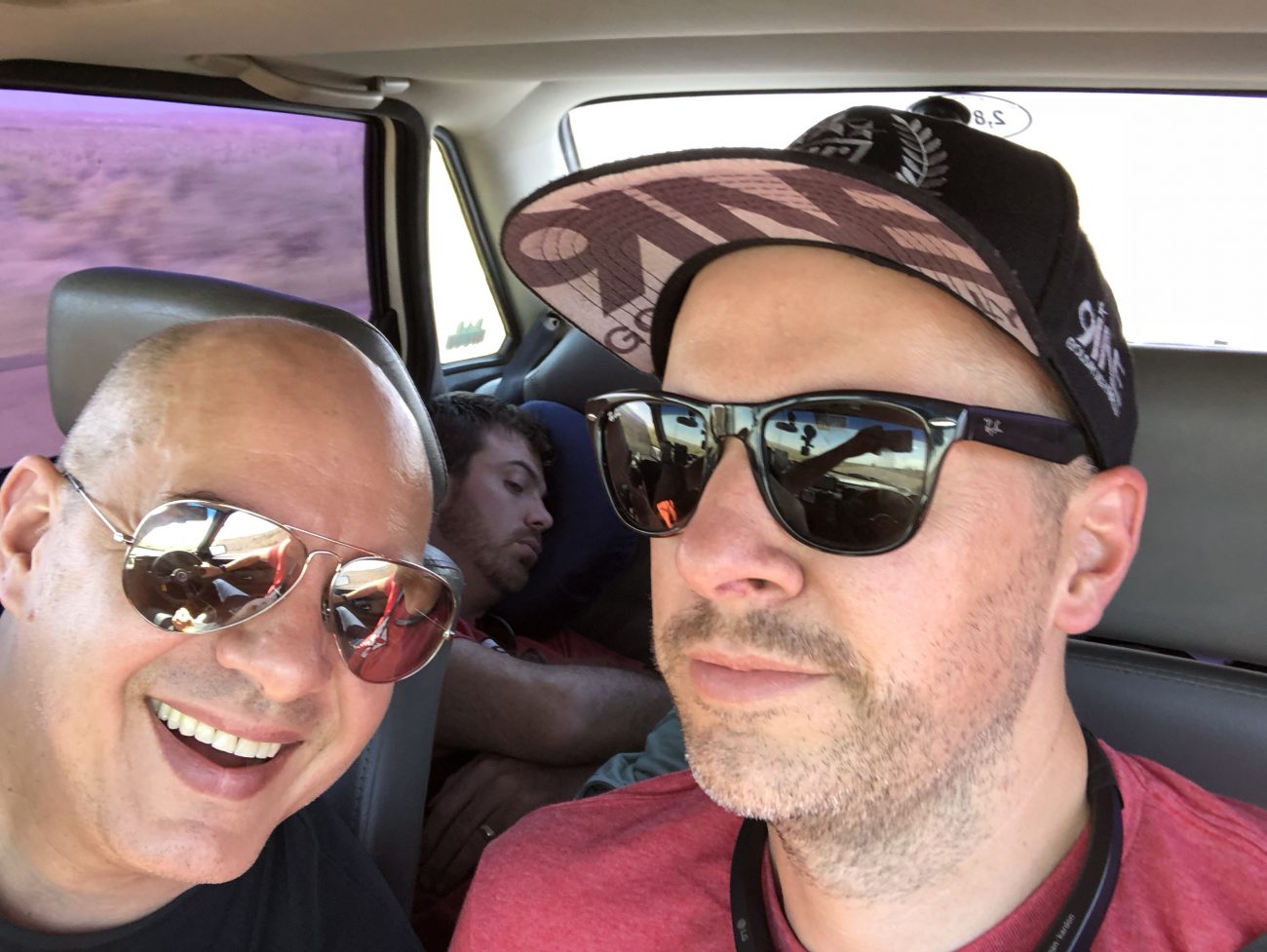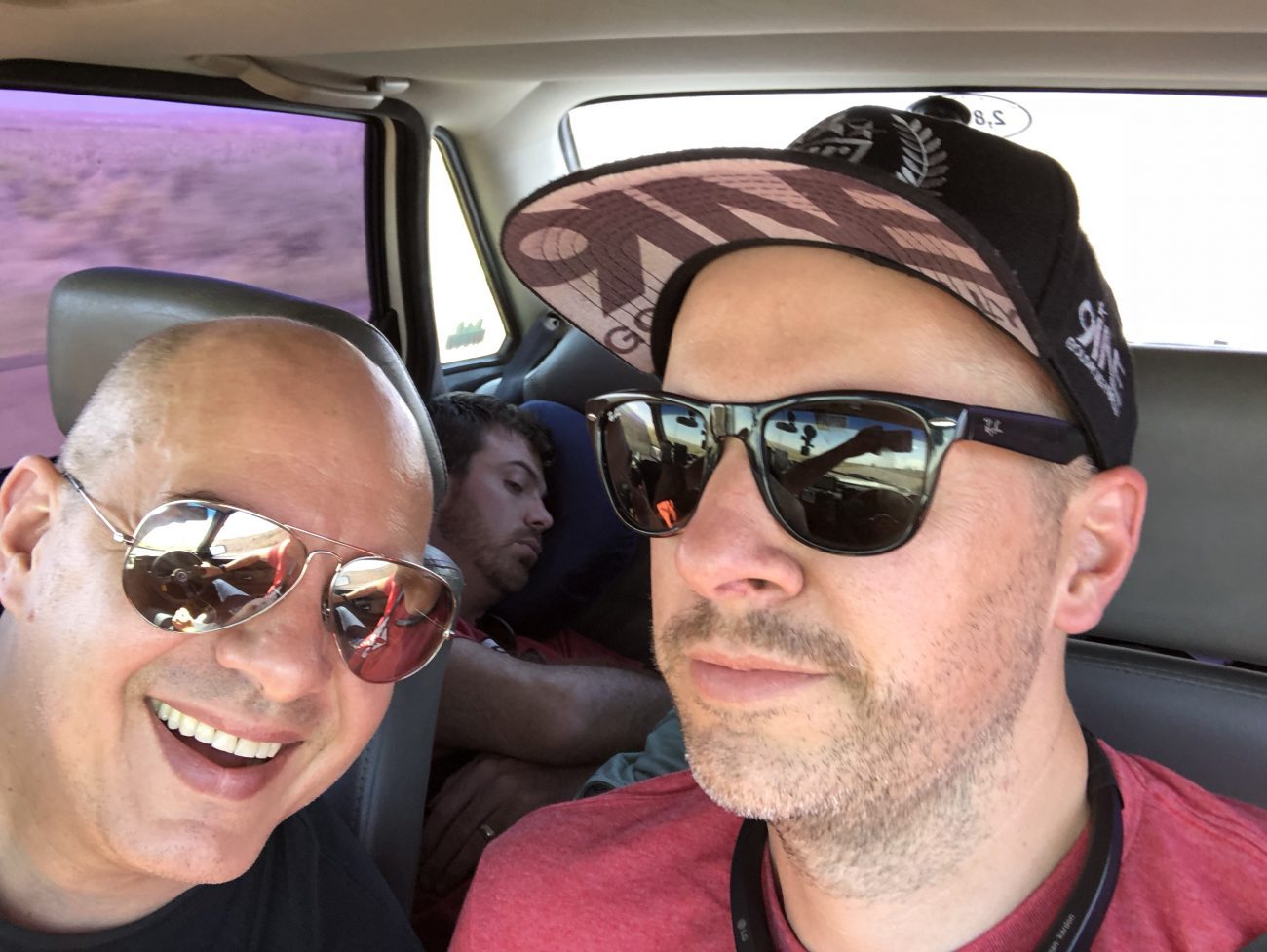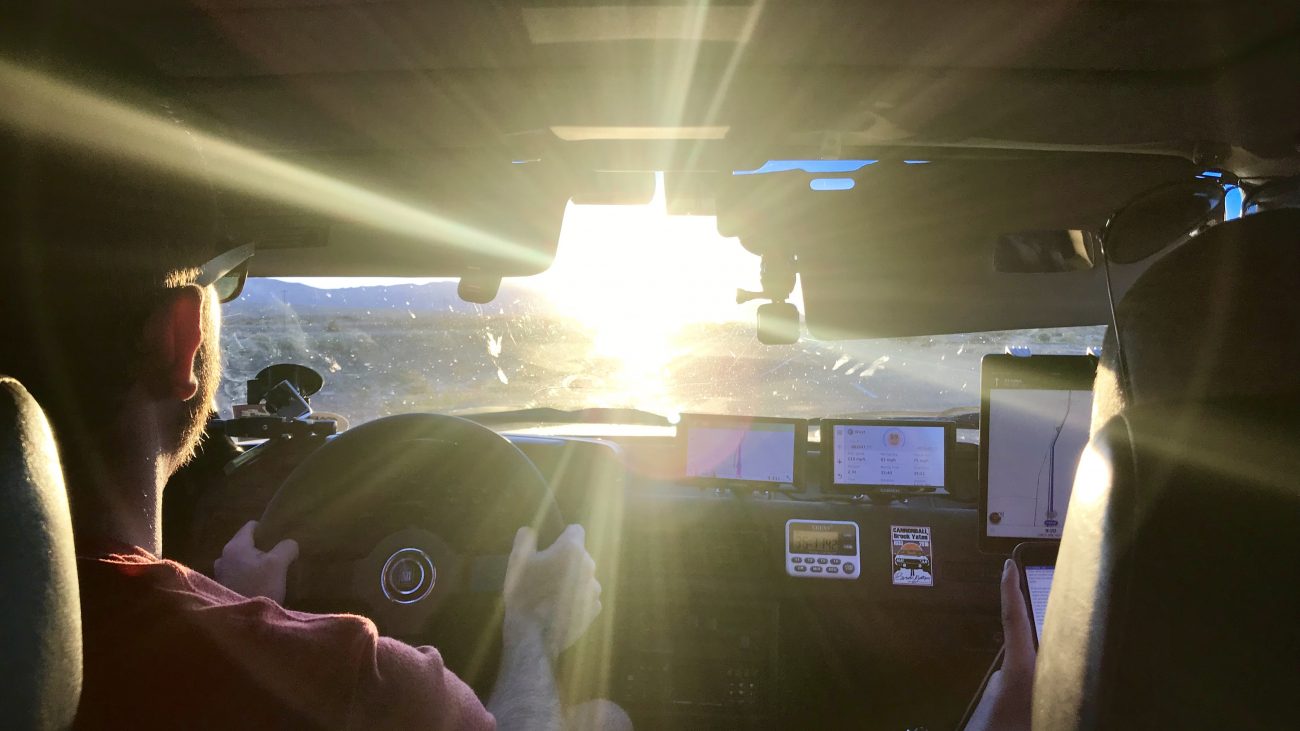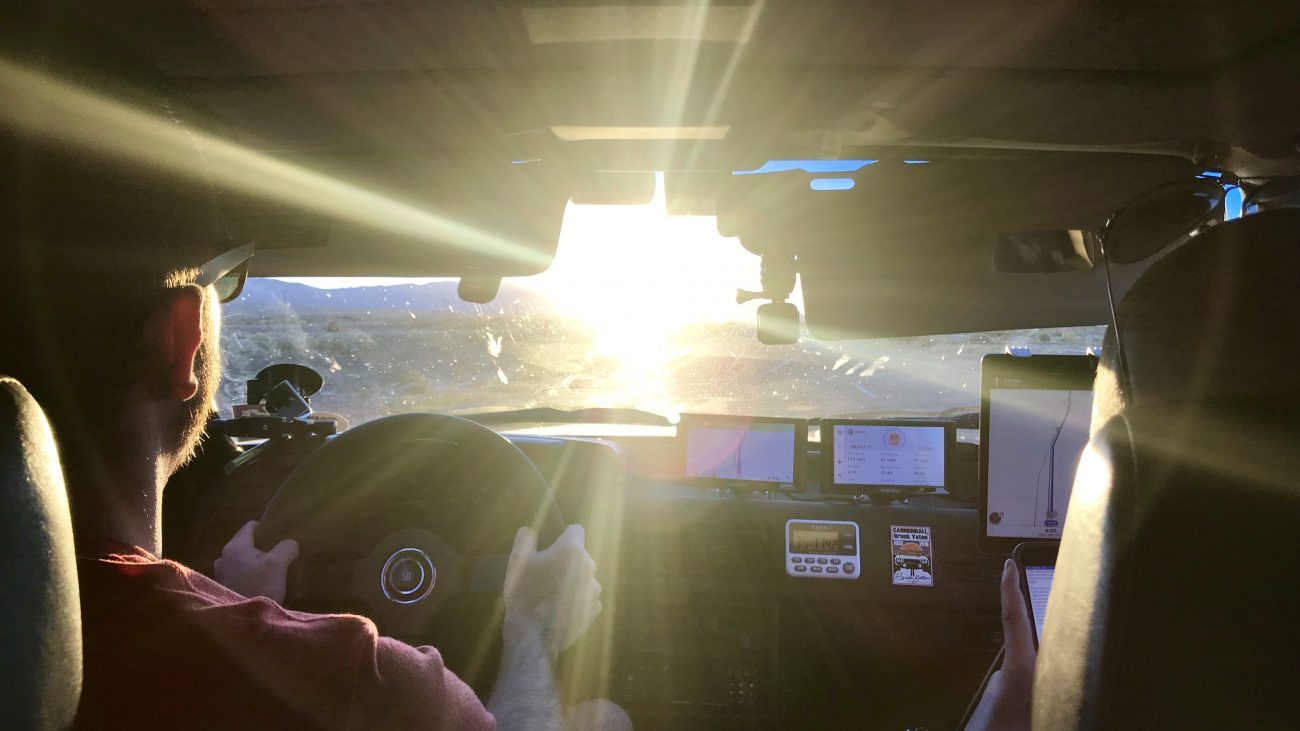 Police Escorted Finish
As we neared LA, Ed had a special arrival planned. The guys from Cannonball Memorial Run had called in a favor to the Redondo Beach PD to line up a squad car to lead us in for the last mile. That would surely save us a few minutes but more importantly make for a grand entrance!
As we passed through the stop light entering the hotel property, the Police car shut off his lights and pulled off to the side so we could pass by and screech to a stop in front of the Portofino sign at 9:09 pm. Despite all the calamity and setbacks we managed a time of 37:40. All of this in a car which only a few months prior hadn't driven in 20 years. A car with no added fuel cell and basically prepared for the trip just a couple days prior.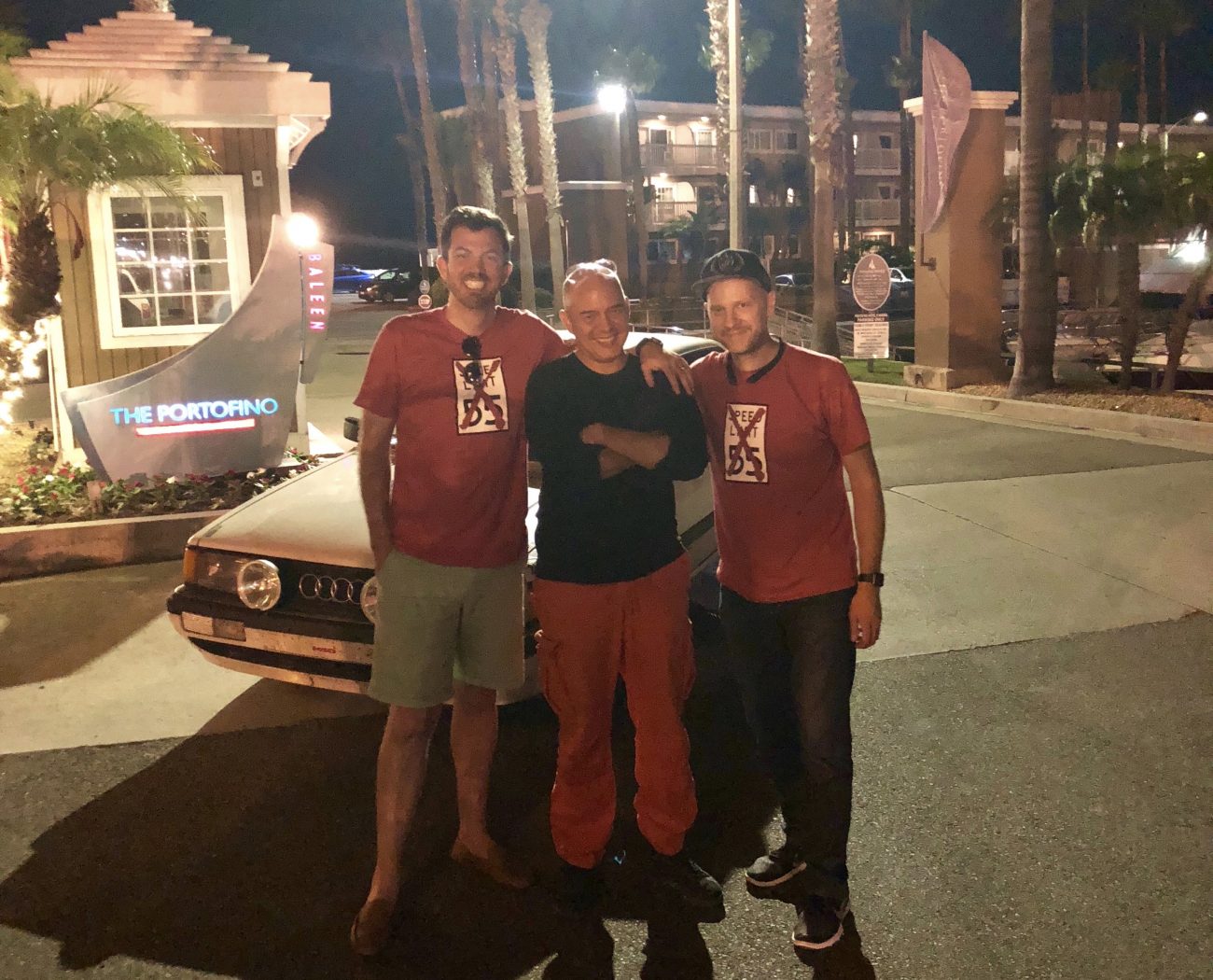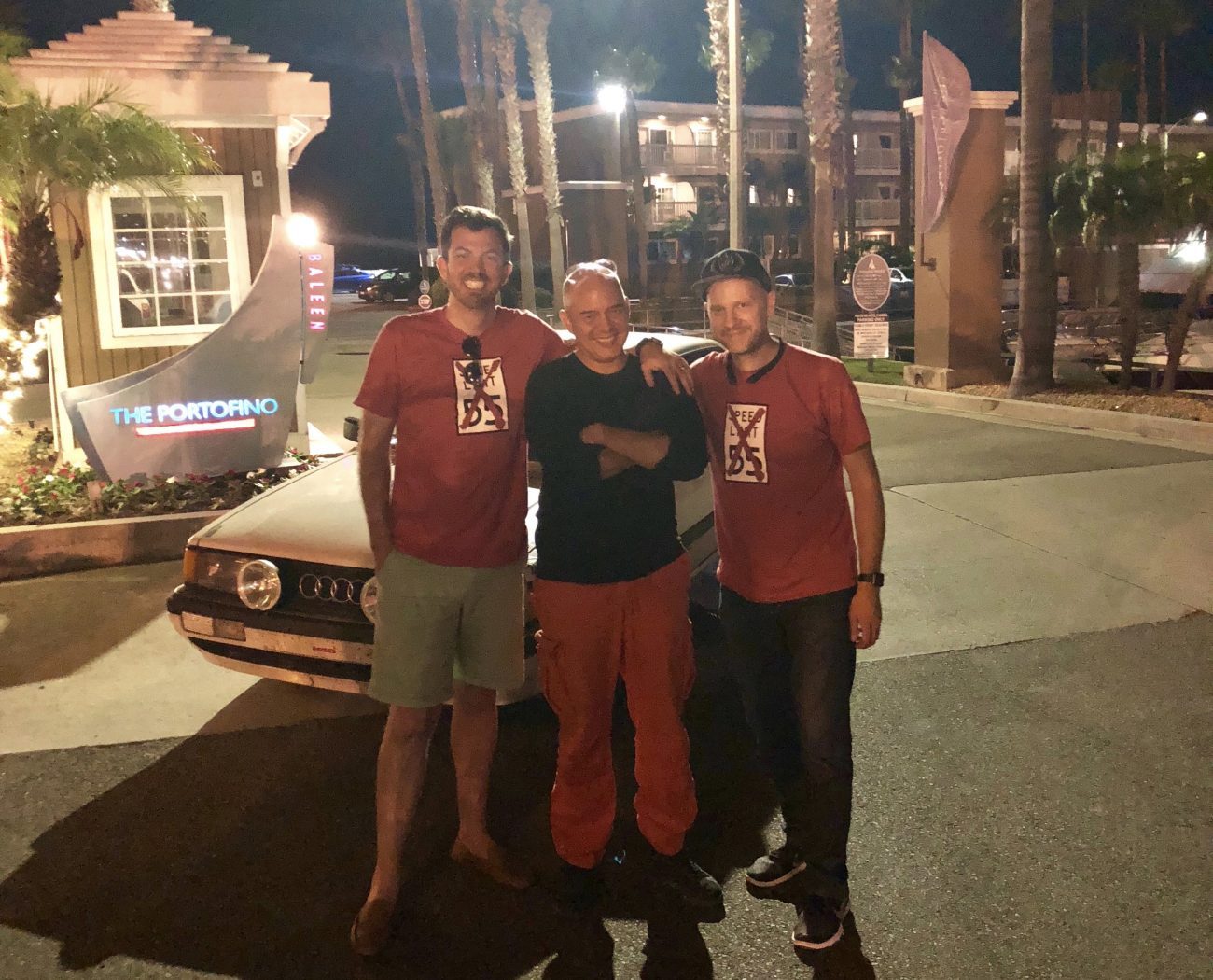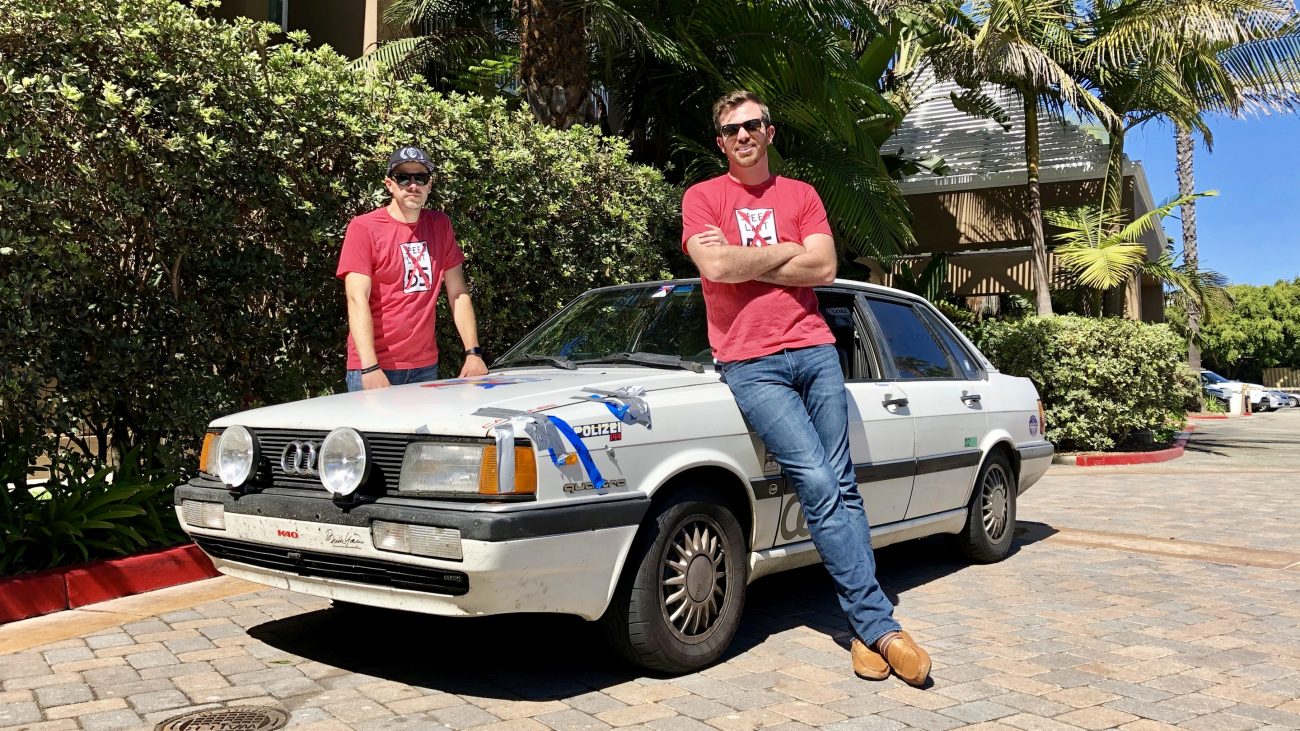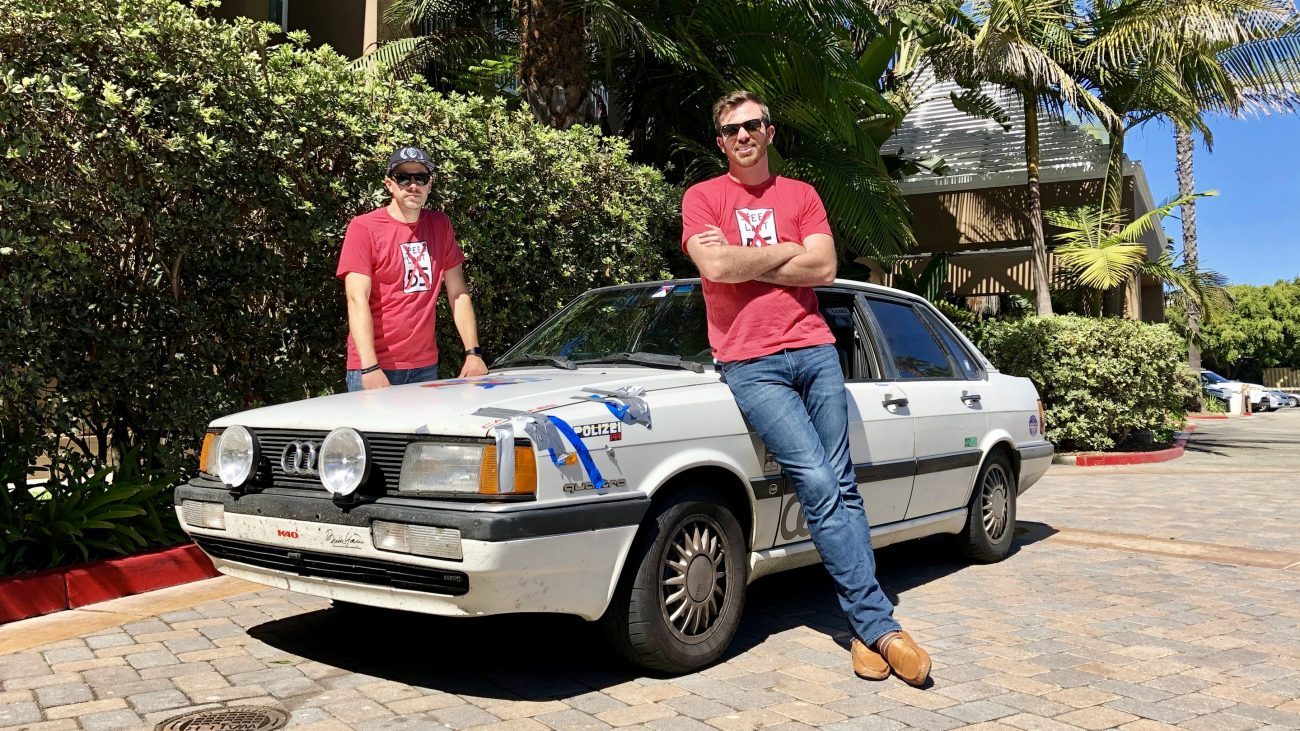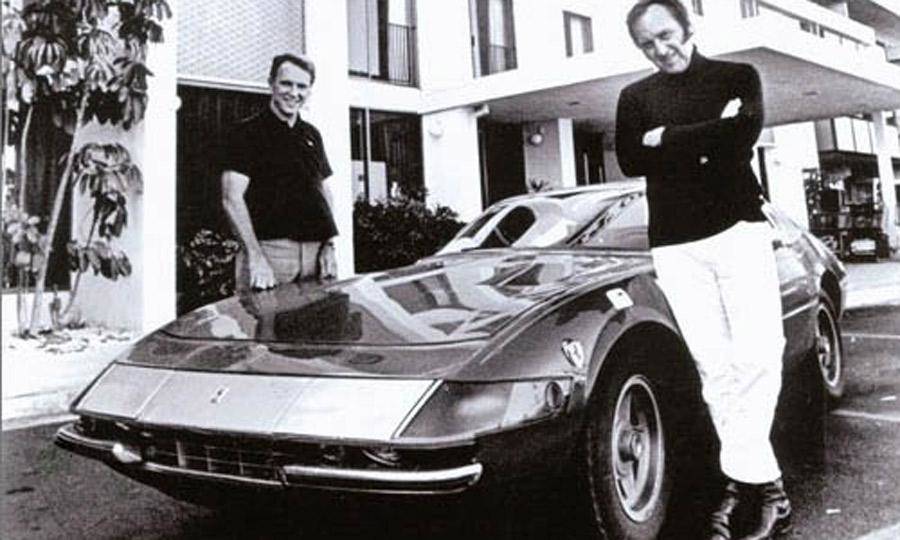 Another Experience of a Lifetime
Overall it was more of a fun, fast-paced road trip. It was a dream come true to spend time with and swap stories with Alex and Ed. During the run we discussed our obsession with Cannonball, Politics, Religion and everything else under the sun.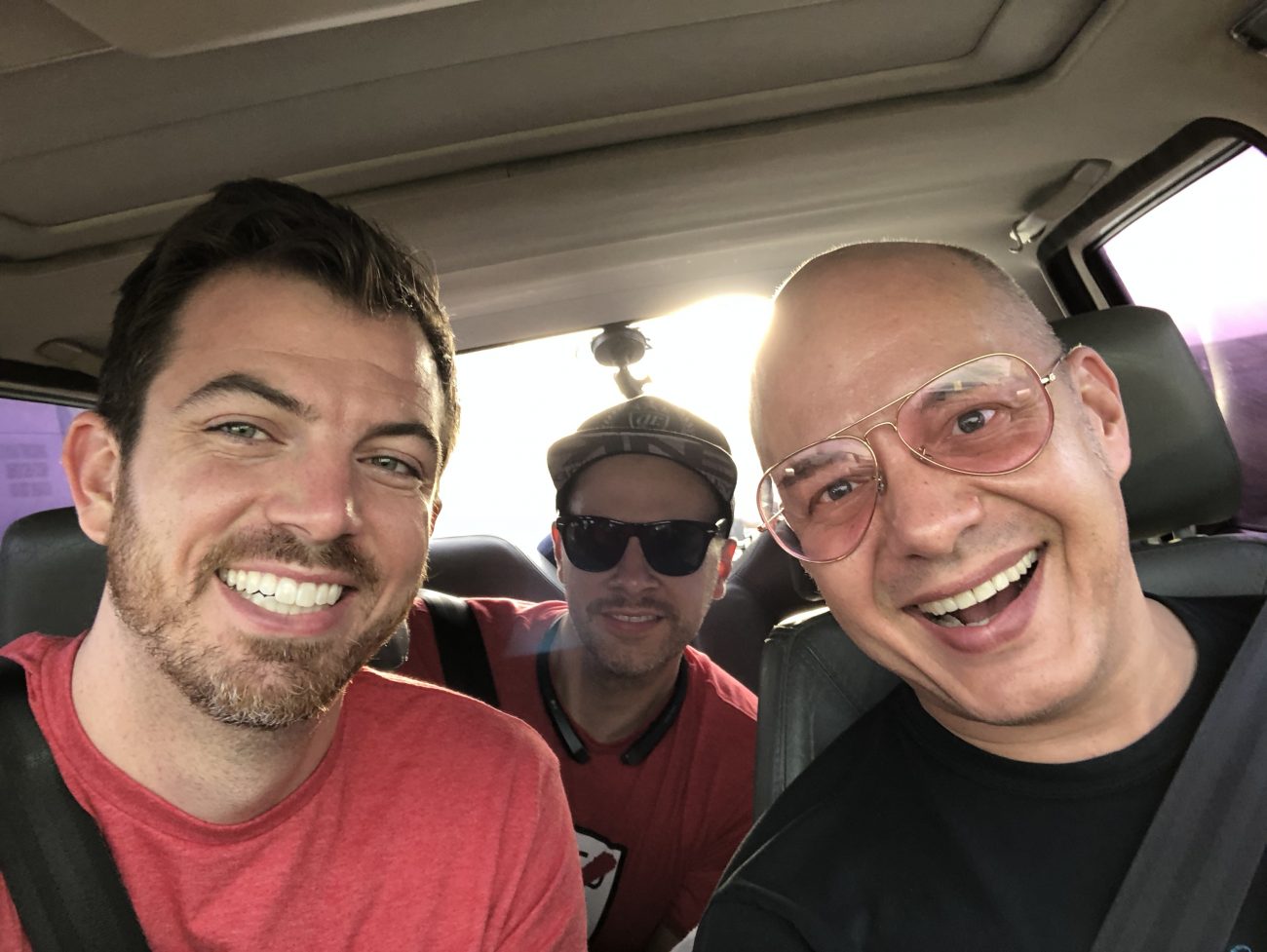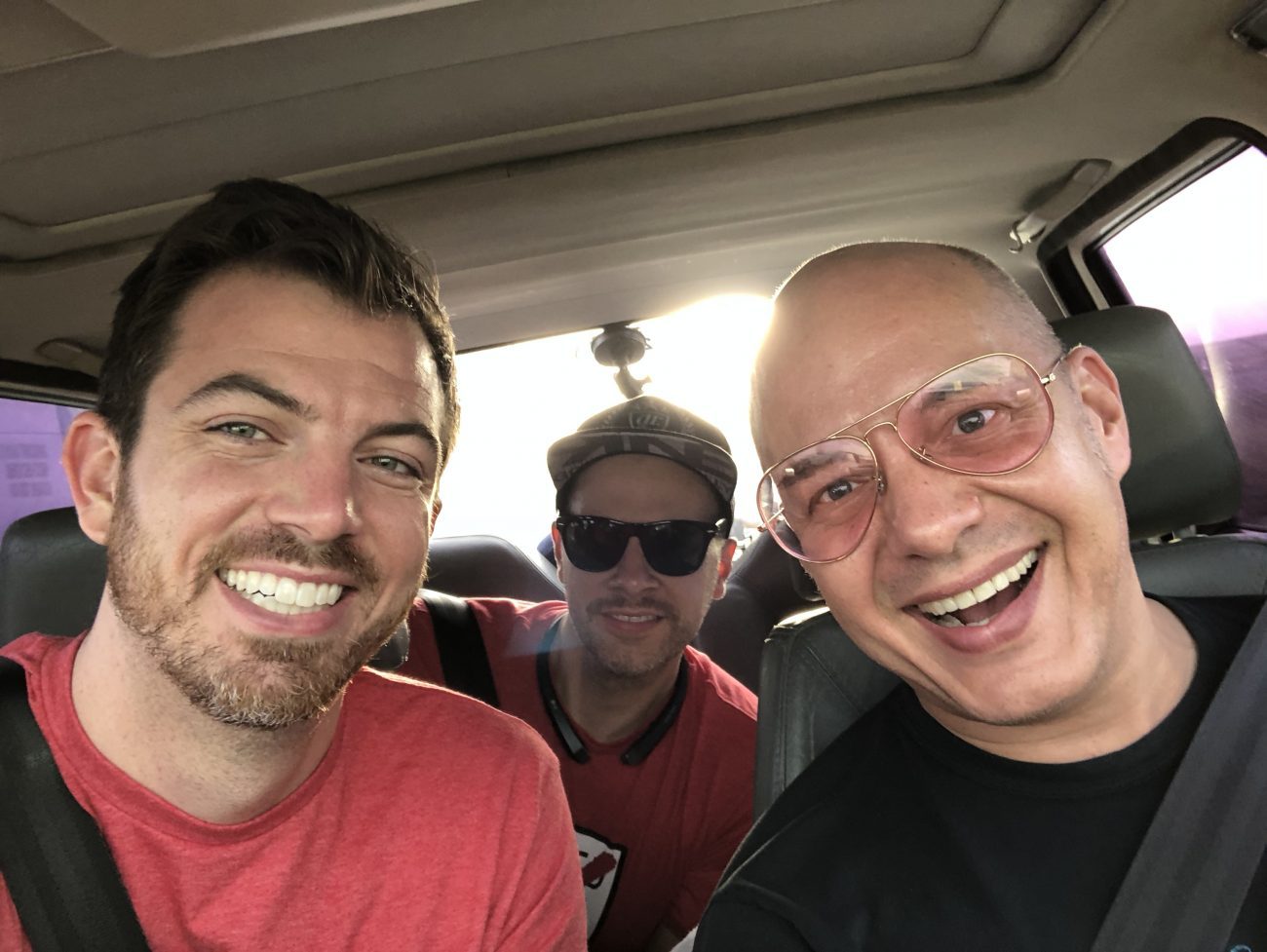 Of course our time was not in the vicinity of winning the event but that wasn't really the point. The Audi had made it, we had made it, and the largest group Cannonball in nearly 40 years had maintained the streak of no significant accidents. Doug from Switchcars and his team faced a lot of adversity but continued on to win with a time of 33:33.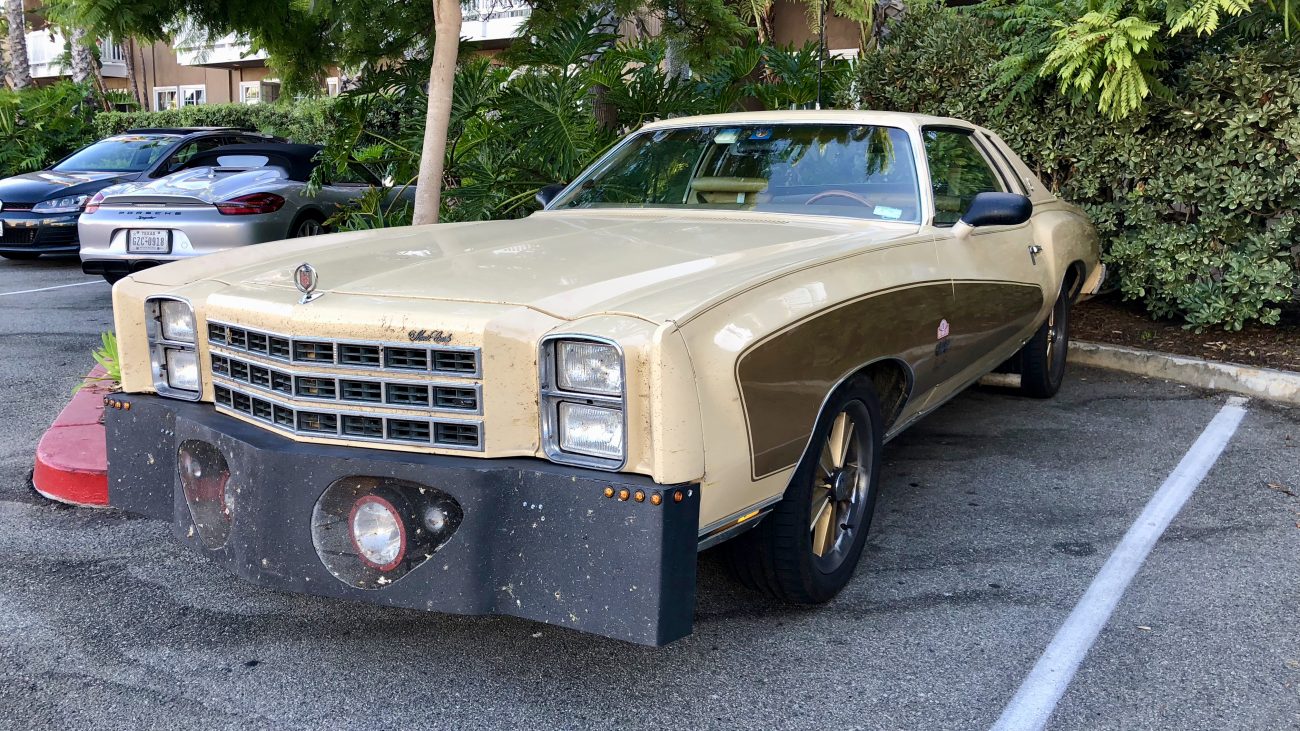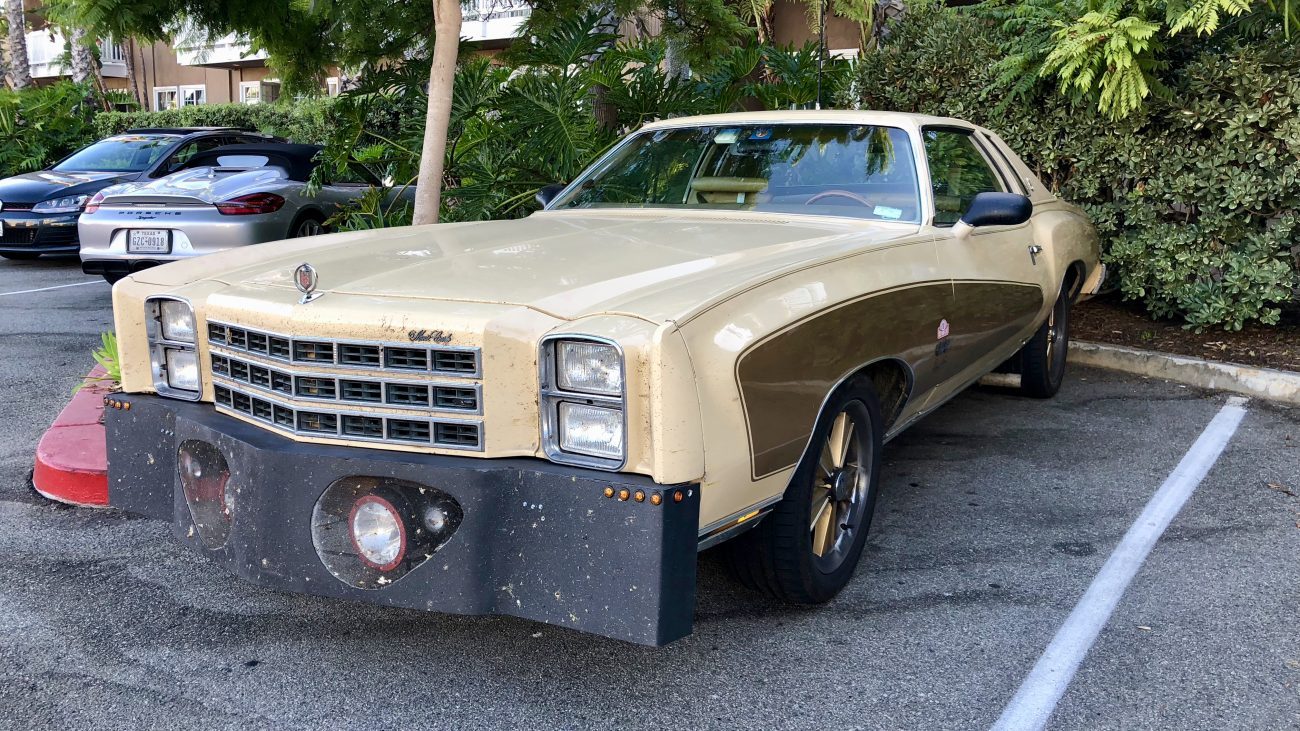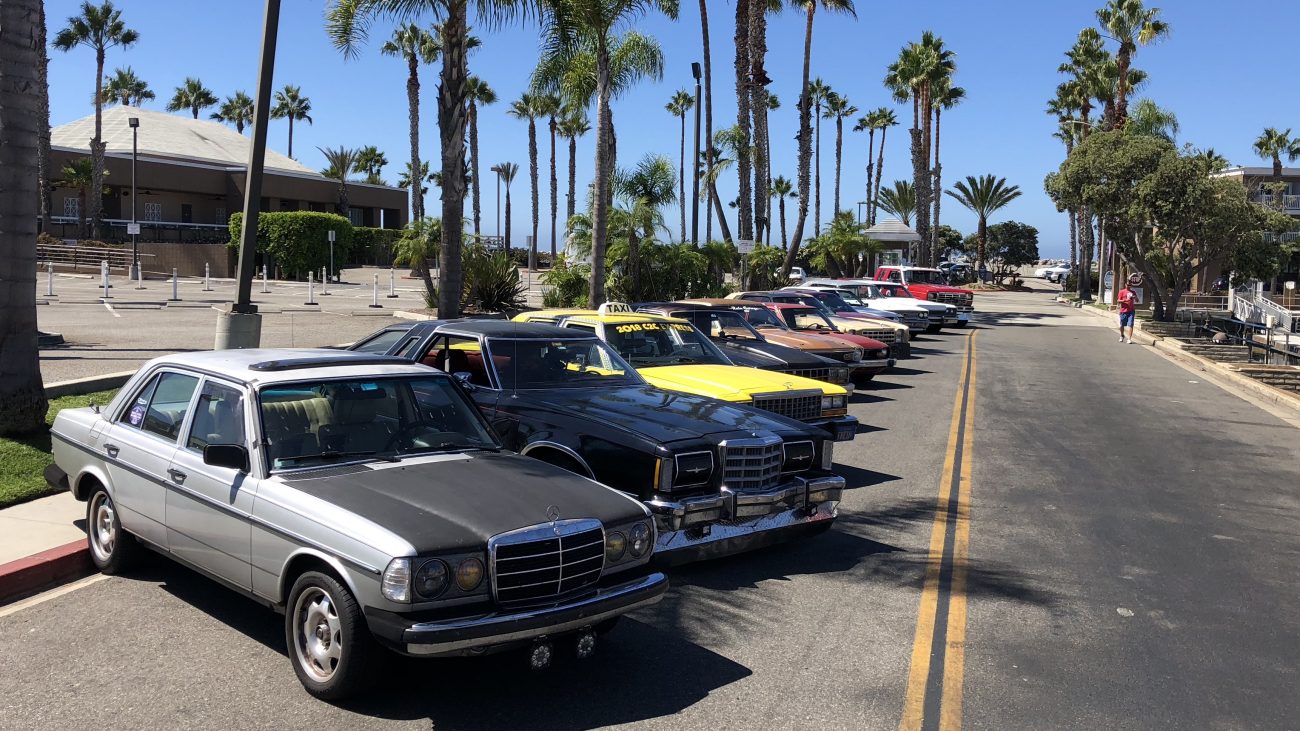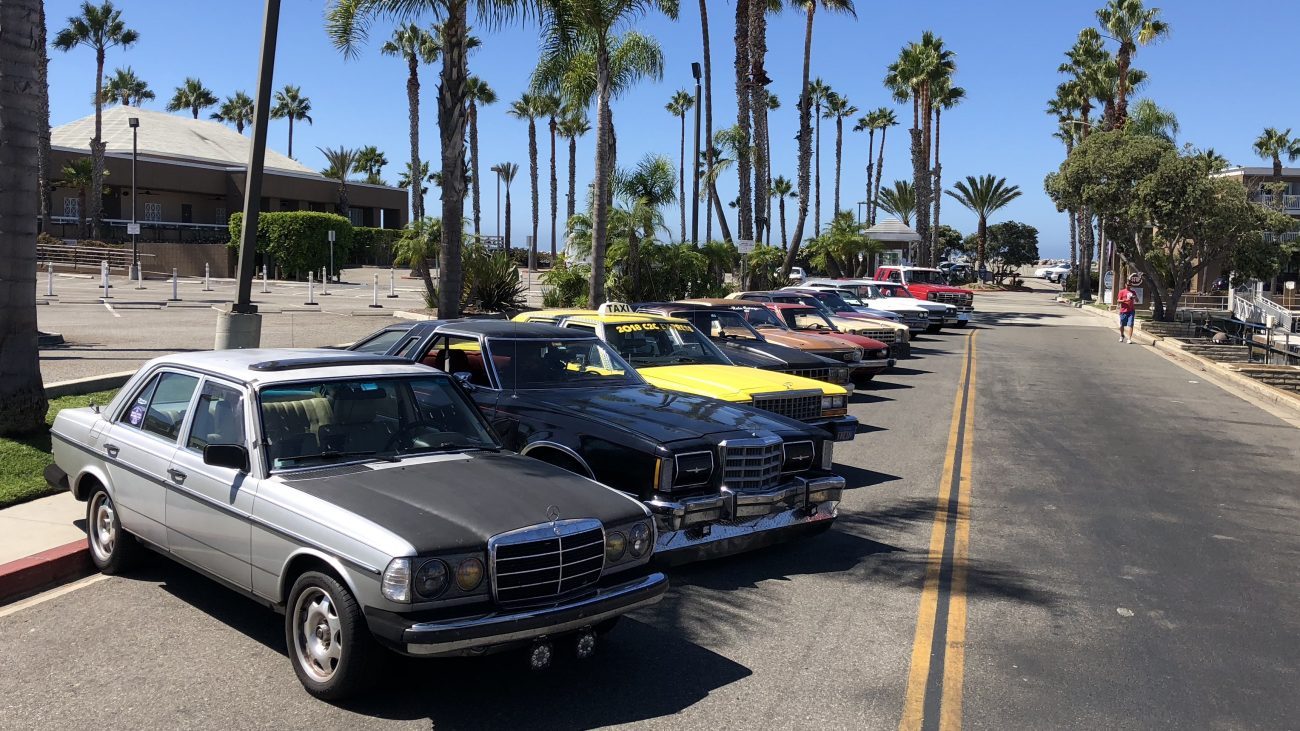 A 2,800 mile Cannonball across the country is a grueling test of man and machine. Each time I do it I go through stages of excitement and exhaustion. At some point(s) I ask myself why I am doing it. As the end nears however you don't want it to be over. After it ends I'm always left wanting to do it again to try some other strategy and make more memories.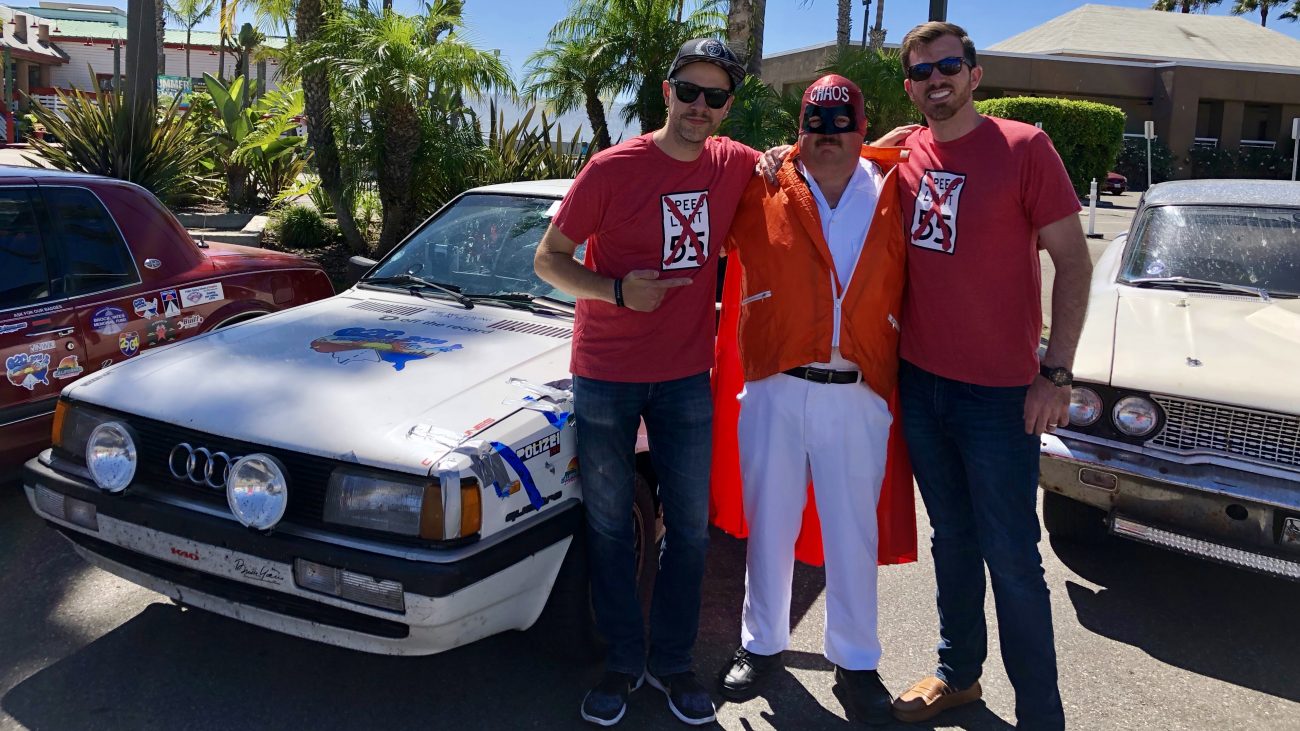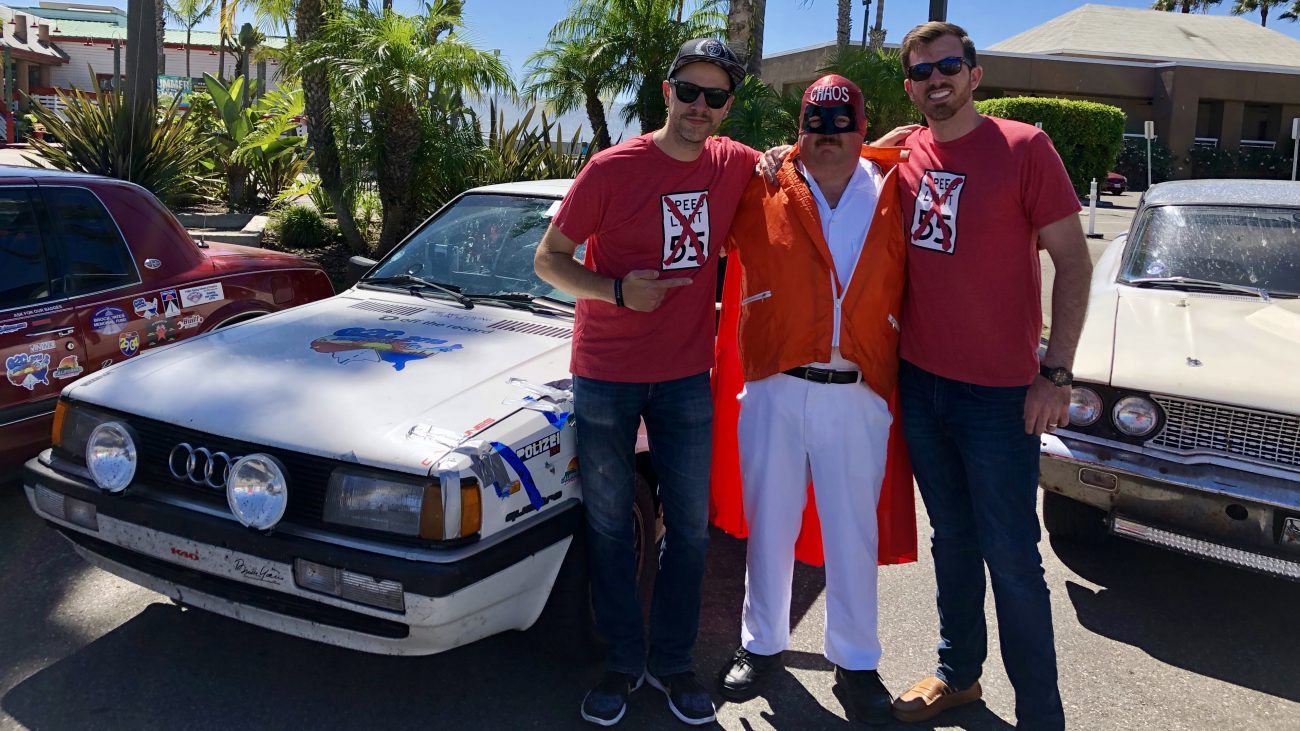 Relationships That Will Last A Lifetime
This journey I've taken into the underground world of Cannonball has forged so many friendships both with participants and fans alike. There is something about Cannonball, this small piece of past Americana that draws people together. If I've learned anything recently, life is short. Every day is a blessing and you aren't promised a tomorrow so get out there and make some memories!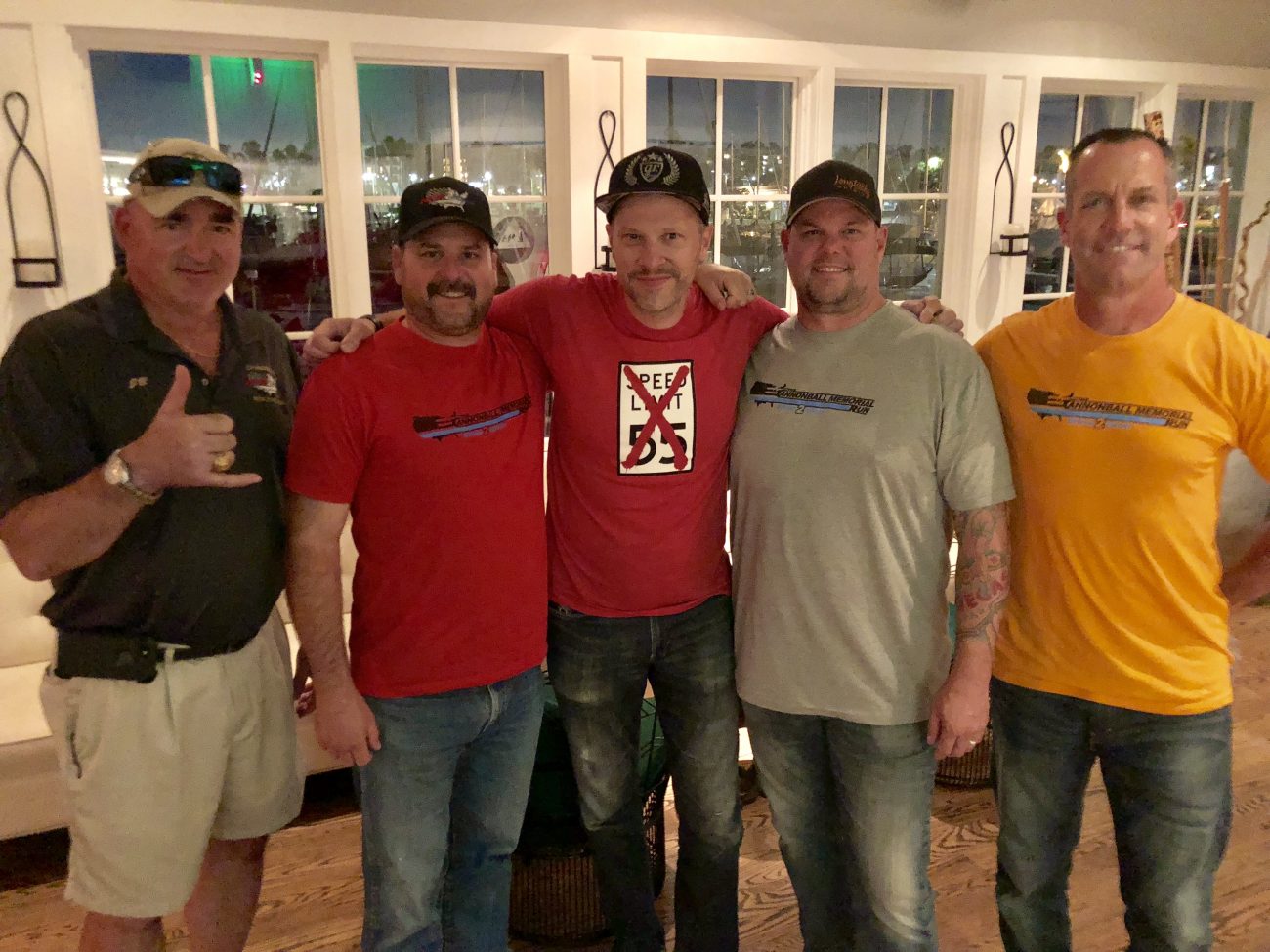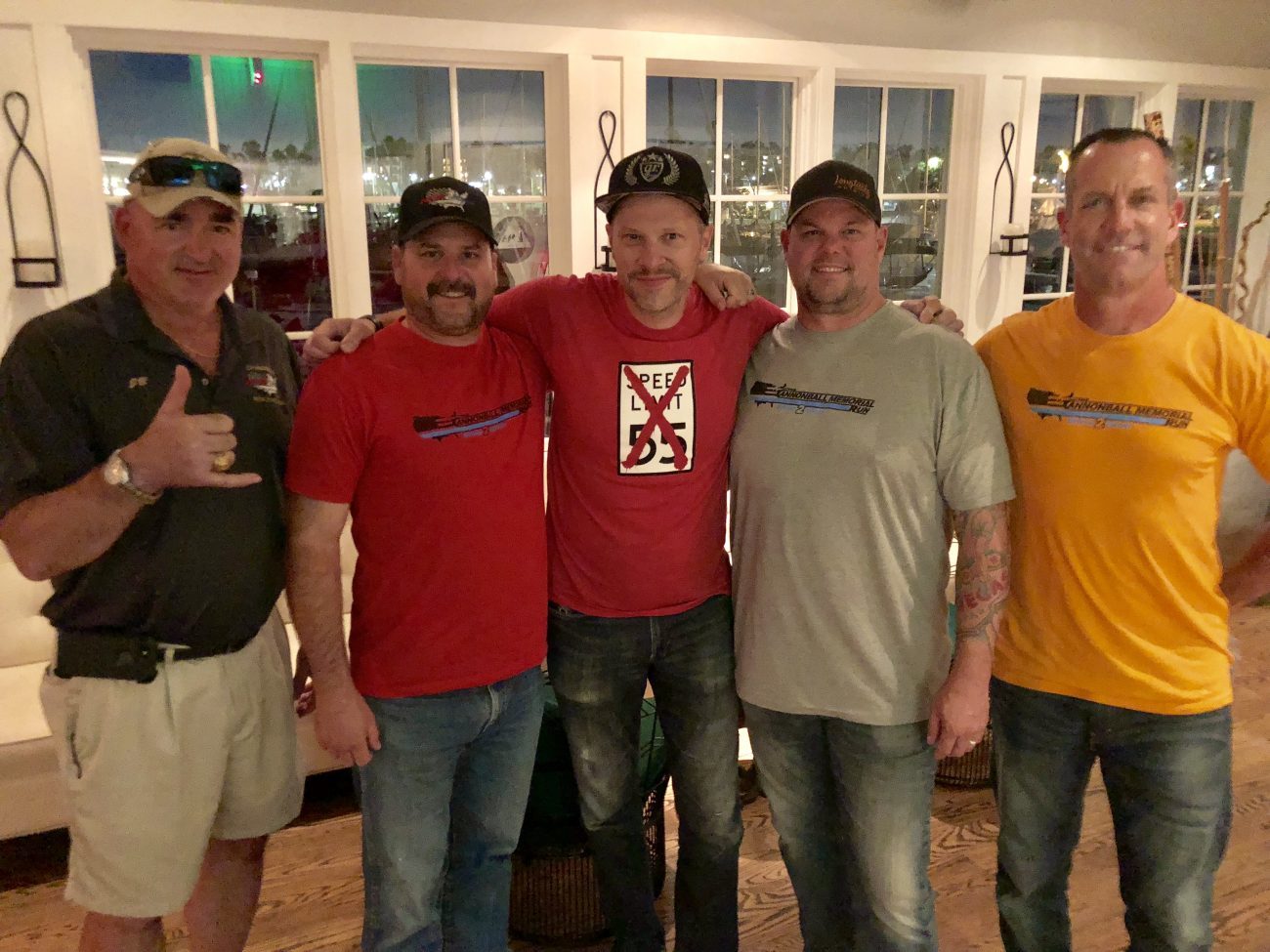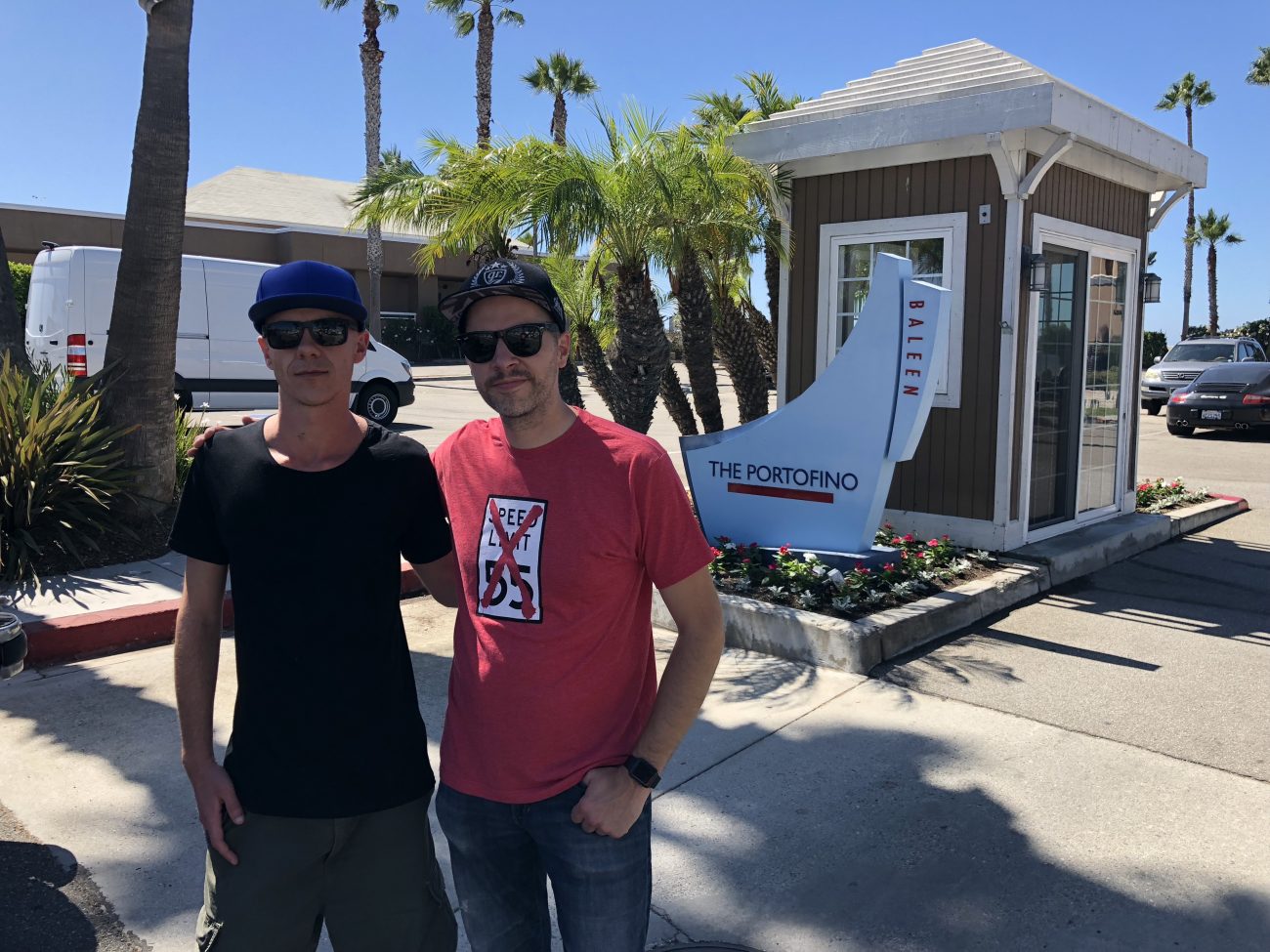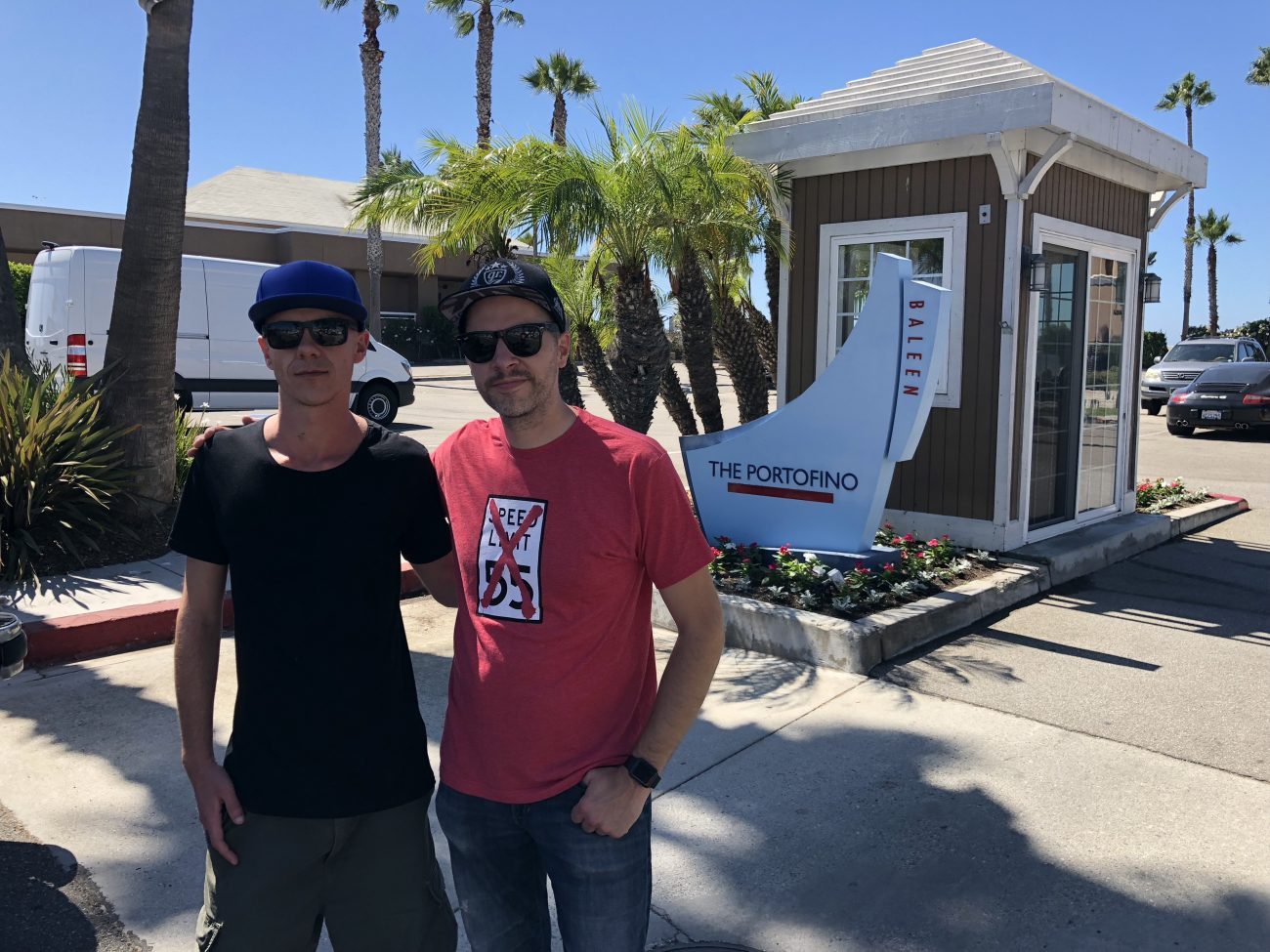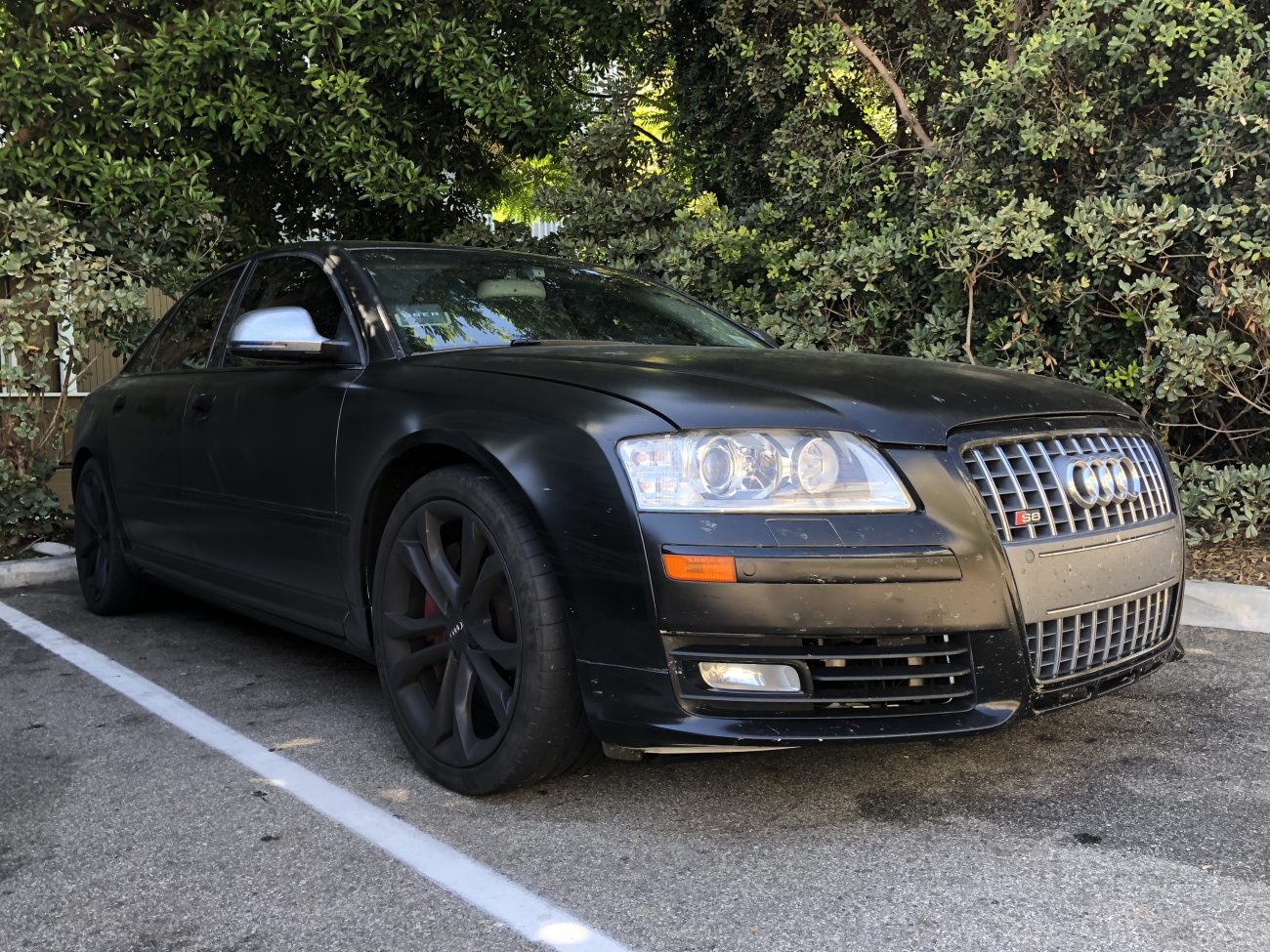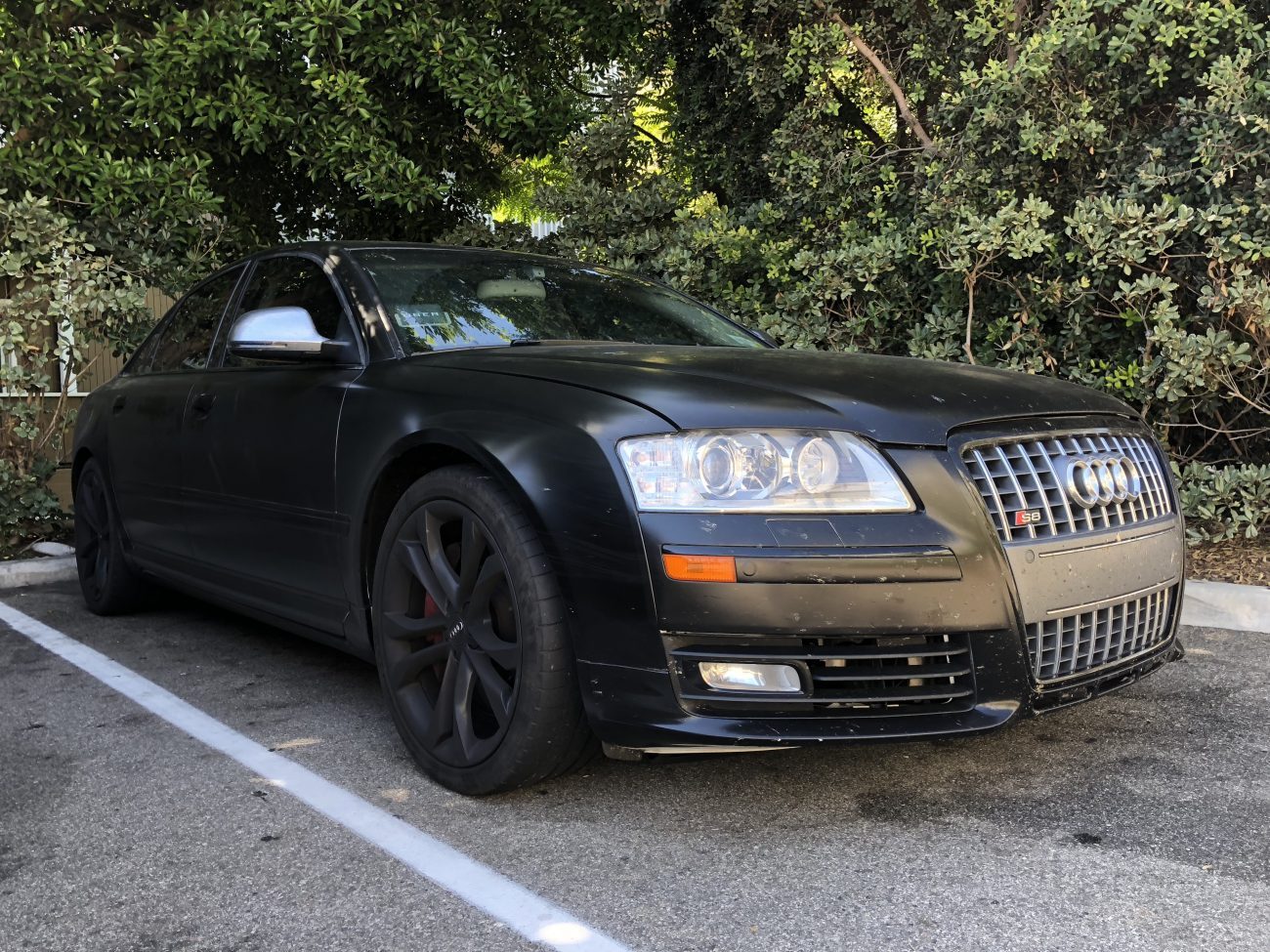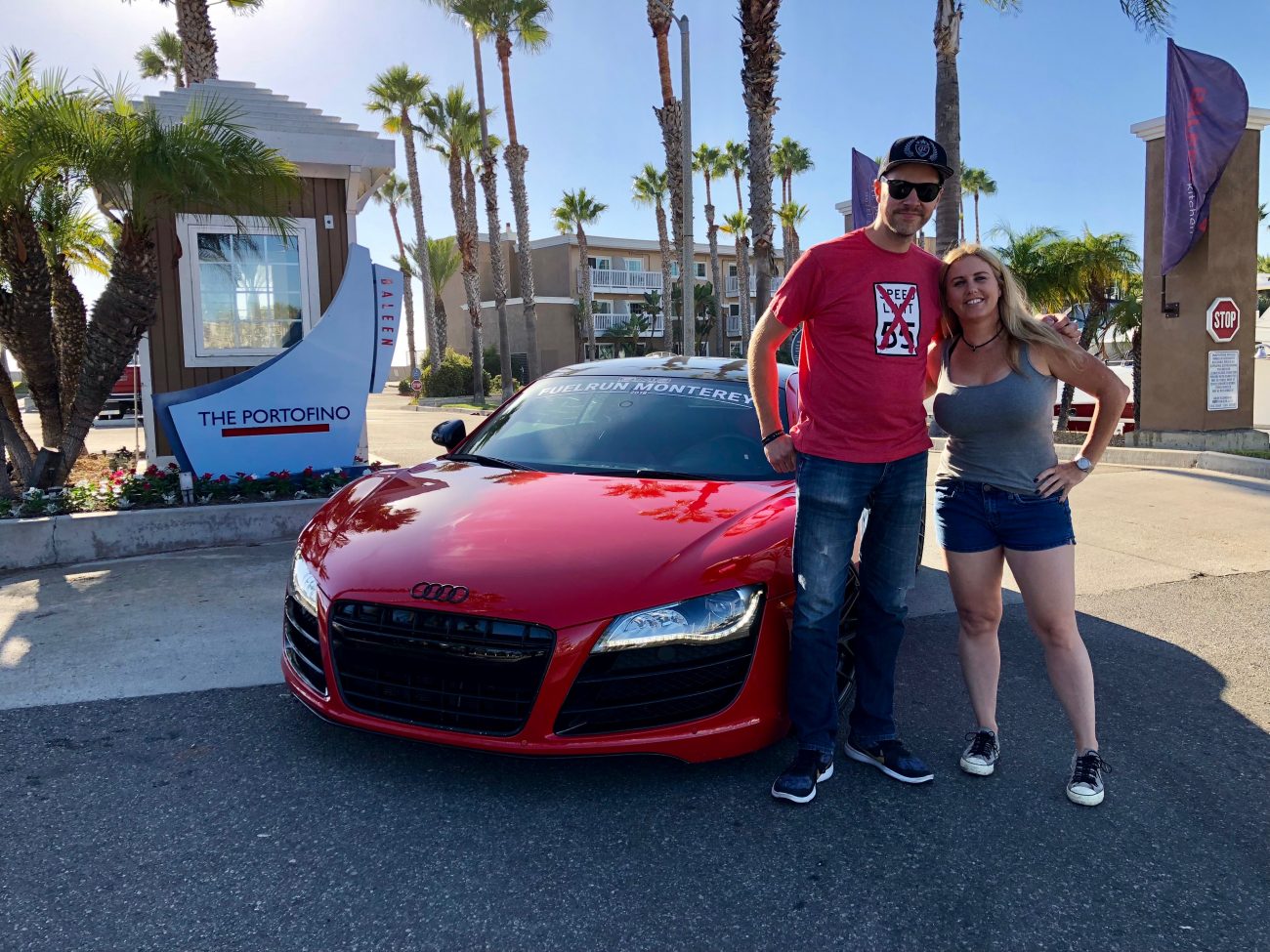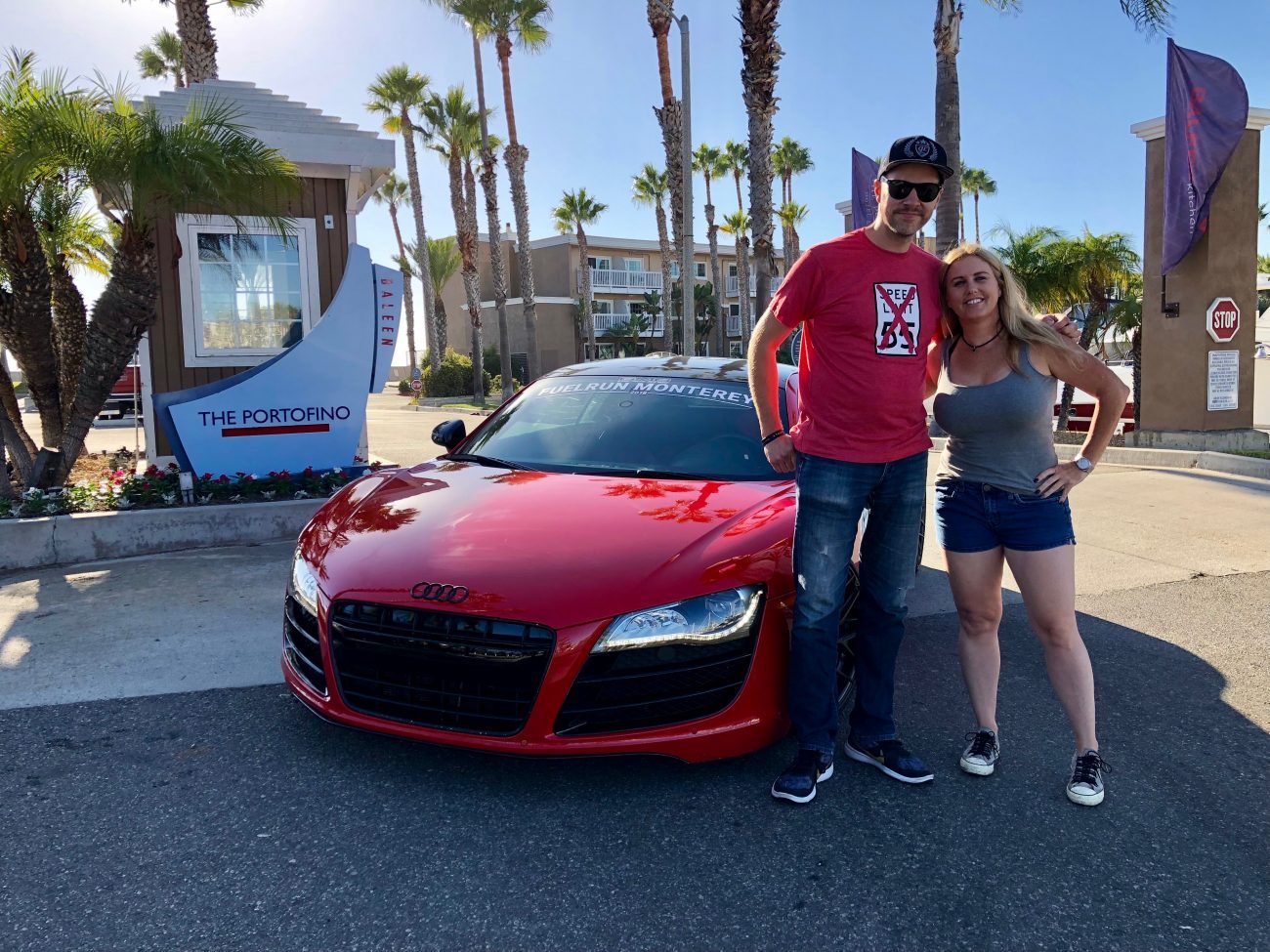 Chris Hays' Riviera


Tyler Osborn's Maverick


David Simpson's Fairmont

Jerry Bisson's F250


Mike Crossen's 300D

Alan Rowe's T-Bird

Will Smith's LTD??


The start party in Long Island

Tyler's Ford Maverick